Microsoft officially unveiled today the second part of its massive push to be the center of your home entertainment universe. The big news here is the 2005 edition of its Media Center OS, but the software giant has a few other tricks up its sleeve as well.
Windows Media Center 2005 is actually a portfolio of software and supporting hardware products that turn your computer into a kind of TiVo -- and a whole lot more. This product is what I was hinting at a few weeks ago when I told you that Microsoft's new Portable Media Center (think video iPod) and its latest media software, Windows Media Player 10, were just the tip of the iceberg.
(MSNBC content is distributed by MSN.  MSNBC itself is a Microsoft – NBC joint venture.)
The Media Center OS runs on a range of hardware in all sizes, shapes and price ranges, from simple media units to complete media centers (including surround sound and TV/FM tuners). The main hardware difference between a Media Center PC and a plain, old Windows XP computer is the quality of the components.  In addition to a fast processor, extra memory and a quality video card a Media Center PC can also include TV stuff, such as a remote control and a tuner -– or two or three.
In addition to storing and playing back your music and photo files a Media Center PC can record TV shows and play them back whenever you'd like.  Sort of like a TiVo, but with a Windows XP OS instead of Linux.
The big deal with the 2005 edition is that Microsoft went full out to improve the quality over both its older OS and those offered by TiVo and other competitors. Microsoft hired some of the best experts in the video industry to improve recording and playback quality in the new OS.  Their plan was to add things like 3D-comb filters, improve scaling and de-interlacing as well as provide lifelike and accurate colors for all sources and outputs.  All this adds up to video you can stand to watch on an expensive, high definition television monitor.
Plus, in addition to much, much better looking TV recordings – the new OS now handles HDTV signals -- at least those that get broadcast over the air. For now, forget about HDTV from cable/satellite services.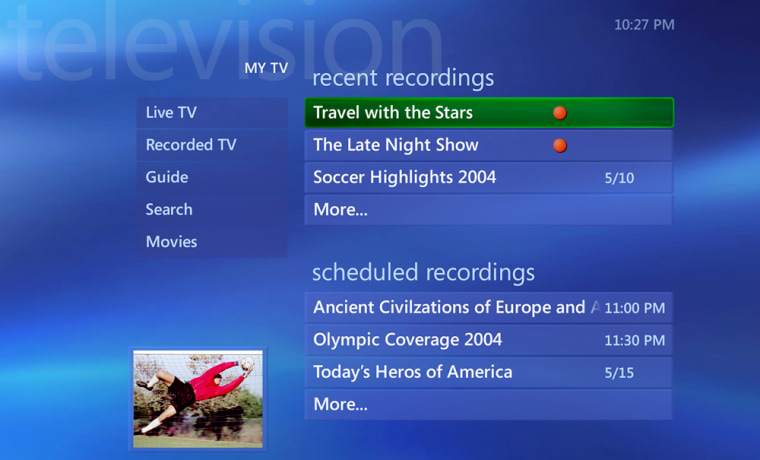 I've been busy testing Media PC desktops and laptops in recent weeks.  Since over-the-counter computers are still being readied, Microsoft sent me a monster black box loaded with Media Center 2005.  The Alienware enclosure came with a 3 GHz Pentium 4, 1 GB of RAM and a NVIDIA GeForce FX 5700 video card.  The test monitor provided was the stunning Sony SDM-P234 - a 23-inch, 16 by 9 flat screen LCD capable of reproducing 1920 by 1200 pixel video over a DVI-D (pure digital) connection.   This was not a bargain set-up by any means.
I also had at my disposal two laptops running the previous version of the Media Center OS – an HP zd7380us (with a monster 17-inch WSXGA+ screen) and the just-released Toshiba Qosmio (the most portable of Media Center computers).  These full-featured laptops will be discussed in detail in the near future, when they're available with the new software. All in all, there has been a lot of Media Center hardware and wires in the test labs recently.
Overall, what I can tell you is that Microsoft has lived-up to their promises for the Media Center 2005 OS.  It's very easy to use - that hasn't changed.  Now the video quality is very, very good – not only on the Sony computer monitor, but also on the Sharp 37-inch LCD TV in my bedroom and the Samsung 26-inch direct-view TV in another room.  I also saw Media Center 2005 video on a huge projection screen (40-feet diagonal) and the quality there was pretty amazing as well.
In theory, current Media Center PC owners should be able to upgrade to the 2005 edition.  Exactly if or when they'll be able to do so will depend on the hardware and the computer manufacturer.
But that's not all
OK. So you spend a few bucks for one of these new Media Center PCs but that only helps you in one room.  Microsoft has a solution for that as well.  Today, they're also announcing Media Center Extenders: stand-alone boxes for TVs in other rooms.
These new extenders will allow you to control your Media Center computer (recording as well as playback) from a remote location.  And if your Media Center PC has more than one tuner (up to a maximum of three) you can actually record and playback different material in different rooms.
There's also an extender coming for the X-Box, allowing you to control and play back audio, video and photo files via the gaming console.
The extenders can be networked via Ethernet or wirelessly.  Obviously, Ethernet provides the best connections but wires can be an unsightly pain.  Interestingly, Microsoft engineers have found that when it comes to wireless – 802.11g barely makes the grade (too many other devices sharing the resources).  802.11a is recommended as the best wireless solution for Media Center extenders.
And if that's not enough, Microsoft is also announcing Windows Media Player 10 for Windows Mobile devices.  That means your PDA and also your smartphone will also be able to access any audio, video or photo files from your Media Center PC.
I've been playing with an amazing, tiny new Audiovox smartphone with the new software (full review is coming) and I'm very impressed with the idea of being able to watch a TV show that you recorded on your PC and downloaded to the memory card on your cell phone.  Video quality is a lot better than you'd expect from such a small screen.  Streaming video also works perfectly -- a first for Windows Mobile-powered smartphones.
Microsoft also is announcing improvements to its Tablet PC operating system.  I can't for the life of me understand what this has to do with all these Media PC announcements but I thought it was my duty to mention it.
So now you have it.  This is Microsoft's current plan to make their operating system the premier PC entertainment experience in your home.  In the literature they gave reviewers Microsoft described it as an "end-to-end media wave" — their mantra: Buy it (download music and videos from the MSN online store – officially opening today), Play it (via Windows Media Player on a Media Center 2005 PC) and Take it with me (Portable Media Centers and even Smartphones.)
How well all these new devices and programs work together in the long run may be another story entirely.  To be continued. …