The National Basketball Association meets China this week with a series of pre-season matches between the Sacramento Kings and Houston Rockets, whipping up a basketball fever that has driven ticket prices to astronomical heights, and provoking debate on the impact of this latest American invasion on the local sports industry.
Is it history in the making, friendship diplomacy at its best, or commercial opportunism in disguise?
The NBA frenzy in Shanghai and Beijing, where the games are set for Thursday and Sunday, features no less than Yao Ming, a Shanghai prodigy and China's most popular sports icon, playing at home for the first time with his NBA team. 
It will also be the first-ever contest between NBA teams in China, on the 25th anniversary of the trailblazing trip and exhibition matches by the Washington Bullets in 1979.
Astronomical ticket sales
Tickets to the tournament were sold out within hours when they became available a month ago, creating a lucrative market for China's notorious "yellow cows" or scalpers, and Internet auction sites. 
While the Shanghai and Beijing venues could accommodate 11,000 and 17,000 spectators respectively, only a fraction of the tickets — some 3,000 in Shanghai, and 4,000 in Beijing — were put out for public sale, "far below market demand," said Beijing Youth Daily. 
The rest were sold internally to corporate sponsors like Coca Cola and Kodak, and Chinese government units. The result is that a $120 ticket is now worth $1,000 in the black market, the Youth Daily reported.
NBA Asia's Public Relations director Cheong Sau Ching has warned the public not to buy from scalpers or auction sites as it's "no guarantee that they will have seats." 
Under a complex ticketing system, vouchers were sold to ID holders, which would later be converted, with the support of the same IDs, into the real tickets, which were printed in the United States as precaution against rampant counterfeiting in China.
In Beijing, police were called in after hundreds of frustrated fans, who fruitlessly stood in line overnight, nearly attacked one ticketing office.
NBA Commissioner David Stern said last year that the prices would be lower than charged during NBA games in Saitama, Japan. 
But Lu Ping of Global Times said this has not been the case. "In Japan which has staged six regular season NBA games, the ticket price was only about two percent of the Japanese salary, but in China where the average salary is about one-tenth of Japan's, one pre-season NBA game would cost a half-month or full-month salary," he wrote, condemning the black marketeering.
Everyone knows the NBA has arrived
Regardless of whether or not the average person can buy a ticket to a game, they should be well aware of the NBA's presence.
Lu noted that the NBA's saturation campaign, with unprecedented investments in media and outdoor advertisements complete with giant television screens, was designed to "let every city resident feel the NBA."
The two games, which will be televised here, the United States and 175 other countries in eight languages, will probably attract the biggest television audience ever, according to NBA officials, with potentially some 250 million households watching in China alone.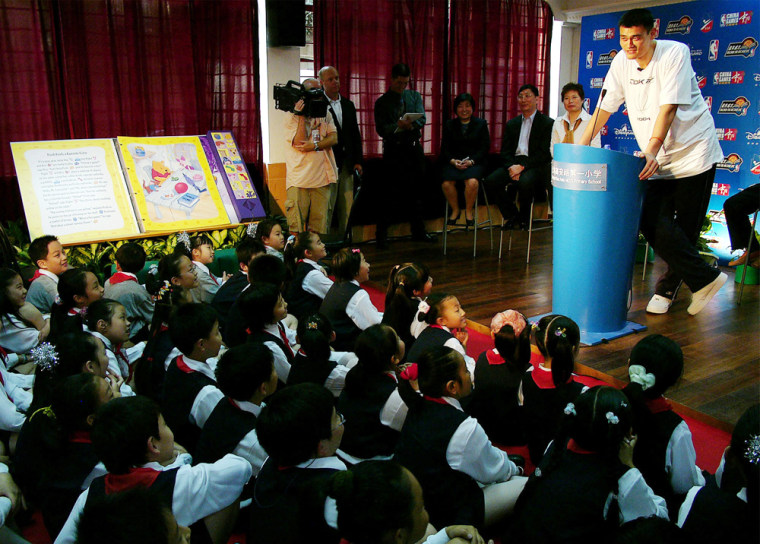 Many observers agree that basketball, which still ranks second to soccer in China, has boosted its appeal ever since Yao Ming joined the NBA two years ago.
In turn, NBA merchandize sales -- from jerseys to sports shoes -- have doubled every year for the past few years. One survey shows that some 75 percent of Chinese males aged 15-24 consider themselves as NBA fans, with most of them watching NBA games at least once a week.
"Yao Ming is the personification of the Chinese passion for the sports, the icon of Chinese pride, a cultural bridge between China and the U.S. and a wonderful ambassador not just for basketball but for China as it reaches out to the world," said Marck Fischer, NBA China managing director. He added the games would be "a ground-breaking event that brings together two cultures through sports."
"Given the explosive growth in China in the past couple of years, this is the perfect time to hold the games," Fischer said. For the NBA, China will become "one of the most important if not the most important market."
Merchandising madness
Accordingly, McDonald's will celebrate the games with NBA China Games Combo Meals at their 600-plus restaurants throughout China. Budweiser has prepared free giveaways, while Coca Cola is sponsoring an interactive basketball tour and sweepstakes. 
Kodak is ready with NBA posters while Walt Disney will promote the new Hong Kong Disneyland slated for opening in 2005. And Reebok will unveil the first-ever Yao Ming signature shoe "High Post" which would retail for $100.
"It's a win-win situation, with the NBA helping China and China also helping the NBA," said China Daily sports writer Yang Xinwei.  "And Yao Ming's diplomacy is great for China, as he not only develops the basketball market but also lets the U.S. know more about China," he added, predicting that basketball would threaten soccer's ranking in the country.
"I think professional soccer in China is going down, while NBA and basketball is attracting the attention of the Chinese people," concurred Wei Jizhong, director of the China Sports Industry Ltd. and former Olympic official, complaining that the "cultural level" of soccer is lower than basketball's, alluding to the occasional unruly behavior of soccer fans and players.
What about home grown sports?
But in the view of Yi Jiandong, research student at Beijing Sports University, the media are complicit in "fanning the Chinese appetite for top-level sports like NBA," resulting in declining numbers of spectators for domestic sports.
"Of course, we need the NBA to accumulate experience," he said, noting China's ambition to enter the top four in basketball at the 2008 Beijing Olympics. "But the impact on domestic sports industry must be taken into account," he said, citing that the television audience for CBA games, China's 14-team basketball league, is only one-tenth of NBA games.
"Like some domestic industries facing the WTO (World Trade Organization), China's sports industry needs some protection," argued Wang Haipeng of Beijing Morning Post, conceding NBA's "superior marketing, resources and management."
"There are risks and opportunities in dealing with NBA, " he said. "Our attitude should be to welcome, study and develop."