/ Source: msnbc.com news services
A car bomb targeting an Australian military convoy exploded near the Australian Embassy in Baghdad Monday, killing three Iraqis and wounding eight others, including three Australian soldiers, according to Iraqi and Australian officials.
Reuters television footage showed three corpses covered in blankets at the scene of the blast in Hurriya Square, near the Australian embassy on the east bank of the Tigris River.
An Australian armored vehicle was knocked off the road by the blast. Police cordoned off the area and Australian soldiers guarded their vehicles. The Australian military could not immediately be reached for comment.
Elsewhere, a suicide car bomber attacked a U.S. convoy in Khaldiya, a town about 50 miles west of the capital, destroying at least two Humvees. Police said there were American casualties, but the number was not immediately known. The U.S. military had no immediate comment.
Separately, northeast of Baghdad, the bodies of dozens of Iraqi soldiers were found, police and officials said Sunday. All of them had been shot dead. There was growing evidence the  soldiers were set up by insurgents, police said.
Mosul blast
A car bomb exploded at the regional government building in the northern Iraqi city of Mosul on Monday and killed at least one person, police and witnesses said.
The bomb blew blew up in the car park of the Nineveh government headquarters in Mosul, 240 miles north of Baghdad.
A second car bomb targeted the commander of the Iraqi Facilities Protection Service, who told Reuters he escaped unharmed. Brigadier Mu'ataz Taka said three of his guards were wounded and two vehicles damaged in the blast.
U.S. diplomat killed
Monday's violence followed another bloody day in Iraq:
A State Department security officer was killed Sunday during a mortar or rocket attack at a U.S. base near Baghdad International Airport, the U.S. Embassy announced.
Suicide bombers struck Iraqi security targets north and west of Baghdad Saturday, killing 22 Iraqis, officials said.
Six U.S. soldiers were wounded in an ambush on the road to Baghdad airport — one of the country's most dangerous routes.
Elsewhere, the U.S. military announced the arrest of what it said was a newly promoted senior leader in Abu Musab al-Zarqawi's terror movement — taken into custody during an early-morning raid near Fallujah.
Airstrikes in Fallujah
Meanwhile, U.S. warplanes pounded targets in Fallujah, the toughest guerrilla stronghold, on Sunday, killing five people, witnesses said. Hospital officials said the dead were civilians.
The U.S. military said a "precision" strike had destroyed a known enemy command and control post in northern Fallujah.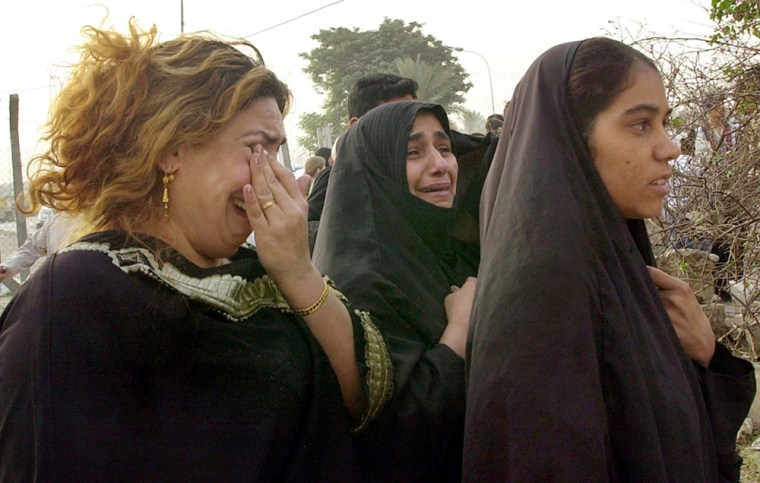 U.S. forces have stepped up air strikes and other attacks in the city west of Baghdad in a campaign they say is aimed at insurgents and foreign fighters led by Jordanian militant Abu Musab al-Zarqawi, who has a $25 million U.S. bounty on his head.
Fallujah residents say most of the victims of the raids are civilians and deny any knowledge of al-Zarqawi, who has claimed responsibility for hostage beheadings, suicide bombings and other attacks.
Insurgent commanders in Fallujah said they were not holding foreign hostage Margaret Hassan and condemned her kidnapping.
"This woman works for a humanitarian organization. She should not have been kidnapped," said the emir, or commander, of one guerrilla group, who asked not to be named.
Commanders of five separate guerrilla groups interviewed in Fallujah said they were not holding Hassan and had seen no evidence that Zarqawi's organization had kidnapped her.
"She had been living in Iraq for 30 years and she was a humanitarian. The resistance did not kidnap her because this would have left a bad impression of the resistance in the world," said another commander.

Body found
Also Sunday, the headless body of an unidentified man in a business suit was found with his feet tied, floating in the Tigris River near the northern city of Kirkuk, police said.
The body was the fourth to be recovered from the area in the past two months. The other three appeared to have been Iraqis working with U.S. forces, police said.
Iraqi security forces have taken a more visible role in counter-insurgency operations in recent months and the U.S.-backed government sees them as a key weapon in its drive to win back control of all rebel areas before elections in January.