With more than 1.5 million people displaced and at least 70,000 dead, Sudan's western region of Darfur is facing the world's worst humanitarian crisis.
The pro-government Arab militias, known as the Janjaweed, have been accused of ethnic cleansing against Sudan's black population, sweeping through hundreds of villages and killing men, raping women and stealing whatever is left behind.
U.S. Secretary of State Colin Powell, the U.S. Congress, and numerous humanitarian organizations have labeled the militia's actions as genocide.
Regardless of the labels, rape and violence against women and girls continues to be deployed as a major weapon in Janjaweed's arsenal to spread fear and terror.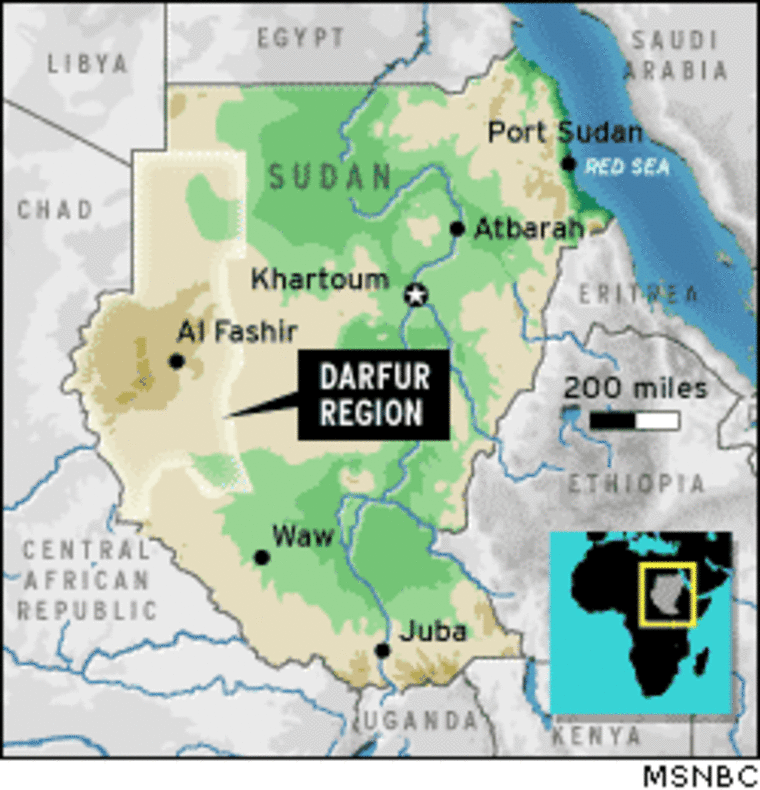 Pamela Shifman, UNICEF's expert on sexual violence recently returned from a trip to North Darfur after hearing testimonies from women and children who have been victims of rape and other sexual violence.
As in many other conflict situations around the world, Shifman described how rape is being used as a weapon of war in Darfur against not just individual victims, but entire communities in order to instill fear and shame.
Shifman visited with groups of internally displaced women and girls in Al Fashir, the main city in Northern Darfur, Abushook, a camp for internally displaced people, and Kabkabaya, a small city where more than 60,000 internally displaced people have relocated in order to seek refuge from the Janjaweed attacks.
The Sudanese women described being not only the victims of rape, but also witnessing the rape of sisters and mothers.
One woman told Shifman that she witnessed the rape of 11 girls at once, and when the Janjaweed threatened her own daughter, she was only able to prevent the attack by bribing the soldier with the equivalent of $60.
How is sexual violence being used as a weapon of war in Darfur?
The reason that girls and women are being targeted for rape in Darfur is the same reason that they are targeted for rape in so many other conflict zones around the world. Rape is used a weapon because it not only humiliates or shames the individual, but the entire community, and in that way it is a very effective method of warfare.
What is the biggest fear facing girls and women in the Darfur region?
I met with many groups of women and girls, and overwhelmingly, girl after girl, woman after woman, said that the major problem that they are facing is that they don't feel safe and that they face the constant threat of rape and other sexual violence.
The women described feeling relatively safe in the internally displaced camps run by humanitarian organizations, but the moment they venture out of the camps, they feel extremely vulnerable to sexual violence. 
Since Darfur is largely desert, they are forced to travel long distances to fetch enough firewood [for cooking] to feed themselves and their children and when they are undertaking that basic task, that is when they feel most vulnerable.
Knowing that the threat of violence is present outside the camps, do people take any specific actions to prevent the violence?
Families are faced with terrible choices, because women and girls who go out face the threat of rape and harassment and possibly other violence, and men and boys who leave the camp also face grave risks of being killed. So families are forced to make these decisions.
I heard stories of women who said that an elderly woman would be chosen to get wood in the hopes that she wouldn't be raped, but many elderly women do get raped. And many young girls do get raped. So this is a problem that knows no age boundaries.
Were the women open to speaking about the violence they were victims of or witnessed?
The women spoke out about the sexual violence that they were victims of or witnessed because they want to stop it.
Did you speak to any Sudanese men about how they feel about the victimization of their women?
I spoke mostly with groups of women and girls. But, it is important to hear from the men as well — the fathers, brothers, and grandfathers — to hear how the victimization of their wives and children affects them.
What can the international community do?
The humanitarian situation in Darfur has improved greatly in terms of access for non-governmental organizations (NGOs) to set up camps for the internally displaced and to help provide food, water, and other basic essentials to the victims of the crisis. But the one area that has not improved is security and a sense of safety.
The international community must demand that the Sudanese government protect women and children, they must demand an end to impunity for the people responsible for the violence, and every effort must be done to provide access to appropriate and compassionate healthcare for victims of sexual violence.
The international community must demand that things be different and not assume that rape and violence against women is the norm in warfare.

Has Secretary of State Colin Powell's use of the word "genocide" to describe the crisis in Darfur helped the situation at all?
What is happening in Darfur is untenable. What is happening is unacceptable. Terror is widespread and it really doesn't matter what word is used to describe it. It's distracting from the actual horror to debate the use of the term "genocide." The important thing is just to stop the violence.

Is there any sense of hope that the crisis will improve?
Things can't get worse, because women believe it has to improve and this can't go on. So it won't.
The words of one 6-year-old girl summed up best the mentality of many of the women of Darfur I met with. The young girl said, "I want my village to be good and I want the hate to disappear."
After 8-9 months of violence and displacement, people just want to go home and get back to their lives. After mostly hearing stories of horror, the young girl's comment offered hope.