Remember plug-in electric cars? They were all the rage in the 1980s, but then carmakers pulled the plugs on their programs due to long charging times and short driving ranges. Well, China has served notice that it intends to resurrect the technology and it impressed automakers and U.S. officials with the advances made already.
The idea is to start small — as in electric scooters and bikes — and then advance to large — as in electric buses — while at the same time applying improved battery technology to gas-electric hybrids and even hydrogen-powered fuel cell cars.
The message was delivered at the 2004 Challenge Bibendum, a green car exhibition named after sponsor Michelin's fluffy white mascot and held in October.
While foreign carmakers showed off flashy hybrids and fuel cell cars, China focused on home-built electric scooters, bikes, cars and buses. Indeed, 20 of the 24 electric vehicles at the Shanghai event were Chinese.
The Bibendum judges were impressed, saying that many of the electric vehicles posted "outstanding" results, and noting that scooters in particular hold promise "for the future of urban mobility — especially in China."
China already has an estimated 1 million electric bikes and scooters used by commuters who previously relied on bicycles, mass transit or gas-powered scooters. In Shanghai, Beijing and a few other large cities, the latter are being phased out because of the pollution they produce.
China's interest in electrics stems from its chronic smog in urban areas — two thirds of which comes from tailpipes — and its goal of curbing oil imports.
But it also sees export opportunities. Chinese-built electric scooters are already showing up in America, starting with the standup types marketed to kids in recent years. And higher-powered, sit-down scooters have shown up this year in chains like Target.
No 'waiting room' mentality
Michelin CEO Edouard Michelin had plenty of praise for the strategy, contrasting China's decisive action to a "waiting room" mentality by others when it comes to energy solutions. China, he added, wasn't intimidated by the fact that electric vehicles "are seen in Europe and United States as a so-so solution."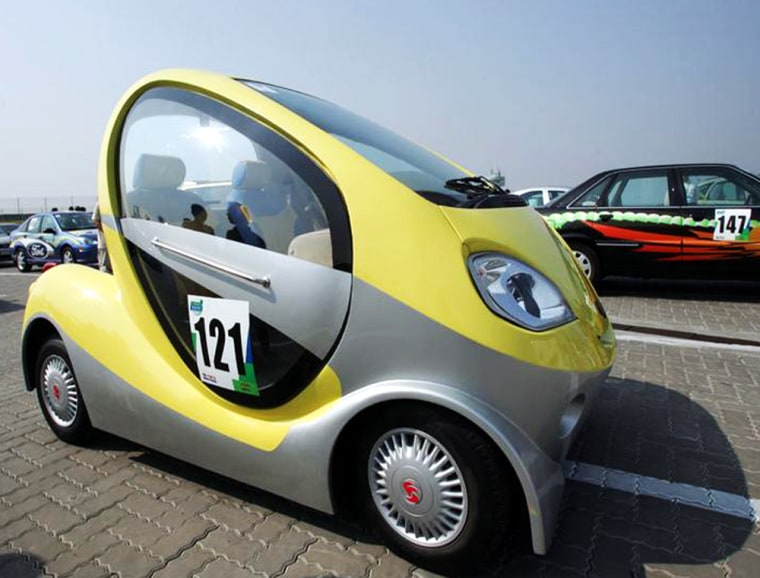 Jean-Marie Folz, the CEO of French carmaker Peugeot-Citroen, went further, telling reporters that "if anyone has a breakthrough in electric vehicles it will be China."
There's no question that China has already cashed in on a breakthrough in batteries. It produces the vast majority of the world's lithium-ion batteries, which are far superior to the lead acid batteries used on the electric vehicles of old. That's when an electric car was lucky to go 100 miles on a charge, and then needed to be plugged in for eight hours or more.
Lithium ion is even superior to the nickel-metal hydride batteries used in today's gas-electric hybrid cars. It's also what powers most laptops, cell phones and even IPods.
A dream no more
The man considered China's father of advanced technology says the progress has been remarkable when it comes to batteries and cars. "A 400 kilometer (250 mile) range is not a dream anymore," Wan Gang told Challenge Bibendum participants.
That kind of range, which comes with a charging time that's been halved, is comparable to today's gasoline powered cars.
Wan, who heads China's alternative automotive technology program, has big plans for batteries, starting with scooters.
"Electric two wheelers confirm they are a mature and sometimes outstanding solution," Wan said. 
Urban officials agree, with bans since 1996 on new two-stroke production in key cities. Anyone with a discerning eye can quickly distinguish the electrics from the gasoline scooters, most notably because the former make little noise while traveling at slower speeds.
The focus on scooters coincides with a boom in sales — bigger even than the more talked about explosion in car sales. In Shanghai, for example, scooter ownership went from 100,000 in 1996 to 630,000 in 2001. The growth in cars was one third of that.
China is also eying its bus fleet and hopes to use the 2008 Olympics in Beijing and the 2010 World's Fair in Shanghai to jumpstart cleaner mass transit. Each city wants to deploy hundreds of electric buses by those years, replacing dirty diesel transport. Some are already being tested on routes.
As for family cars, Wan doesn't expect a wholesale conversion to electrics but he notes that in Shanghai, China's wealthiest city, "the upper class already have two cars." So as the rest of China advances, he asks, why not think of electric vehicles as the perfect second family car?
'Bridging strategies'
Two senior U.S. officials attending the Bibendum event liked what they heard from Wan as well as Chinese entrepeneurs in the field.
John Beale, a senior air quality official at the Environmental Protection Agency, told MSNBC.com that what China's working on are "bridging strategies" to a future much less reliant on oil.
He sees the country developing an infrastructure of electric vehicles for specialized uses, ranging from buses to the airport trucks used to tow planes around.
The advances in battery technology could then be used with gas-electric hybrids and fuel cell cars, both of which China is also working on.
Energy Department official Phyllis Genther Yoshida saw China's push as potentially helpful to the program she directs: President Bush's fuel cell vehicle initiative.
After viewing one Chinese battery company's lithium ion-powered bus, Yoshida said it represented a "leapfrog" approach in how the batteries can be stacked together efficiently. She also quickly arranged to have one of her researchers visit the factory to learn more.
Home-grown company
Yoshida's experience was with ThunderSky, a privately held company agressively trying to market the technology at home and abroad.
CEO Lindo Ho told MSNBC.com that the batterymaker had also caught the attention of a French carmaker.
Lithium ion batteries, Ho added, break "the bottleneck" that had plagued electric vehicles, noting that ThunderSky's bus has a range of 180 miles and a recharge time of just three hours.
The company has also developed an electric scooter with a 95-mile range, 60 mph top speed and a 90 minute recharge time, she said. Plans are to partner with a scooter maker and sell it for around $2,000.
She's even hopeful that within five years electric cars for families could be available, but achieving that, she says, requires government help to develop a charging infrastructure for the public.
Leapfrogging Henry Ford
Foreign experts working with China on its urban transport issues include Lee Schipper, research director at the World Resources Institute's Center for Transport and the Environment.
He'd like to see crowded Chinese cities embrace small electric vehicles that would take up less space and use less energy than traditional cars.
"Were Chinese authorities or companies to attempt to scale these up in size to mimic larger, fueled cars, most of the advantages would go away," he adds.
He also notes that electric vehicles are not completely non-polluting since the electricity has to come from somewhere, and in China's case that's typically dams or coal-fired power plants.
"Such cars still do not represent 'zero emission vehicles,' only 'elsewhere emission vehicles,'" he says. The other main drawback "would be the problems of handling large quantities of the materials in the batteries, even though the materials could be recycled."
Still, China's drive for cleaner skies and fewer oil imports is doable, Schipper feels. The Chinese have "96 years of Henry Ford behind them," he says referring to the birth of the Model T in 1908. "In a way they're 96 years ahead of us."
On the other hand, he adds, ""There isn't much time."