/ Source: The Associated Press
It's a U.S. Homeland Security Department nightmare, and Honduras' most outspoken Cabinet member says it's happening: Al-Qaida operatives recruiting Central American gang members to carry out regional attacks and slip terrorists into the United States.
Yet U.S. and Central American officials say they have found no evidence supporting Honduran Security Minister Oscar Alvarez's allegations. And human rights groups accuse Alvarez of trumping terrorism reports to justify his crackdown on gangs, who in response have adopted terrorist-style tactics such as beheadings — 20 so far — and threatened the government.
Romulo Emiliani, a Roman Catholic bishop working closely with gang members in the northern city of San Pedro Sula, called the reports "an attempt to distract the public while the government puts thousands of youths in jail."
The U.S. government has long worried terrorists would tap into smuggling networks that move migrants and narcotics across Mexico's porous northern border and into the United States.
To combat those fears, Mexico has worked with the United States to keep a close eye on drug and smuggling activity. It also has made it much harder to enter Mexican territory legally if a person comes from a country with terror ties.
Alvarez, however, has stoked fears that terrorists are joining migrants crossing illegally into Mexico from Central America, then moving north.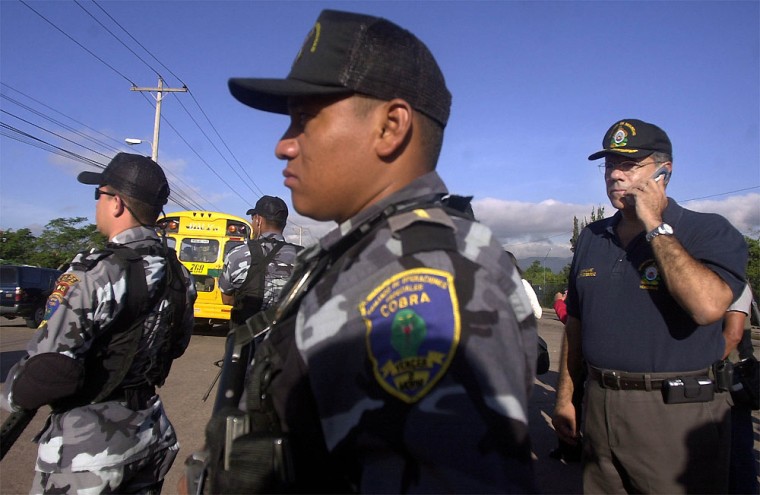 A spokesman for Mexico's National Immigration Institute said officials have caught "a significant number" of people from the Middle East trying to sneak into the United States from Mexico, although he refused to release exact numbers. One smuggler was arrested recently for allegedly moving Iranians and Iraqis into the United States.
There has been at least one confirmed report of a suspected terrorist in Central America. U.S. and Panamanian officials say Saudi native and alleged al-Qaida leader Adnan G. El Shukrijumah stayed in Panama for 10 days in April 2001, five months before the Sept. 11 attacks.
There also are fears El Salvador could be hit by terrorists for supporting the U.S.-led mission in Iraq.
Recent reports of possible terrorist activity in the region have been more questionable.
In May, here in Tegucigalpa, the hilly Honduran capital, two witnesses said they saw El Shukrijumah at an Internet cafe downtown, sparking rumors he was recruiting gang members.
Seeking Shukrijumah
U.S. officials have been scouring the globe for the 29-year-old Shukrijumah, and have offered up to $5 million for his capture. But a senior U.S. official in Central America, speaking on condition of anonymity, said there was no evidence he was ever here.
Alvarez, a former private security consultant educated at Texas A&M University, acknowledges he sometimes releases information that isn't confirmed, saying the reports keep Honduras' population alert to potential threats.
"I prefer that people live with the fear of possible danger than feel safe and have something happen," he told The Associated Press.
"Look at what happened in Spain. The people there felt safe, and they weren't," he added, referring to the al-Qaida-linked March 11 train bombings in Madrid that killed 191 people.
When pressed for details of al-Qaida's alleged ties to Honduras, Alvarez could not remember the name of the Internet cafe where El Shukrijumah was allegedly spotted. He ordered his office to find the information, but after an hour of searching, staff members said it was classified.
Beheadings and warnings
Alvarez, who is mulling a future run for president, was appointed security minister in 2002 to beat back rampant gang activity and has championed a zero-tolerance law that made membership in a street gang illegal and punishable by up to 12 years in prison.
While the initiative has been popular with Hondurans tired of crime, gang members have responded by beheading victims and leaving brutal warnings for Honduras' government on notes left with the bodies.
One note this spring read, "Idiots, the end of the world is approaching." And a message early this year said, "The next victims will be police and journalists."
The decapitations began Aug. 20, 2003, 13 days after the zero-tolerance law took effect and outlawed the country's gang members, who use extortion and violence to control everything from the drug trade to the country's bus routes. There have been an estimated 20 terrorist-style beheadings in a little more than a year — about one a month.
Migrant smuggling?
Alvarez said there also was evidence gang members might be joining terrorist organizations. He said three Honduran government informants told authorities that four suspects from "somewhere in the Middle East" had smuggled $1 million in cash into Honduras to finance a migrant-smuggling operation controlled by the Mara Salvatrucha street gang, which has a strong presence in Honduras, Guatemala, El Salvador and southern Mexico.
Guatemalan President Oscar Berger classifies links between gangs and terrorists as "rumor," and his Interior Secretary Carlos Vielmann said at this month's Interpol meeting in Mexico that "there hasn't been any indication that such ties exist."
The head of Interpol in Central America, Salvadoran police director Saul Hernandez, and Mexican Interior Secretary Santiago Creel also say they have no evidence supporting the theory.
One Mara Salvatrucha gang member, Jose Manuel Sarmiento, scoffed at the idea of teaming up with al-Qaida or other Islamic militants.
"We hang out with our homies on the street. How would we know how to make contact with terrorists?" the 19-year-old said in an AP interview from a sweltering jail cell in San Pedro Sula. "I've seen al-Qaida, but on television only."
'Time will prove me right'
Ernesto Bardales, a sociologist who founded a private rehabilitation program for former gang members, said exploiting terrorism jitters is a way of keeping the anti-gang law popular.
"People were terrified of gangs, but now the streets are quiet," he says. "How do you scare people again? With terrorists."
Alvarez counters that constantly talking about terror ensures terrorists skip Honduras in favor of quieter destinations.
"When terrorists feel threatened or discovered, they look for other places," he said.
Asked if he believed his country and neighboring nations really were swarming with terrorists, Alvarez is resolute.
"Time will prove me right," he says. "In time, everyone will see."