/ Source: The Associated Press
The Air Force has sent three cargo planes to central Africa to provide transport and other help for African peacekeepers going to Darfur, the violent region of western Sudan where 70,000 people have died in 20 months of warfare.
Three C-130s from the 86th Airlift Wing left Friday for Africa from Ramstein Air Base in Germany, a defense official, who discussed operations on condition of anonymity, said in Washington.
They will operate out of Kigali, Rwanda, and fly African troops and supplies into the Darfur region.
The official did not have a count on how many U.S. personnel would be involved. C-130s are rugged, propeller-driven cargo planes that can operate with a minimum of four or five crew members but often carry more. A number of mechanics and other personnel accompanied them.
It is the first U.S. military deployment to help in the Darfur crisis.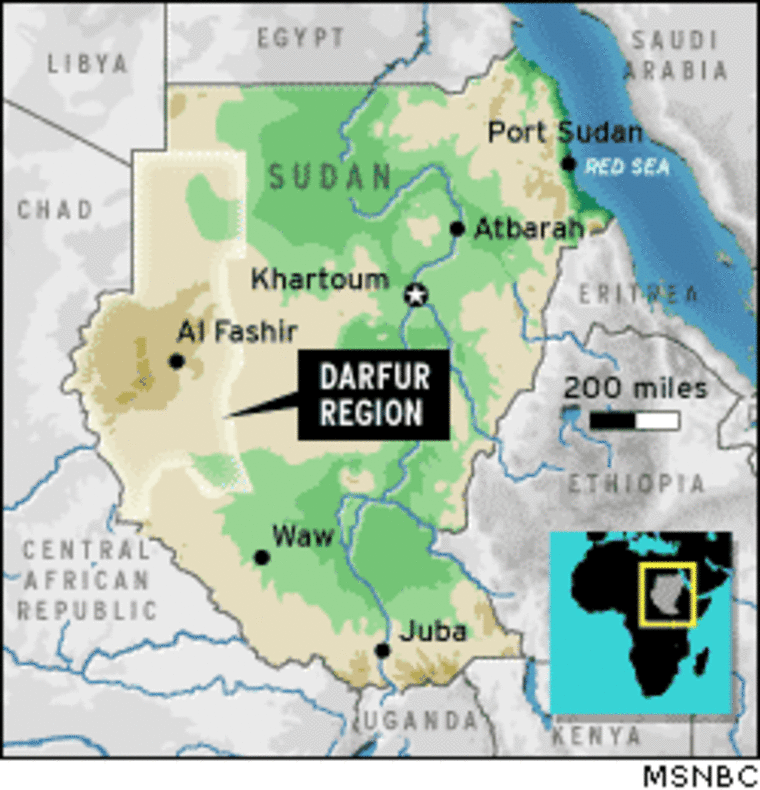 Without offering specifics, the White House released a statement Friday night saying President Bush had authorized $2.5 million in Defense Department commodities and services to be used "to support the transportation of African Union forces to Darfur, Sudan." Also Friday, officials in Brussels, Belgium, said the European Union will provide up to $125 million to support African peacekeepers in Darfur as the United Nations warned that crucial relief convoys are imperiled. Some 1.2 million people in Darfur rely on food from the World Food Program, a U.N. agency.
The African Union's Peace and Security Council agreed Wednesday to increase its peacekeeping force in Darfur from 390 to 3,320 troops and civilian police. The one-year operation is to cost $220 million, mainly paid for by the EU and the United States, according to council head Said Djinnit.
At least 70,000 people have been killed and 1.5 million displaced by the crisis, which began in February 2003 when two rebel groups took up arms over alleged unjust treatment by the Sudanese government and ethnic Arab countrymen. Pro-government militias called Janjaweed reacted by unleashing attacks on Darfur villages.
Officials said besides the United States, Canada and Australia also had offered to help fly the African peacekeepers into Darfur. Much of the EU's financial aid would go to providing rations, shelter and fuel for the force, officials said.
The African Union force will include 450 unarmed military observers, a major increase from the 80 currently deployed to monitor a shaky cease-fire.
An armed security force of 310 troops has been protecting the observers. That force will be increased to 2,341. The new one-year mission will also include 815 civilian police officers and 164 civilian staff.