On a warm autumn afternoon, the neighborhood boys stripped down to their shorts to play a hard game of street soccer while a group of flirty girls cheered from the sidelines.
Two brothers sat out the games — Carlos Manuel Lazo, 16, and Carlos Rafael, a year younger — opting instead to stay indoors to watch the news. Since their father left for Iraq, they spend a lot of time in front of the television.
"We watch every day to see if something important happened over there," Carlos Rafael said. We watch to make sure see we don't see him," acknowledged his brother.
Like others with family stationed in Iraq, they are worried. "There are a lot of people dying there and I don't want that to be my father's fate," Carlos Manuel said.
But unlike the families of other soldiers, these boys worry alone.
Worrying alone
The brothers live in Havana, Cuba, far removed from the yellow ribbons, patriotic speeches, and community support sustaining military families across the United States.
For them, it's the complete opposite. The Cuban government vehemently opposed the war before it ever started.  Last week, Parliament President Ricardo Alarcon described the U.S. occupation as  "indecent" and "abominable."
On the airwaves, the Cuban media report only the grim stories out of Iraq, illustrating mortar attacks, car bombs, and civilian casualties with uncensored video.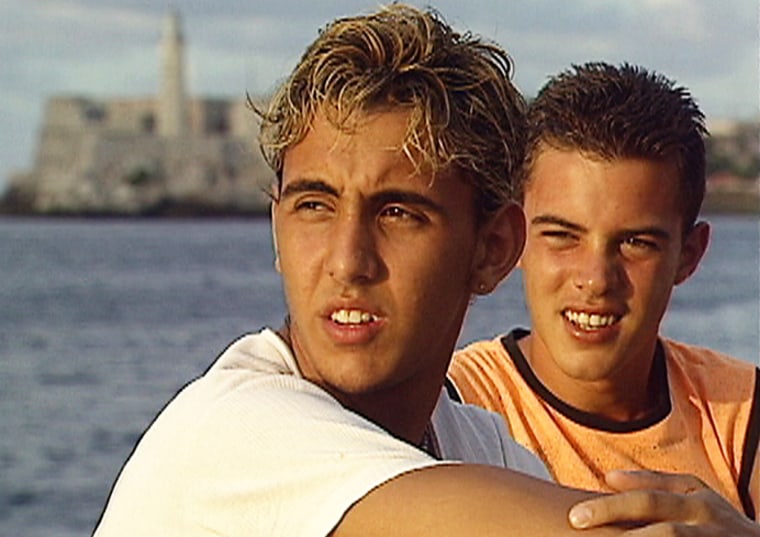 Public opinion against the war also is widespread in Cuba.
So, it's against this backdrop that two concerned teenagers pray for their dad.  Admittedly, it's not easy but, according to their grandmother, they cope by "relying on each other."
That may be what gives them the guts to think outside the box. When asked about Iraq, both boys deftly dodged the question, answering alike, "We're very proud of our father."
Risked life to emigrate to U.S.
When prodded, the eldest son admitted that criticizing the war feels "wrong," even "disloyal," to dad, Carlos Lazo Sr., 39.
He is a combat medic treating Iraqi prisoners north of Baghdad. He is also what the Cubans call a "balsero," the Spanish for "rafter."
Thirteen years ago Lazo bid goodbye to his two small boys, took a homemade boat and crossed the dangerous Florida Straits. After four days at sea, he was rescued six miles from Key West. That had been his second attempt. The first time, in September 1988, he was caught and spent a year in prison.
Like many Cuban refugees, Lazo settled in Miami. There, he remarried and started a new family. Six years later, he moved to Seattle and found work as a counselor. After an earthquake hit Washington state, he joined the National Guard, wanting to "give something back" to a place that treated him well.
Over the years, Lazo maintained steady contact with his sons, sending money and traveling back home on a regular basis. He last visited in April 2003, seven months before he was mobilized in Operation Iraqi Freedom.
Now, Lazo is in a dangerous place, doing a dangerous job.
"My dad is a special guy, a great guy," said Carlos Rafael. "We know why he's there, because he's the type of person who puts other people first. He feels the suffering of other people and wants to help."
Restrictions on travel
The war has separated many military families, but this Cuban family faces war of another kind.
During a two-week leave this summer, Lazo tried to board a plane to Havana but never made it past a Miami check-in area. He was grounded by new White House curbs on travel to Cuba, aimed at toughening the four-decade-old U.S. economic embargo on the country.
Under the presidential mandate, Cuban-Americans may only spend two weeks in Cuba every three years and only to visit immediate family.
Previously, they could visit any living relative once a year. The White House also eliminated emergency humanitarian visits and cut the amount of money Cuban-Americans can send to relatives.
The Bush administration argues the restrictions should hasten the downfall of Fidel Castro by denying revenues to the cash-strapped island.
While most Cuban-Americans support the new get-tough moves, growing numbers charge the actions punish the wrong people.
Political moves lost on sons
As part of a generation that views the U.S.-Cuba conflict as ancient history, the political arguments are lost on the Lazo brothers. They frankly don't understand what prevented dad from spending his leave in Havana.
"Why would the U.S. government stop him from coming? We have nothing to do with Iraq," said Carlos Rafael.
His older brother added, "Three years is too long. I miss him when I'm alone. When I don't have anyone to talk to. When I'm with my friends. When my friends are talking about their fathers. There's a hole because he's not with me."
Lazo Sr. feels the same.
From a dusty airstrip in Iraq's Camp Anaconda, the soldier taped a video message, imploring lawmakers to change this "election-year policy." The Washington-based Center for International Policy plans to make sure Congress sees it when lawmakers reconvene after the election.
Holding two photographs of his children, Lazo made a passionate plea, "If I lose my life here in Iraq, the irony won't be I didn't get to see my children because I was sent to war.
"The irony will be… because my Commander-in-Chief… did not allow me to visit them when I was able to."