/ Source: Arthur Frommer's Budget Travel
I knew things had changed in Morro de São Paulo, a village on Ilha de Tinharé, the minute I saw the MasterCard awning. It stretched for 200 feet over the wooden pier where my catamaran docked—the same pier where I'd pulled up nine years ago, but back then there was no awning, just a line of torches arcing up a steep, sandy path.
Morro's main street had changed, too. Where there once had been a handful of candlelit restaurants serving fried fish, there were now two dozen, huddled together, stacked on top of each other—creperies and pizzerias with high ceilings and flaming-orange walls; Internet cafés selling art and art galleries offering Internet service; boutiques stocked with crocheted bikinis, diaphanous skirts, and T-shirts that commanded no stress, and beneath, in small letters, morro de são paulo.
That first night, sipping espresso in an Italian restaurant, I lamented the town's transformation with Pedro, an Uruguayan artist sitting beside me. Pedro had more reason to be distraught: He had moved to Morro 23 years ago, when travelers camped on the beach or slung a hammock. Now three dozen pousadas and a couple of eco-resorts vie for their business.
But Pedro insisted that beyond the village center Morro was as lovely as ever: There were still uncrowded, reggae-free beaches; and there were other villages to explore on Ilha de Tinharé as well, villages where tourism had left virtually no footprint at all.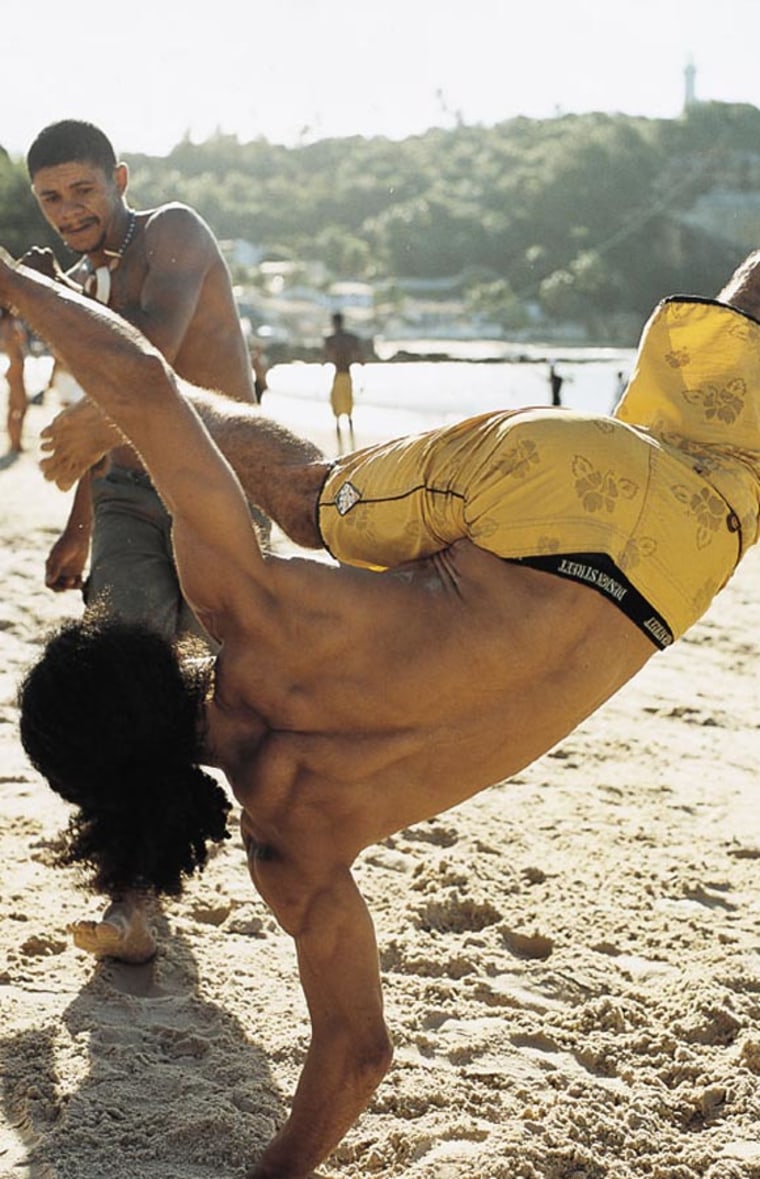 The next day, he took me to a boulder-strewn beach called Praia do Porto de Cima. We were trailed by his saffron-colored dog, Dendê, named for the rich, saffron-colored palm-nut oil used in traditional Bahian cooking. There wasn't a tourist in sight, only a circle of local boys practicing capoeira, an African-Brazilian martial art, accompanied by the rhythmic twang of a one-string bowed instrument called a berimbau. Capoeira is the cunning invention of 15th-century slaves, who disguised its ferocity from their masters by choreographing the moves to look like an innocuous hybrid of dance and gymnastics: fan kicks and spins and headstands that melt into somersaults.
After 40 minutes, we rounded a curve, and the coastline opened up into a wide expanse of sand backed by raw pink-sandstone cliffs. At the foot of the cliffs, a trickle of water had turned the sandstone into a thick pool of clay. Milling around were a half-dozen people slathered in the stuff, looking vaguely undercooked. "It's an exfoliant," Pedro said, seeing my mystified expression. Ten minutes later, we were covered in pink clay, basking in the sun.
Our skin smooth and glowing, we stopped for juice at a beach hut on the next beach north, Praia da Gamboa—except that there was no juice that day, just beer and water, so that's what we had. After the crepes and sushi of Morro's main drag, I found the limitations oddly comforting.
Once I let go of my sentimental memories of a torch-lit, car-free island, I was able to appreciate the charms of Morro's vibrant village center as well: the impromptu jam sessions, the off-key sing-alongs on the steps of Pousada do Joe, the street exhibits of handmade lamps and Art Brut sculptures made of dried coconut husks, driftwood, and wilted flamboyants. Weaving in and out of the crowd were boys pushing wheelbarrows, some piled with bricks, cilantro, or firewood, others painted with the words super taxi, their teenage "drivers" trawling for tourists fatigued by Morro's steep hills.
By day, Morro's most animated beach, Segunda Praia, is a sun-drenched catwalk where young Brazilians proudly display their assets. At night, enterprising villagers set up portable bars: 20 identical spreads of mango, papaya, passion fruit, and avocado, photogenically arranged around bottles of liquor. A fast-talking huckster with a goatee grabbed my hand and led me to a table. "Come," he said.
"I will make you a drink for all-night energy." He prescribed avocado and gin, but I opted for passion fruit and vodka—prissier, but more appetizing.
The crowd began to arrive at 11 p.m.—lustrous-skinned women in halters, hot pants, and earrings like chandeliers, and couples who quickly laid claim to the chaise lounges near the ocean, where they could lie entwined and gaze at the stars. By midnight, the speakers were pumped up. By 1 a.m., there were 100 people dancing in the sand—not to samba, though. Not to bossa nova. Not to the African-Brazilian percussion that hits you right in the pelvis, either. They were dancing to Moby. I might as well have been in a Manhattan nightclub, circa 2000.
It turns out that Wednesday is the night for African-Brazilian music in Morro. That's when half the town treks up the 200 steps to the island's amphitheater for a 20-person jam session, a percussion-fest that goes until 3 a.m., and involves plenty of caipirinhas, plenty of sweat, and no inhibitions.
Ilha de Boipeba
The river that separates Ilha de Tinharé from Ilha de Boipeba, my next destination, is called Rio do Inferno—Hell's River. The foreboding name made me anxious about the crossing. In truth, Hell's River is as volatile as a pond. It's easily traversed in a five-minute ride on a fishing boat.
The Jeep ride across Ilha de Tinharé to the banks of Rio do Inferno was another story. My driver, 24-year-old Nino, drove as if he were at the wheel of a video game, veering sharply around imaginary obstacles and gunning the engine over gentle swells of earth. The gasps of the two Brazilian girls in the backseat only encouraged him.
Nino had Morro energy: young, hormonal, ready to rock. Boipeba energy, I soon learned, was entirely different. The island is dramatically less developed, and people don't come to Boipeba to party or shop. Those things simply aren't on the menu, unless you count the riverfront bars selling the occasional beer to the occasional traveler, or Arte de Boipeba, where the art consists of Barbie dolls and soccer balls.
If you come to Boipeba, you come to stroll the deserted white beaches, to nap under a palm tree, to stand calf-deep in natural tidal pools and watch electric-blue fish dart around. You come to stumble upon a fish shack, after 40 minutes of stumbling upon nothing at all, where the proprietors will watch you keenly as you eat their grilled lobster with lime juice—they charge just $7—speak to you in Portuguese, and laugh at your dismal attempts to reply.
Tourism is tangential to daily life on this serene, lush island. Mornings in the village of Old Boipeba have a timeless quality. Fishermen mend their nets beneath the shade of almond trees. Horses, tied to soccer goalposts, graze on the village green. Three topless little girls sit on the front stoop of a pistachio-colored house, fanning each other with palm fronds.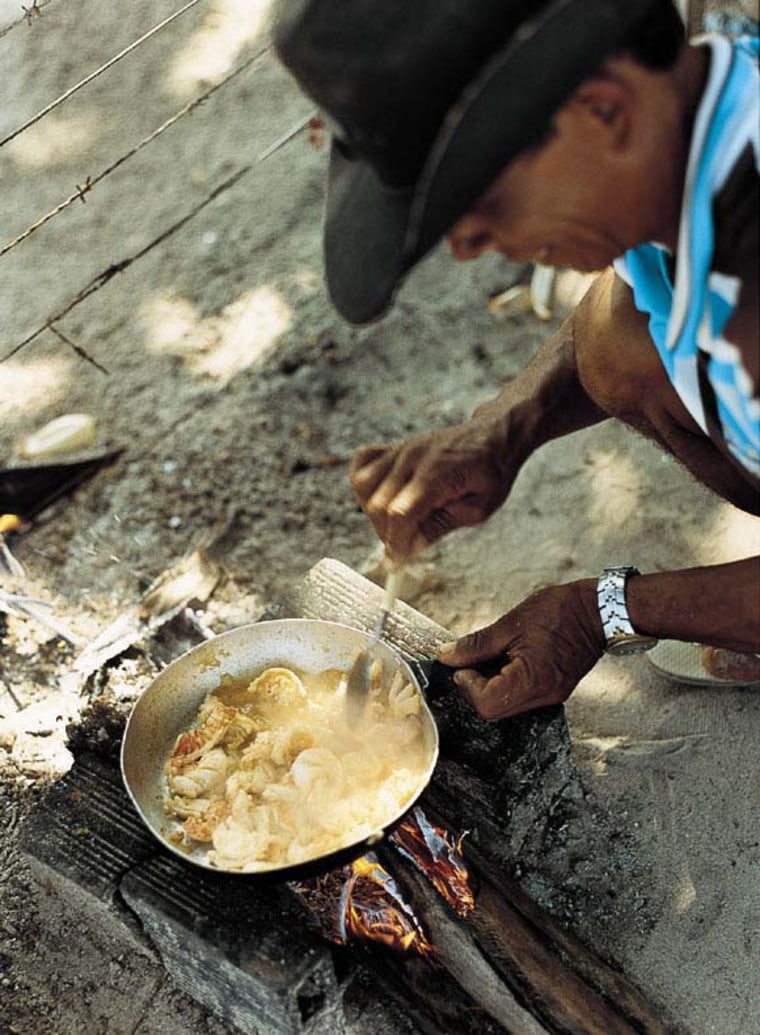 Not that the residents of Boipeba are impervious to tourism. A few years ago, 65-year-old Tevinho, a bony fisherman with a glorious bloom of hair, set up the Museum of the Arts of Boipeba in the front room of his house to display the conch shells, the six-foot-high whale rib, and the heads of coral that had become entangled in his net over the past four or five decades. Some of them he has turned into art objects: 100 tiny shells were transformed into a hula skirt for a plastic doll, and a piece of sinuous driftwood had been painted to look like a dragon. A small sign on one of the tables politely requests a donation. When I asked if Tevinho would consider selling the driftwood dragon, he emphatically refused. Impervious to tourism, no—but not entirely seduced by it, either. 
The pousada where I stayed, Santa Clara, was a casually beautiful place, set in an aromatic tropical garden. My room was bright and spacious, with a view of the ocean from the veranda. It's owned by two brothers, one a chef who turns out delicious, creative food—red snapper in passion-fruit sauce, lobster ravioli, shrimp and green papaya simmered in coconut milk—that are a welcome detour from the four standard seafood dishes served everywhere else on Boipeba.
Sitting at the beach at sunset one evening, I was approached by a guy in a T-shirt that read iran: guia turistico. He wanted to know if I'd like to take a walk. He pulled out a picture album of mangrove-lined beaches and azure colonial churches.
Why not? A walk sounded nice. We set off at 8:30 a.m. with two middle-aged Frenchmen who arrived with no shirts, no sunscreen, no water—nothing but a pack of Marlboro Reds between them. Our "walk" turned out to be an 18-mile trek up blazing sandy paths, through dense forest, and across waist-deep rivers where Iran advised us to look out for crocodiles. Iran—whose distinctly un-Brazilian name was inspired by a word on a cigarette wrapper his father spotted during his mother's pregnancy—had encyclopedic knowledge of Boipeba's jungly interior. He pulled silvery green fronds from the ground and squeezed their clear liquid onto my hair to make it shiny. He tapped the trunk of one tree until it oozed milky sap, which is used by children to create soccer balls and by their mothers to calm upset stomachs. When my energy started to flag, Iran tucked a minty-smelling leaf into my waistband, claiming it would cool me down and reenergize me. Placebo effect, perhaps—but it did work.
Because Iran and I spoke barely a word of each other's language, all of this information was conveyed through expressive pantomimes. Occasionally, I made tentative forays into conversation, piecing my 15 words of Portuguese into makeshift phrases.
"Do you have children?" I asked.
"Yes," Iran said. "Two."
"They are small men or small women?"
"They are small men."
The main event at night on Boipeba—in fact, the only event—is going out for dinner. There are but a handful of restaurants open in the evening, which means that you run into half of the tourists on the island wherever you go. After a few days, I knew them all, at least by sight: the Israeli woman with the jailbait boyfriend, the Swedish guy who couldn't hold his caipirinhas. My last night on Boipeba, all of the guests at my pousada walked en masse to a pizzeria, where I ran into the shirtless French guys I'd hiked with the day before, as well as the girls who had gasped their way through the Jeep ride to the banks of Hell's River. Returning from dinner, I glanced longingly at the bars strung along the river, consumed with thoughts of dancing. But they were dark and empty.
Maraú peninsula
Locals brag that Brazil's last stretch of undeveloped coastline is on the Maraú Peninsula, a dry, flat finger of land bordered on one side by Camamu Bay and on the other by the Atlantic. To get there, I took a bus from the town of Graciosa to the town of Camamu, and a boat ride to the fishing village of Taipú de Dentro, where I was met by a mutant vehicle—half Toyota pickup, half golf cart—sent by my hotel, Pousada Taipú de Fora.
Taipú de Fora is the section of the peninsula reputed to have the most beautiful beaches. It's a lonely, romantic place: deserted stretches of powdery sand; reckless surf; sharp, salty breezes. In the distance, a red-and-white lighthouse winked through the night.
I spent most of my time doing nothing in various places. I lay in a chaise lounge under a palapa listening to the ocean. I lay in the hammock on my veranda listening to the ocean. I lay on a massage table under a white tent listening to the ocean. I sat on a wooden bench sipping caipirinhas at a place called Bar das Meninas—the Girls' Bar. It's run by two friendly young Brazilians, Tatiana and Claudia, who are quite happy to let every visitor in Taipú de Fora hang out there all day reading, playing cards, listening to Brazilian trip-hop, and ordering the occasional drink or snack.
At Tatiana's bidding, I considered breaking my vow of lassitude to take a custom-designed boat tour of some of the bay's smaller islands—places, she said, that time has all but forgotten. There is a former slave colony where the women make dendê oil. There is an island where men hammer out wooden schooners reminiscent of colonial expeditions. There is a fairy-tale house where someone named Grandma Dolores makes fresh mango ice cream.
As it turned out, Tatiana's tour-guide friend was not available, so I opted instead for the standard boat tour of Camamu Bay with a fisherman named Neuso. I tried to suggest that we follow Tatiana's itinerary, but he had his own plan. First we stopped at Ilha da Pedra Furada, a tiny geological anomaly in the middle of the bay where the wind had carved out two natural stone arches. Its only occupants were a retired fisherman and his wife, who charge tourists 75¢ for a three-minute tour—under the stone arch, and back through again. Next stop: Campinhos, where we ate fried fish with two of Neuso's friends, a chicken farmer and his 23-year-old wife, Flavia, who could pass for a supermodel. She pulled out a scrapbook filled with sultry snapshots of her flitting around Salvador. Two years ago, her husband had convinced her to leave the city so he could raise chickens in Campinhos. I asked her if she liked living on the island.
"Adore," she said, putting her hand to her heart. "You don't get bored? You don't miss your friends?"
She laughed and made a sweeping gesture with her arm, taking in the pink hibiscus, the palms, the mango trees. "Bored? In paradise?"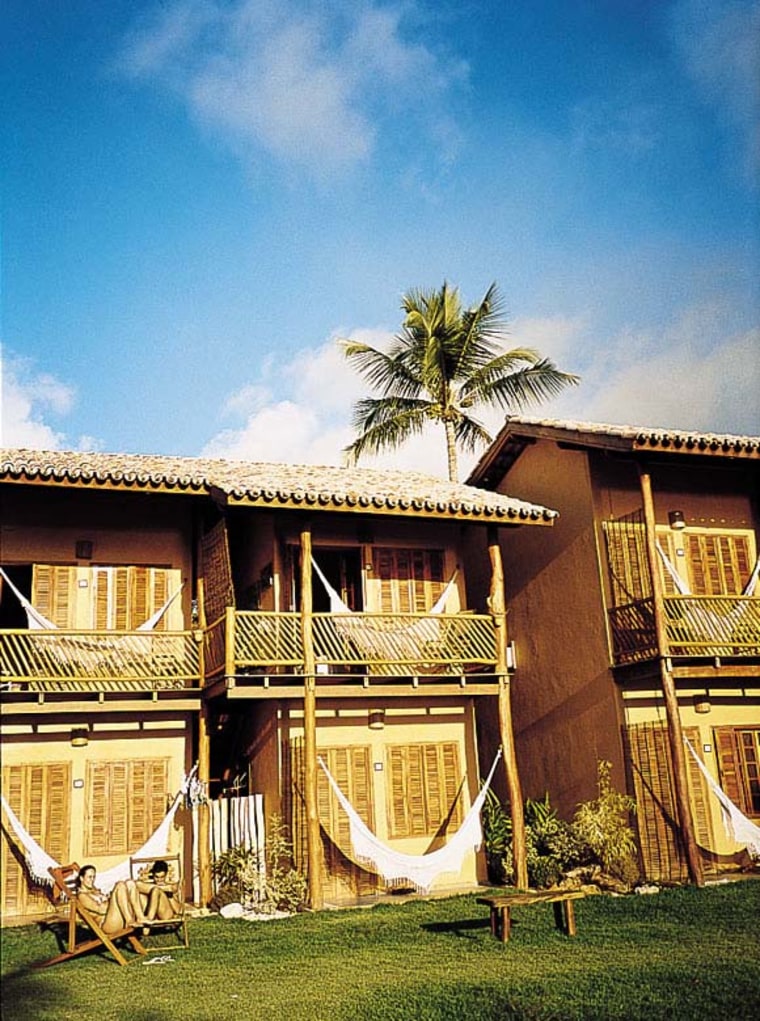 Call me a philistine, but by my last night I was bored in paradise. I checked into a sunny yellow pousada called Ponta do Muta, in Barra Grande, the fishing village at the tip of the peninsula. After a dinner of ginger shrimp and jasmine rice at a disarmingly sophisticated place called Bistro, I wandered around the village square. Families were gathered at plastic tables playing cards and eating acarajé (fried bean cakes), while teenage boys loped around the open-air video arcade, jingling the centavos in their pockets.
I was drawn to the beach by the screech of a microphone coming from a maladjusted amp. At a thatched-roof bar called Capitão Gancho, a guitarist and a conga player were warming up to an audience of one, the bar's owner. For the first 20 minutes, it was just the two of us listening to the sensuous strains of bossa nova. Gradually, people began to emerge from the shadows: two women in angelic white sundresses, a septuagenarian couple, a lanky guy with a shaved head.
By 10 p.m., the bar was full, but no one was dancing. Then the music stopped. The guitarist said something into the mike, there was an explosion of applause, and the bar owner turned to me. "Forró, forró!" she shouted over the drumbeat, which was suddenly lively and robust. Forró music is roughly the equivalent of country music: mournful lyrics about heartbreak and agrarian struggle set to a jaunty rhythm. Immediately, eight couples were on the sandy dance floor, doing a syncopated dance that reminded me vaguely of the polka, but much less chaste. With forró, your pelvis is pressed tightly against your partner's, and every few beats you throw in a sassy little shake of the hips. I watched their footwork intently, hoping to impress all the Brazilians when my turn came to dance. I was still mid-study when the guy with the shaved head pulled me out of my chair and onto the dance floor.
"Wait, wait, wait!" I protested. "I don't know how."
"You will learn," he said.
I tried to mimic what I'd seen the other couples do. I put my left hand on his shoulder and closed my right hand over his left. I waited for the downbeat to start: right-left-right, left-right-left. I even threw in a loose little shake of the hips.
My partner was struggling to suppress an amused smile. He stopped dancing. He unfurled my right hand, clenched tightly around his. He rested his cheek against mine. "Remember," he said. "You are in Brazil." He put his hand on the small of my back and pulled my pelvis toward his. My muscles tensed and I stopped breathing. "Relax," my dancing partner said into my ear. And as our feet moved silently in the cool, dark sand, two complete strangers dancing the sexiest folk dance on earth, I finally did.
How to get there
First fly to Salvador, where you can take a boat to Morro de São Paulo ($20). In high season, December through mid-March, it's worth buying your ticket a day in advance. They don't take phone reservations, unfortunately: You just go down to the dock and fork over the money. To get to Boipeba from Morro, you take a Jeep and a fishing boat ($10). The tourist office on the main drag in Morro sells tickets. The trip to Maraú Peninsula involves a bus ($3) and a boat (the fast boat is $20, the slow one $2); buy tickets at the dock.
If this sounds vague, that's life in Brazil. To find out the boats' schedules, inquire at your hotel or the docks. There are generally two types of boats: Slow ones (catamarans) are cheaper but take an hour or two more than fast ones (speedboats). The price difference can be as much as $20.
Prices vary greatly from low season (late March/early April through November) to high season. Lodging prices include an abundant breakfast of eggs, fruit, cheese, pastries, cereal, coffee, and fresh juice.
In this part of Brazil, it's unusual to encounter Brazilians who speak English. A good Brazilian Portuguese phrase book/dictionary is imperative.
Finally, in addition to your passport you need a visa ($100). Contact your local Brazilian consulate for more info; travel.state.gov lists the consulate offices.