/ Source: The Associated Press
Italy's choice for a European Commission post, who sparked an uproar with his comments on homosexuality and women, said Saturday he will step aside.
Rocco Buttiglione said he wanted to give a free hand to incoming Commission President Jose Manuel Barroso in forming a new executive. He made the announcement at a news conference a few hours after Italian Premier Silvio Berlusconi indicated he was withdrawing Buttiglione as Italy's nominee for the justice commissioner post.
"I am ready to step aside to favor the path of the Barroso commission, which I wish every success," Buttiglione said, reading a statement.
Berlusconi said late Friday that he would likely find another nominee to replace Buttiglione for the EU post, while Buttiglione would retain his current post as Italy's minister for European affairs.
Berlusconi said the decision was taken after he met Barroso and other European leaders, who were in Rome on Friday to sign the EU's first constitution.
Conservative views
A committee in the European Parliament earlier this month objected to Buttiglione's nomination for the EU justice post because of his conservative views.
Buttiglione, a Catholic who is confidant of Pope John Paul II, drew outrage when he told his confirmation hearing at the European Parliament that homosexuality is a sin and women are better off married and at home.
"I may think that homosexuality is a sin, but politics doesn't have to get involved in that," Buttiglione told reporters.
He described himself as a victim of an "ably orchestrated campaign" because of his conservative views.
Under EU guidelines, the Parliament cannot vote out individual nominees for the 25-seat executive Commission, but must vote on the group as a whole. Faced with an almost certain rejection, Barroso on Wednesday withdrew the entire Commission to allow more time for a solution.
Signing of EU constitution
On Friday, European leaders signed the EU's first constitution.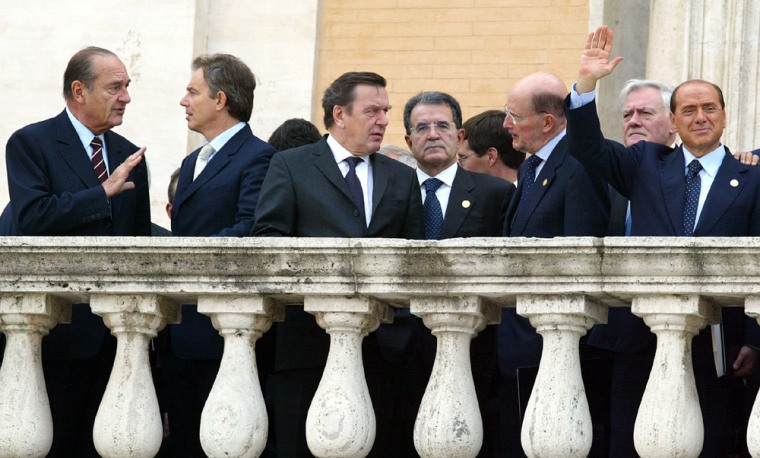 The treaty foresees simpler voting rules to end decision gridlock in a club that ballooned to 25 members this year and plans to absorb half a dozen more in the years ahead. It includes new powers for the European Parliament and ends national vetoes in 45 new policy areas -- including judicial and police cooperation, education and economic policy -- but not in foreign and defense policy, social security, taxation or cultural matters.
The constitution was signed in the sala degli Orazi e Curiazi, the same spectacular hall in a Renaissance palazzo where in 1957 six nations -- Germany, France, Italy, the Netherlands, Belgium and Luxembourg -- signed the union's founding treaty.