/ Source: The Associated Press
Environmental groups filed a federal lawsuit Tuesday to reverse a Bush administration decision to set aside Reagan-era rules aimed at protecting wildlife in national forests.
The suit, filed in U.S. District Court in San Francisco, seeks to reinstate a 1982 rule that required the Forest Service to ensure that "viable populations" were maintained of wildlife species that are not endangered, such as elk, Appalachian brook trout and river otters.
The administration set aside the rule last month, saying officials now can rely on the "best available science" — a less specific standard — to guide their decisions.
Environmentalists had used the wildlife rules, developed under the 1976 National Forest Management Act, to block logging projects in the Pacific Northwest and elsewhere.
"The Bush administration is trying to make it legal to drive wildlife species toward extinction in the national forests," said Tim Preso, a lawyer for Earthjustice. That environmental group filed the suit on behalf of Defenders of Wildlife and other conservation groups.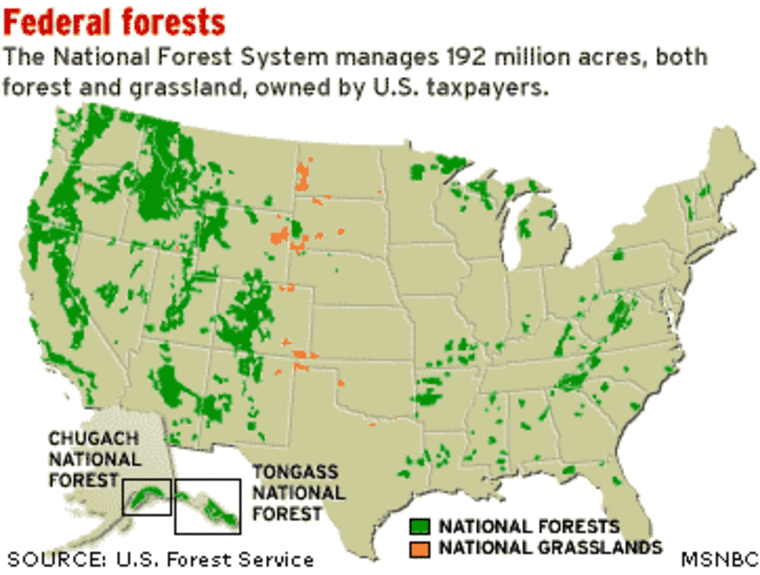 The rules change, announced Sept. 29, took effect immediately without a public comment period, which environmentalists cited in their legal challenge.
"The Bush administration tried to ... tinker with the fine print to gut environmental regulations, hoping no one would notice," said Mike Anderson of the Wilderness Society. "But we noticed, and we are going to do something about it."
A Forest Service spokeswoman would not comment on the lawsuit.
A spokesman said earlier this month, however, that environmentalists' complaints about the new rules were off-base.
Spokesman Dan Jiron called the change minor, adding that managers will use scientific methods to gauge habitat conditions and assess how animals are faring. The rules skipped the comment period normally required for rules changes because "it's an interpretation of an existing rule," Jiron said.
A timber industry official called the lawsuit politically motivated.
"What we have is classic political grandstanding through the courts by the environmental lobby," said Christopher West, vice president of the American Forest Resource Council, a timber industry group.