/ Source: The Associated Press
Six jailed former senior leaders of the armed Basque separatist group ETA have urged it to abandon violence, saying that after decades of bombings and shootings ETA has finally been defeated by Spanish security forces, a newspaper said Tuesday.
"The armed struggle that we carry out today does not work," the six men said in a letter to ETA's clandestine leadership, according to the Pamplona newspaper Diario de Noticias.
Instead, the letter said, ETA should step aside and let pro-independence politicians work through Spain's existing institutions to try to achieve ETA's goal of a sovereign Basque nation straddling land in northern Spain and southwest France.
One of the six signatories is Francisco Mugica Garmendia, ETA's leader in the late 1980s, one of ETA's most violent periods — from 1985 to 1990 it killed nearly 200 people. Another is Inaki Arakama Mendia, who took part in failed peace talks with the government in 1989.
'Political-military strategy ... defeated'
The letter added that "our political-military strategy has been defeated by the repression the enemy has waged against us."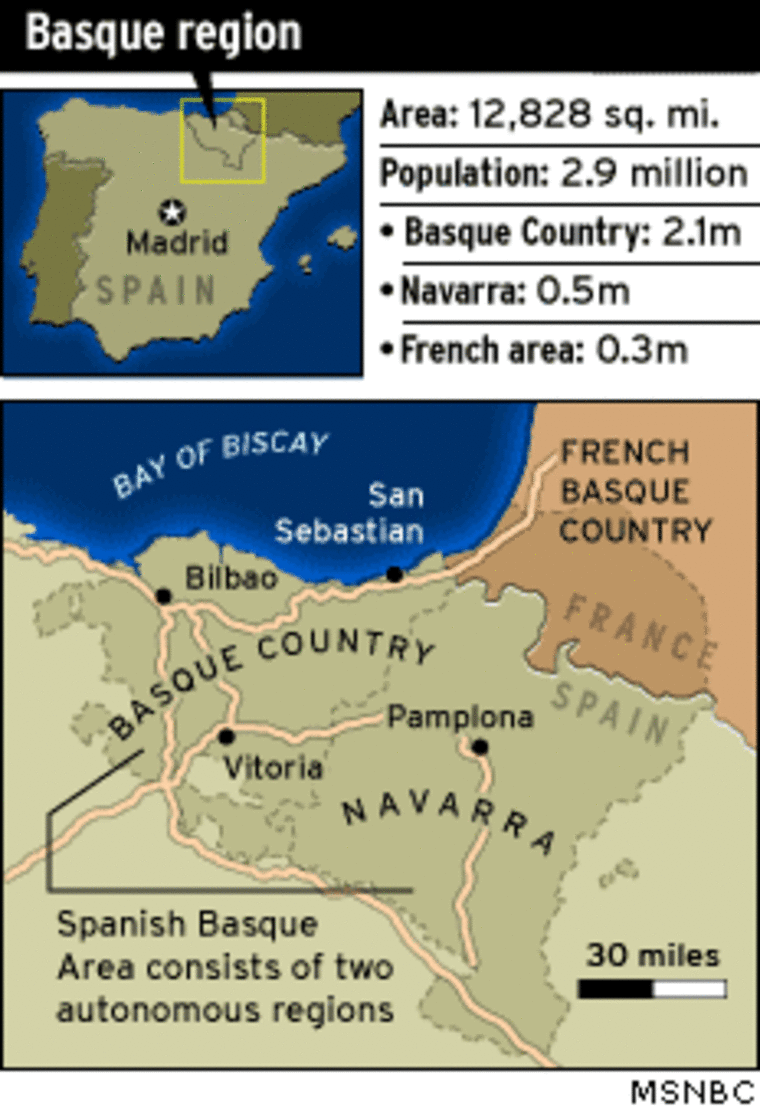 Spanish authorities have been saying for the past two years that ETA has been decimated by wave after wave of arrests that netted more than 200 suspected members in Spain and southwest France, which ETA traditionally used as a refuge and staging ground for attacks.
In October, French and Spanish police arrested reputed longtime ETA leader Mikel Antza and a senior colleague and seized a huge weapons cache including hundreds of pounds of dynamite, tens of thousands of rounds of ammunition and two Russian-made surface-to-air missiles. The raid was billed as the biggest blow against ETA in more than a decade.
Police arrested four more suspected members Tuesday in Bilbao.
Diario de Noticias said the letter to the ETA leadership was dated August, which suggests that even before Antza was nabbed, the six former senior leaders thought it was pointless to keep killing people.
"Never in the history of this organization have we been in such bad shape," the letter was quoted as saying.
Governments have ruled out talks
It said ETA's goal had been to wage attacks that would force the Spanish government into negotiations on Basque independence — a concession which successive governments have ruled out — but police measures now made this tactic impossible.
"This forces us to reconsider the vanguard strategy carried out so far," the letter said.
ETA, a Basque-language acronym that stands for Basque Homeland and Freedom, has been blamed for more than 800 killings since 1968.
ETA staged a string a minor explosions this summer in resort towns across Spain's northern coast, but it has not carried out a fatal attack since a car bombing in May 2003 killed two policemen in Navarra province, which borders the Basque region.
Many Spaniards also believe that ETA was effectively stymied by the Madrid terror bombings of March 11 of this year, which killed 191 people and were blamed on militants linked to al-Qaida.
The idea is that large-scale attacks by ETA are now unthinkable because the grassroots backlash would be fierce, even among Basques.
ETA leader in October
Antza, the leader arrested in October, had taken over the organization shortly after Mugica Garmendia was arrested in southwest France in 1992 in a raid in which virtually all of ETA's senior people were taken in.
Mugica Garmendia was sentenced in 2000 to 12 years in prison for a 1987 car bomb attack that killed a Spanish sailor.
In 2001 he was sentenced to 34 more years along with two other senior ETA members after being convicted of extorting money from Basque business leaders to finance ETA operations.