/ Source: The Associated Press
Hamid Karzai pledged Thursday to use his five-year term as Afghanistan's first elected president to crack down on warlords and the country's booming drug economy.
Accepting his victory in the historic Oct. 9 ballot, Karzai also appealed to his rivals hours after they conceded defeat despite lingering fraud allegations.
"The Afghan people have placed their trust in us, for which we are very grateful," Karzai said at his Presidential Palace, flanked by his two smiling running-mates. "It will be hard to live up to, but we will do our best."
Karzai has said smashing Afghanistan's opium and heroin smugglers will be his top priority and the key to reining in warlords resisting the feeble authority of the central government.
Cabinet shake-up planned
He has also pledged to clear his Cabinet of faction leaders who helped the United States oust the Taliban three years ago but have proved to be deadweights in office.
Asked if any warlords or figures believed to profit from drugs would survive the purge, Karzai said: "There will not be any private militia forces in Afghanistan."
"There will definitely, definitely not be any drug thing in Afghanistan," he said. "We're going to be dedicated, strong in working against that."
Election officials declared Karzai the winner Wednesday after more than three weeks of laborious counting and arguments about whether Karzai had cheated his way to victory.
Yunus Qanooni, who finished second with 16 percent compared to Karzai's 55 percent, accepted the result just hours before Karzai made his televised acceptance speech.
Rivals drop boycott threats
"For me, Afghanistan's national interests are the most important," said Qanooni, Karzai's former education minister. "If we didn't accept the result, the country would go toward a crisis."
Ethnic Hazara chieftain Mohammed Mohaqeq and ethnic Uzbek strongman Abdul Rashid Dostum followed suit.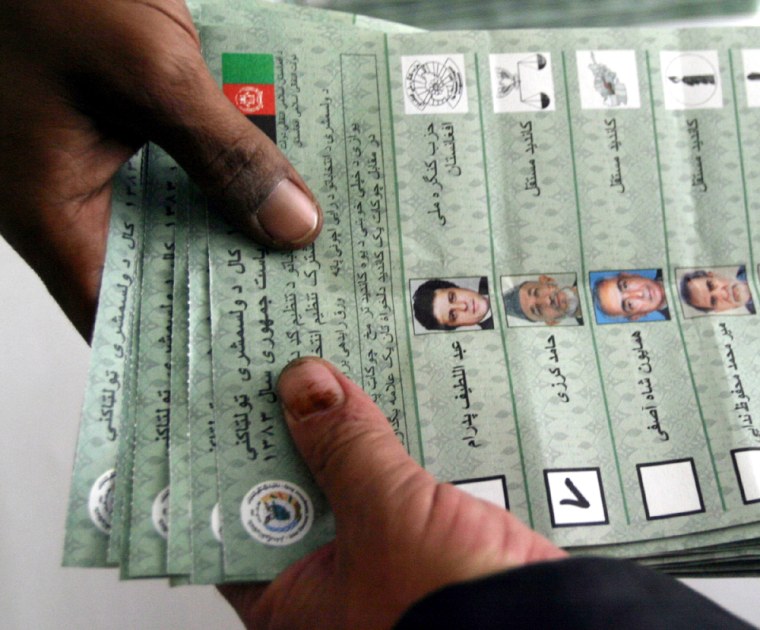 A boycott could have undermined Karzai's chances of extending his authority across a country still riven with factional and ethnic tensions, and soured the atmosphere for parliamentary elections slated for the spring.
A panel of foreign experts that examined the allegations said it found a string of irregularities, including ballot-stuffing, but said they couldn't have changed the result.
Karzai, who is to be inaugurated in early December, has vowed to accelerate the slow rebuilding of a country, shattered by war and drought, with the goal of doubling the income of ordinary Afghans by 2009.
Economic focus faces challenges
But any attempt to focus on the economy will be complicated by the challenge of confronting warlords, drug traffickers and Taliban militants at the same time.
The country's insecurity also has been highlighted by an ongoing hostage crisis involving three foreign election helpers.
The abductions last week have been claimed by a splinter group of the Taliban, but officials also suspect the involvement of militia leaders resisting Karzai's growing authority.