Emboldened by a stronger Senate majority, Republicans are once again trying to open the oil-rich but environmentally sensitive Arctic National Wildlife Refuge to drilling. Environmentalists are gearing up for battle, but the numbers favor Republicans and even some Democrats are resigned to defeat after staving off drilling in the Alaska refuge for a decade.
An MSNBC.com review of the positions of the nine incoming freshmen senators, as well as the senators they replace, indicates that Republicans would have at least 51 votes for drilling in a small part of the refuge. And by attaching it to a budget bill that Democrats can't filibuster, Republicans hope to have it all wrapped up by June.
"I wish I could mount a persuasive argument against that," Bill Wicker, spokesman for Democrats on the Senate Energy Committee, told MSNBC.com, but "If I were a betting man and bet with my head and not my heart I think it is going to go through."
Energy Secretary Spencer Abraham, for his part, on Wednesday voiced optimism, telling reporters that "the prospects have certainly improved and we're excited about that."
Environmentalists' strategy
Senate passage is seen as the last obstacle since the House has earlier approved drilling and President Bush has made it the centerpiece of his energy proposals.
As a result, activists are planning to bombard senators with phone calls and e-mails opposed to drilling.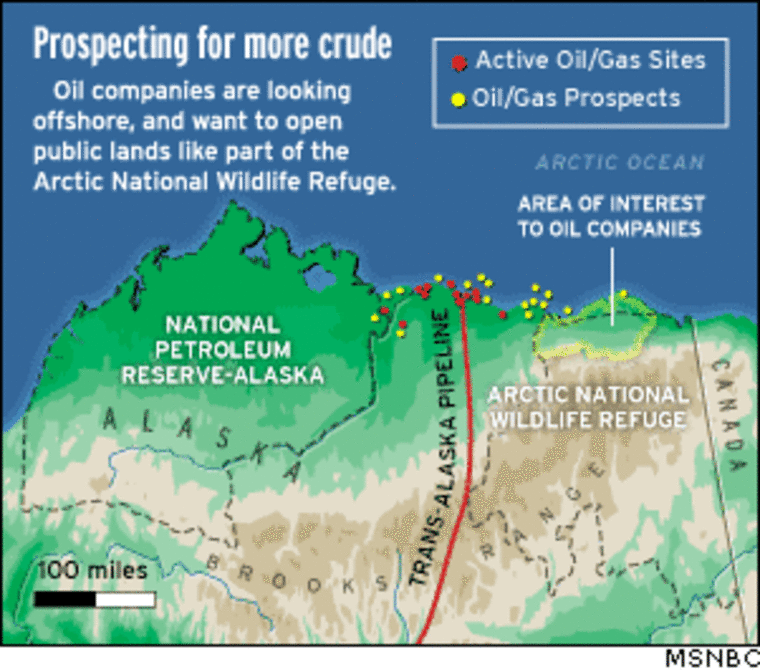 "The lobbying blitz will start soon," says Karen Whalen, legislative director at the Natural Resources Defense Council.
Wicker doesn't think that will have much effect, but Whalen aims to remind lawmakers of public opinion polls that show a strong majority of Americans against drilling in the refuge. "They still have to answer to the public," she says.
Dan Lavery, a Sierra Club public lands expert, agrees. Yes it will be harder this year to stop, he says, "but poll after poll has consistently shown that Americans don't want this as part of an energy policy."
Environmentalists are concerned on two fronts. One, says Whalen, is that drilling in the refuge would "industrialize one of the last pristine wildernesses in the country." Second, they fear approval would open the door to drilling on other sensitive lands and offshore areas across the country.
Arguments for, against drilling
The refuge is located on 19 million acres in northeast Alaska, just east of the North Slope oil production area and the pipeline that ships crude to the Pacific coast and then to world markets.
In Congress, drilling proponents tend to be Republicans but some Democrats, especially those from oil-producing states, are also on board.
They note that the overall footprint, including wells, pipelines, roads and airstrips, would be just 2,000 acres. Fewer wells would have to be drilled than if the refuge had been opened 20 years ago, they add, thanks to better detection and drilling technology.
Exactly how much oil and natural gas might be in the refuge is uncertain, and production would in turn depend on the price for oil. The higher the price, the greater the incentive to drill and pump.
The U.S. Geological Survey estimates that technically recoverable oil lies somewhere between 5.7 and 16 billion barrels. Total U.S. production is about 5.8 million barrels a day and declining due to aging fields.
Drilling opponents, which include some moderate Republicans, say the 2,000-acre figure is misleading since wells would be connected via a web of gravel roads. They also note it would take up to a decade to even see oil from the refuge and that more could be done sooner via higher mileage cars, either by requiring industry to raise fleet averages or by providing greater incentives to purchase fuel efficient cars like gas-electric hybrids.
The opponents also note the environmental impact statement for the refuge describes it as "the only conservation system unit that protects, in an undisturbed condition, a complete spectrum of the arctic ecosystems in North America."
The proposed drilling area, the statement added, "is the most biologically productive part of the Arctic Refuge for wildlife and is the center of wildlife activity." That wildlife includes 130,000 caribou that breed there, as well as polar bears, musk oxen and 135 species of migratory birds.
The new Senate mix
The anti-drilling arguments prevailed in March 2003 — the last time drilling came up in the Senate — when 52 lawmakers voted to prevent drilling from being considered as part of a filibuster-proof budget bill.
But with the election of nine new senators, that same vote could flip — with at least 51 senators in favor of drilling. That's because four pro-drilling Republicans — Richard Burr of North Carolina, Mel Martinez of Florida, Jim DeMint of South Carolina and John Thune of South Dakota — replace four anti-drilling Democrats.
Four other new faces hold the same positions as the senators they replace, and only one new anti-drilling freshman, Colorado's Ken Salazar, will replace a pro-drilling senator. That leaves the drilling faction with three more votes than in March 2003.
Two Democrats who have voted for drilling, Hawaii Sens. Daniel Akaka and Daniel Inouye, could conceivably reverse themselves but Wicker, the energy committee's Democratic spokesman, doesn't see that as likely.
Filibuster-proof strategy
Senate Republicans led by New Mexico's Pete Domenici, chairman of the energy committee, have already laid out their strategy: attach drilling to the federal budget resolution when the 109th Congress convenes in January.
Here's how it would work: the provision would add to the budget estimated revenue from the sale of federal drilling leases in the refuge. If the budget resolution is passed, then legislation would follow enacting the assumptions in the resolution.
Lavery, of the Sierra Club, hopes that resistance could surface in the House, noting that Budget Committee Chairman Jim Nussle last March refused to add drilling language to the House budget resolution. But Nussle didn't rule it out either, saying he left it out "until we know it's actually doable and passable."
If drilling is part of either the House or Senate budget resolution, Lavery says, there's still a chance for a filibuster when the House and Senate get together to reconcile their budget bills.
But Wicker doesn't buy those no-drill scenarios. "It's clear that the GOP will have the wind at their backs," he says, "and we anticipate that opening ANWR will be among their earliest legislative priorities."
He also notes that while the refuge used to be part of President Bush's broader energy bill, which has been stuck in Congress, separating the two could pay off for Republicans. "In addition to this being smart legislative strategy for (drilling) proponents," Wicker says, "it also gets this huge boulder out of the road on the energy bill."