With the election over, the monthly employment report due Friday lacks the sense of urgency and drama of recent months, when the closely watched figures were apt to set off waves of political rhetoric and spin.
Financial markets are still paying careful attention, of course, looking for clues to the upcoming holiday retail season and the direction of Federal Reserve policy on interest rates.
Economists, who have been burned over the past few months by reports that fell short of expectations, are once again looking for a solid report, partly because of an expected rebound after four hurricanes tore through Florida and other southern states in August and September.
On average forecasters expect the report — the government's first official snapshot of how the economy performed last month — to show employers added 160,000 payroll jobs, which would be the strongest pace in five months. The unemployment rate, which is based on a separate survey, is expected to remain unchanged at 5.4 percent.
"We're back now with a situation of having a lot of catch-up to do," said Michael Englund, chief economist for Action Economics, which expects a report of 200,000 new jobs.
"A bigger gain of 250,000 or more is possible, given the potential hurricane effect and normal month-to-month volatility," the forecasting firm said in a report. Englund figures hurricanes may have trimmed 50,000 jobs from payrolls in September, despite a note from the Bureau of Labor Statistics indicating that the severe weather did not "materially" change its assessment of labor conditions nationwide.
Unless the report is "pretty catastrophic," the Federal Reserve is expected to go ahead with its fourth consecutive quarter-point rate hike when  policy-makers meet Wednesday, Englund said. That would bring the overnight federal funds rate to 2 percent, compared with 1 percent in June, when the central bank began the tightening cycle.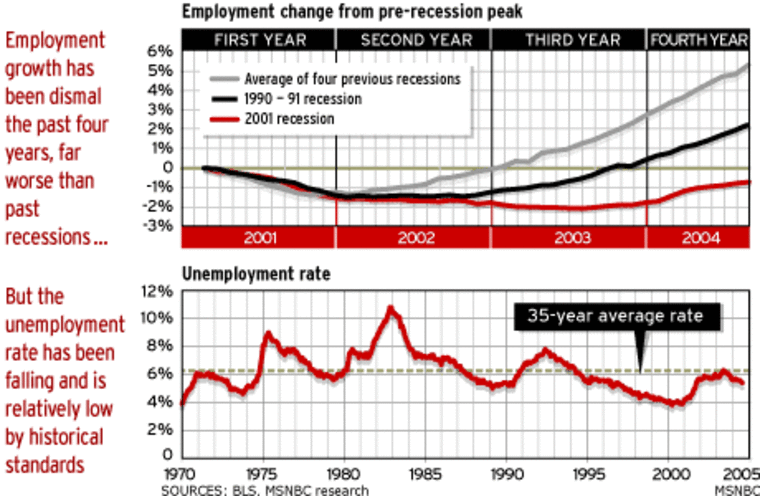 But the Fed will be looking for confirmation that economic growth is strong enough to justify more of what Chairman Alan Greenspan calls "measured" rate hikes.
For three months in the spring, the economy generated an average of almost 300,000 jobs a month, spelling a definitive end to the "jobless recovery" that had characterized 2002 and 2003. But over the past four months growth has averaged only 100,000 a month, raising concerns about a slowdown.
"Job creation on that scale is below what is needed to reduce the slack that remains in labor markets," San Francisco Fed President Janet Yellen said late last month. "While recent results for activity are somewhat encouraging, I wouldn't say that we're completely out of the woods just yet."
Those remarks hinted at the possibility that the Fed could go on hold after its expected rate hike next week. But Fed policy-makers will have plenty of economic data to digest before their final scheduled meeting of the year Dec. 14.
The end of the election should have a noticeable impact on business and consumer consequence. For their part businesses no longer need to operate under the cloud of uncertainty cast by the long and closely contested campaign, although there is still plenty of uncertainty about the future of Iraq, the war on terror and oil prices.
Consumer confidence, which faded badly over the past two months, could rise simply because television viewers no longer will be exposed to incessant campaign rhetoric and advertising attacking President Bush's handling of the economy.
"I think the election did weigh down on business confidence and consumer confidence and we should get a bit of a lift," said Mark Zandi, chief economist of Economy.com. "I don't think it will be the catalyst for an acceleration in growth, but I think we'll get a bit of a bounce, assuming energy prices don't go higher."
Energy prices remain a major concern, although in recent days prices have dropped despite the success of saboteurs in blowing up a pipeline in northern Iraq.
"Businesses have a lot of cash," Zandi said. "Their businesses are in very good shape. It's  really not a question of can they expand, it's a question of, are they willing? If history is any guide, they should step up and we should more hiring throughout the year and I'm counting on it. We need to see more job growth and I think we'll get it. The end of the election and political rancor will help."
The fact that the election is over could change the dynamic around the employment report, Englund said. Republicans, who want to follow through on President Bush's priority to extend tax cuts early next year, might play down the strength of the economy. And strange as it might sound, Democrats could argue that the economy does not need all the stimulus of the tax cuts.