/ Source: a href="http://www.washingtonpost.com/wp-srv/front.htm" linktype="External" resizable="true" status="true" scrollbars="true">The Washington Post</a
Sylvester Croom is sitting in the front seat of the Mississippi State football team bus, watching the pasture land roll by, the fields given over to cotton and hay and hardwoods and now and again a lonesome stand of pine, trees stretching 60 feet into the late autumn sky.
It is an impoverished and often sad corner of the poorest state in America, and the football team is everything to people here, so when Croom and his players step off the bus and onto the college campus a few hours before kickoff of last Saturday's game, the cowbell-clanging crowd heads toward them.
"Let's go DAAAWWWWGGSS!"
"Whoooooeeeee, y'all!"
"We love you, Coach Croom!"
And then it begins. A smattering of applause that builds and grows into a cacophony in the sticky heat, spilling past the tailgate parties, the bourbon and beer and Dr. Pepper sloshing out of plastic cups, the smell of barbecue ribs in the air, and now there is a gauntlet of thousands of fans lining the route to the stadium, a crowd of predominantly white Mississippians applauding the first black football coach in the SEC -- one of those indelible moments that define a place and a time, particularly when that place has one of the most difficult racial histories in America.
"There's much more at stake here than football," Croom says the next morning, tooling down Highway 12, Starkville's main drag, in his Chevrolet Tahoe. "The fact that I'm African American, that I'm the State football coach -- well, I think it will have a positive impact on race relations in the state of Mississippi, and how the rest of the country views Mississippi. The place has changed a great deal. I don't know how many people outside here understand that. But they're about to find out."
A national television audience will get a poignant look at Croom, Starkville and their hardscrabble football team this Saturday, when State drives 90 miles east to take on the Alabama Crimson Tide in one of the most intriguing confrontations in college football this year.
The Tide could have hired Croom -- a 50-year-old Tuscaloosa native, an all-American center at 'Bama who was a favorite of the Crimson Tide's legendary coach Bear Bryant -- with a word last year. Instead, they snubbed the highly respected 17-year NFL assistant and hired Mike Shula, a white coach with talent but far fewer coaching credentials.
Mississippi State snapped up Croom from the Green Bay Packers in December, making history, headlines and setting up this week's emotional showdown. Shula even took Croom's name off a team award for a commitment to excellence this spring, restoring it only after fan outrage. No matter what anybody on either side says, the State-Bama game will have racial overtones for years to come, and in the way that race plays out in the Deep South, you don't have to say it out loud for everybody to know.
"This is a very personal game for me," Croom said. "I'm not going to lie about it. I'm not mad or upset about what happened. But I thought that job was mine."
When he reminded his players in the locker room after last Saturday's game that Alabama was next, they erupted in a deafening roar.
"Everybody knows what this game is about," said Quinton Culberson, one of State's star linebackers. "The Alabama game is always intense, but man, with Coach Croom . . . " he smiles, the thought trailing off, unfinished.
On paper, the 5-3 Tide should have little problem dispatching the 3-5 Bulldogs.
Alabama is one of the great football programs and currently has the nation's top-ranked defense. Croom inherited a losing program and one of the worst teams in Division I. Sample scores from the past three years: 52-0, 51-0, 42-0, 38-0, 52-6, 31-0 and 59-21. His odds of lasting success are extraordinarily bleak: No Mississippi State coach in the last half-century has left with a winning record.
Then again, Croom's old-school discipline, pride, and NFL-caliber professionalism have begun to take hold. State shocked then-20th-ranked Florida, 38-31, two weeks ago. Then State beat Kentucky, 22-7, last Saturday, and out of nowhere, he seems to be fielding an outmanned but competitive team.
This is real life, though, not "Remember the Titans." No one is pretending that Mississippi, which still incorporates the Ku Klux Klan's favorite Confederate banner into the design of the state flag, has suddenly blossomed into racial utopia.
Still, virtually no one one around Starkville, a blue-collar burg of 21,000, would dispute that, in the 11 months since being hired, the coach of a losing football team has done as much for race relations in Mississippi as any single individual in this state in the past two decades.
It is the most predominately black state in America, at 36 percent, but has rarely united its white and black citizens behind a common cause.
"He came down to the state capital and everyone in the legislature couldn't wait to meet him," says Lt. Gov. Amy Tuck (R), a Mississippi State graduate and only the second woman ever elected to statewide office. "He's created a degree of excitement, on and off the campus, that I haven't seen in a long time."
Sure, Croom has already been booed during one loss -- welcome to the SEC -- but whether it's in the morning conversations at the Liar's Table at the Starkville Cafe on Main Street, where a group of mostly white men congregate to discuss the day's affairs; or over at "A Touch of Luv," the barber shop on Highway 82, where a group of black men do more or less the same thing, Croom has become a bona fide cult figure.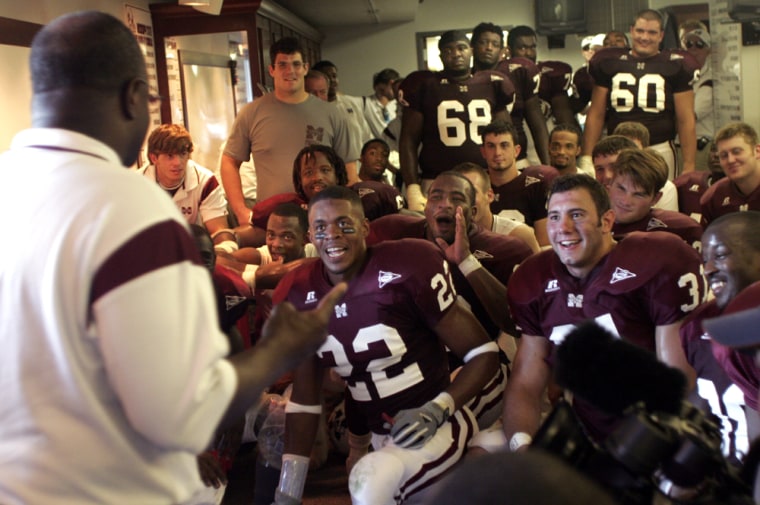 "Everybody just plain loves Coach Croom to death," says Larry "Luv" Johnson, the barbershop proprietor who touches up Croom's close cropped hair. "When Coach comes in, everybody who said they were in a hurry five minutes ago ain't in a hurry no more."
Ralph Eubanks, director of publications at the U.S. Library of Congress and author of "Ever Is a Long Time," a memoir about growing up black in Mississippi during integration, marvels that Croom and his wife, Jeri, are building a house in a community called Oktoc, a few miles outside Starkville. The place is still home to Horace Harned, one of the staunchest anti-integration foes in the Deep South.
Now Croom — who, at $920,000 per year, makes about eight times what the governor does — is a neighbor.
"When my sisters were in school at State, Oktoc was what we called a 'sunset' community," Eubanks says, "as in 'Don't let the sun set on your ass out there.' College football is the core of being in Mississippi, it strings people together in all those little towns across the state, and the fact that an institution that used to bar black people from attending now entrusts a black man with its most precious and high-profile program -- well, that's a big deal off the football field."
Croom's cross-racial appeal is simple: He embodies the social virtues that people, black or white, hold dear in these parts.
He grew up in the country, a preacher's son. He's been married to his high-school sweetheart for 32 years. He likes to hunt and fish. His low baritone can be sprinkled with Southern colloquialisms when he wishes, but he's far too sophisticated to play the disingenuous cornpone nonsense that southern "ball coaches" such as Steve Spurrier (from Johnson City, Tenn.) like to pull.
He's all about discipline, another staple of Southern culture: He kicked the university's best player off the team last spring for unruly behavior, and if a player dares to cut class, he has them running gassers at daybreak. That draws support from even the most conservative of white fans.
And, because he is a black man from a southern family of modest means, he intuitively knows, on an extraordinarily intimate level, what makes his players -- most of them from identical backgrounds -- tick.
At halftime of the Kentucky game, after State had been playing poorly, Croom was livid.
He told his players they had no pride. He said he was disgusted. He said their hits on opposing players made such scant noise that "you could hear a rat pee on cotton out there." He threatened them with Sunday workouts that would make Ray Lewis weep.
And then he Momma'd them.
"I know how your Momma's gonna feel," he roared, telling them they were about to lose. Almost every player looked at the floor. "Your momma's out there watching. She's gonna be embarrassed. She's gonna be as embarrassed as I am right now. Now get out of here!"
The team sprinted back on the field, scored 12 points in the fourth quarter and won going away.
There aren't many places in America you can intimidate a group of 6-foot-4, 230-pound young men with the threat of embarrassing their momma, but you certainly can in north Mississippi, and Sylvester Croom, who loves his momma, knows that.
"It's the background he has," says Rockey Felker, a legendary State quarterback who later was head football coach and is now coordinator of football operations, explaining Croom's crossover appeal. "He grew up over in Tuscaloosa, he grew up in the church, he went to play for Coach Bryant, and he has all the values that people here trust. His NFL experience has served him well, on and off the field, in how he handles himself. It's who he is, and it's who people here are."
And in a story that will be remembered for years, he was asked at his first conference about being the first black coach in the SEC -- particularly in a state with the racist history of Mississippi. Croom gave a post-modern response that has seemed to elude local political leaders here for generations.
"Maroon is all that matters," he said, naming the Bulldogs' team color.
It reverberated so strongly across the state that the university printed up more than 50,000 maroon tee shirts emblazoned with that motto and gave one to every fan attending the season's opening game.
At last week's game, thousands of fans wore them again.
"That sentence blew the entire state away," says Larry Templeton, MSU's athletic director. "It put us past race, it put us in the here and now instead of in history. The reporters gave him a standing ovation. I've never seen anything like it."
Of course, Croom has also parlayed the rest of the country's ridicule of Starkville into a binding, us-against-them mentality.
ESPN.com has rated Starkville as the worst college town in the SEC, and a sportswriter in Denver called it the worst college town in America. The New York Times wrote a lengthy story about Croom's hiring -- and did not directly quote a person from Mississippi.
The entire story was about the Alabama football program, which didn't do anything but fail to hire him and noted that Starkville was "halfway to nowhere."
Johnie Cooks is mildly amused by all this.
One of the most famous State players in the last quarter-century, Cooks was the all-American linebacker who stopped Alabama's quarterback cold on the goal line in 1980 as time was expiring, preserving a 6-3 win over what then was the No. 1 team in the country -- and the only time in a 38-year span that State beat 'Bama.
After a career in the NFL, Cooks, who is black, came back to Starkville, where he coaches junior high football. Last Friday night, he and his wife Maggie were in the stands watching their son play ball. He munches some barbecue, tosses out race-laden quips to white friends who stop by, and takes red-headed Alex Smith -- who is 7 years old and has a pet skunk named Oreo -- into his arms for a giggle-filled bit of play.
The easy interracial familiarity, the friendliness, is something that he says people outside of Mississippi refuse to believe exists.
"Everybody wants to look at us like we're still 'Mississippi Burning,' " he says, naming the film about the murderous days of the civil rights movement. "It's not like that anymore, but you can't tell people that. In the pros, I lived in New York, Indianapolis and Baltimore, and it's not any different up there. You still have your good old boys who make jokes and stuff, and you can't change that, but I love living here, and I'm proud of Mississippi."
Croom thinks about all this during a late afternoon drive around the country roads of Oktoc last week, the sun fading over a stand of trees off to the west, the long fingers of night beginning to fall across the fields. There is a lake in the distance, open green pasture, and the falling leaves that mark the end of autumn.
The head football coach of Mississippi State turns and heads back to town, back to where so many hopes of so many people reside, only some of them having to do with football.