/ Source: msnbc.com staff and news service reports
Global warming is heating the Arctic almost twice as fast as the rest of the planet in a thaw that threatens the livelihoods of millions of people and could wipe out polar bears by 2100, according to an eight-nation report released on Monday.
The report, the work of more than 250 scientists and the biggest survey to date of the Arctic climate, found that the accelerating melt could point to wider disruptions from a build-up of human emissions of heat-trapping gases in the earth's atmosphere.
The "Arctic climate is now warming rapidly and much larger changes are projected," according to the Arctic Climate Impact Assessment (ACIA), which was commissioned by the Arctic Council and funded by the United States, Canada, Russia, Denmark, Iceland, Sweden, Norway and Finland.
The report projects that temperatures in the Arctic will rise by 8 to 14 degrees Fahrenheit in the next 100 years. If temperatures then stayed stable, the Greenland icecap would melt altogether in 1,000 years and raise global sea levels by about 23 feet.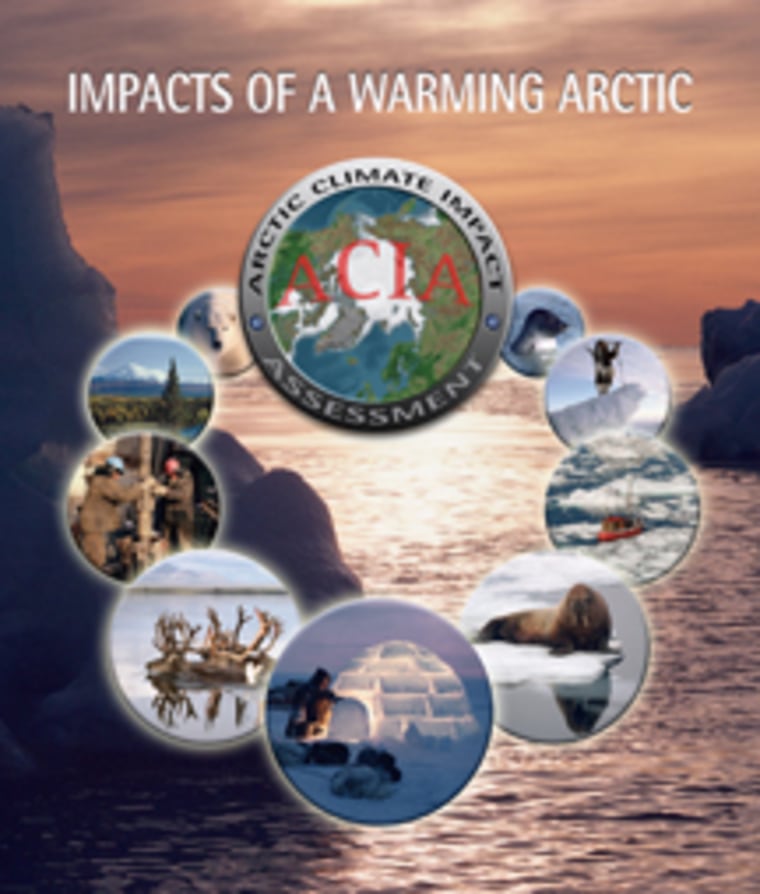 Possible benefits like more productive fisheries, easier access to oil and gas deposits or trans-Arctic shipping routes would be outweighed by threats to indigenous peoples and the habitats of animals and plants.
Sea ice around the North Pole, for instance, could almost disappear in summer by the end of the century, it said. The extent of the ice has already shrunk by 15-20 percent in the past 30 years.
"Polar bears are unlikely to survive as a species if there is an almost complete loss of summer sea-ice cover," the report said. On land, creatures like lemmings, caribou, reindeer or snowy owls are being forced north into a narrower range.
Fossil fuels blamed
The report mainly blames the melt on gases from fossil fuels burned in cars, factories and power plants. The Arctic warms faster than the global average because dark ground and water, once exposed, traps more heat than reflective snow and ice.
"Changes in the Arctic provide an early indication of the environmental and societal significance of global warming," it said.
The thaw will have a global impact — melting of glaciers will raise global sea levels by about 4 inches by the end of the century.
Many of the four million people in the Arctic are already affected. Buildings from Russia to Canada have been demolished because of subsidence linked to thawing permafrost that also destabilizes oil pipelines, roads and airports.
Indigenous hunters are falling through thinning ice and say that prey from seals to whales is harder to find. Rising levels of ultra-violet radiation may cause cancers.
Changes under way in the Arctic "present serious challenges to human health and food security, and possibly even (to) the survival of some cultures," the report says.
Even so, farming could benefit in some areas, while more productive forests are moving north onto former tundra.
U.S. 'sidetrack' strategy?
Foreign ministers from Arctic nations are due to meet in Iceland on Nov. 24 but diplomats say they are deeply split, with Washington least willing to make drastic action.
Some European partners have accused the Bush administration of trying to weaken any policy recommendations that stem from the report.
President Bush has made clear he opposes mandatory curbs on gases like carbon dioxide, which create a greenhouse effect on Earth. Many scientists fear fossil fuel sources of CO2 and other gases are warming the Earth beyond the natural greenhouse effect.
Bush also pulled out of the U.N.'s 1997 protocol on global warming, arguing it was too expensive and exempted China, India and other rapidly developing nations.
Most other industrial nations, most recently Russia, have agreed to Kyoto's target of cutting developed nations' CO2 emissions by five percent below 1990 levels by 2008-12.
One European negotiator said the administration is trying to "sidetrack the whole process so it is not confronted with the question, 'Do you believe in climate change, or don't you?'"
A European diplomat added that "U.S. negotiators say 'we already have a policy on global warming — we can't have a new one just for the Arctic'."
The negotiator added that while the other member nations will try to press the United States on the matter in the final talks, "I cannot see any solution to this unless (the Bush administration) clearly changes its position."
Scientists agreed to discuss parts of the Arctic Council report ahead of full publication. And some European governments originally wanted the report issued before Tuesday's U.S. presidential election.
U.S. objection to wording
The Washington Post reported on Oct. 4 that the Bush administration has lobbied to drop a policy section stating that in order to meet climate goals set in 1992, the "Arctic Council urges the member states to individually and when appropriate, jointly, adopt climate change strategies across relevant sectors. These strategies should aim at the reduction of the emission of greenhouse gases."
A senior State Department official who asked not to be identified told the Post that "we're bound by the administration's position. We're not going to make global climate policy at the Arctic Council."
The White House said Monday it would not comment on the scientific review and would await a final report next year that includes input from diplomats. "This is one draft of a report that has yet to be finished," White House spokesman Trent Duffy said.
Environmental groups have urged the council to crack down.
"The big melt has begun," Jennifer Morgan, director of the World Wildlife Fund's global climate change campaign, said in a statement. She said industrialized nations were using the Arctic as a guinea pig in an uncontrolled experiment on climate change.
The Arctic report is online at http://amap.no/acia/.