In the first major trial to test a drug only in blacks, an experimental drug developed by NitroMed added to standard therapy helped heart failure patients live significantly longer, researchers on Monday said.
Black patients taking the heart failure treatment, called BiDil, had a 43 percent better chance of surviving the condition, compared with those on the placebo, the study found.
Many doctors suggested the benefits are very likely transferable to the broader population.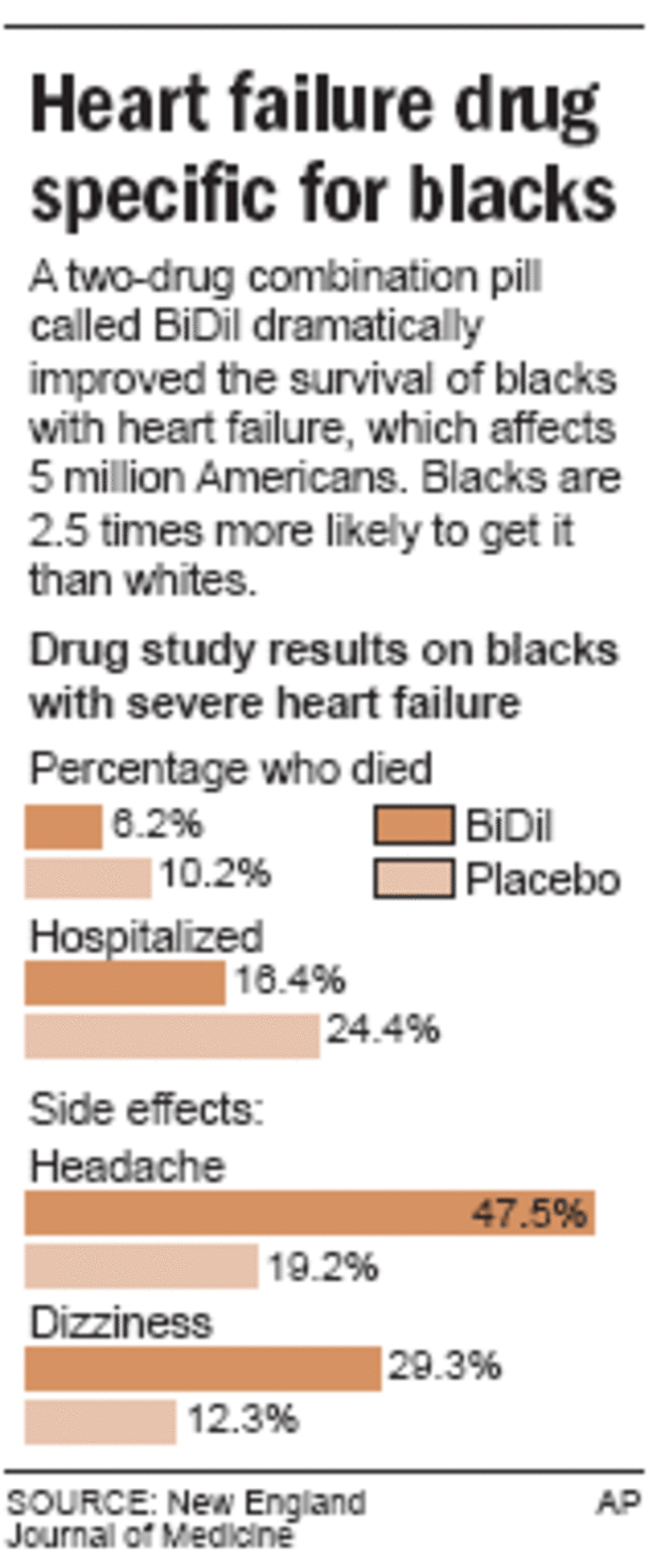 "I think the issue of race has been overplayed," said Salim Yusuf, an expert with the Population Health Research Institute at McMaster University in Ontario. "My take is I would extrapolate the results" to whites, Asians and others.
The treatment is a combination of two older generic drugs that boosts the level of nitric oxide, a key molecule in regulation of the heart. The study results were presented at the annual meeting of the American Heart Association in New Orleans.
Lexington, Massachusetts-based NitroMed submitted the results to the U.S. Food and Drug Administration on Nov. 1 and hopes to have the drug, which would be its first, on the market by 2005.
The trial followed 1,050 severely ill African American patients suffering from heart failure, a degenerative heart muscle condition that disproportionately affects and kills greater numbers of blacks. Patients took standard therapy plus either BiDil or a placebo.
"The publication of this trial's results virtually ensures FDA approval," said M. Gregg Bloche, who wrote an accompanying editorial in the New England Journal of Medicine, which published the results.
Blacks are more likely to suffer from heart failure, develop it at a younger age and die more quickly from the disease, leading researchers to undertake the race-specific study. Insufficient nitric oxide appears to be a factor in heart  disease among blacks.
"We followed a trail of evidence suggesting there might be a response ... but clearly there will be a broader population," said Anne Taylor, professor of medicine at University of Minnesota and lead author of the study. "It's just a matter of identifying it."
Yet the study is likely to stir debate about targeting therapies to particular races, Bloche and others said.
Because prior studies suggested blacks in particular respond to the compound, "race-consciousness offered a faster way through the FDA's regulatory maze," he wrote.
Experts said because most genetic variation occurs within ethnic groups, the benefits of the treatment are probably not limited to blacks.
Environmental factors, diet and lifestyle likely explain why blacks tend to die earlier and have greater rates of heart failure, doctors said.
"Race is certainly a very crude marker here," said Raymond Gibbons, a Mayo Clinic cardiologist and chairman of the American Heart Association's scientific sessions.
Heart failure is a chronic condition in which the heart fails to pump efficiently and begins to enlarge. Half the people diagnosed with heart failure die within five years.
The disease strikes an estimated 5 million Americans and is treated with a cocktail of drugs such as a beta blocker, to lower blood pressure.
Patients taking BiDil also were 33 percent less likely to be hospitalized and reported an improved quality of life. Those on the drug were twice as likely to suffer common side effects including dizziness and mild headaches.