/ Source: The Associated Press
Two years before he allegedly killed a Dutch filmmaker in the name of radical Islam, Mohammed Bouyeri volunteered at his local community center and was a promising member of the second generation of Moroccan immigrants to the Netherlands.
His transformation from student to purported jihadi terrorist fits a pattern of young Muslims in Europe who are being recruited by Islamic militants — sometimes openly in the streets — and trained to carry out violent attacks against the West.
Local youth who knew Bouyeri, 26, said he became interested in politics after the Sept. 11, 2001, attacks on the United States, but only grew radical after the death of his mother from cancer in fall 2002. He began wearing traditional Muslim dress, grew a beard and attended a mosque where key Sept. 11 hijackers and plotters had reportedly met, including Mohamed Atta.
Bouyeri was arrested in a shootout with police minutes after Theo van Gogh's murder Nov. 2 in Amsterdam. He allegedly shot Van Gogh several times, stabbed him and cut his throat, then impaled him with a five-page letter threatening Dutch politician Ayaan Hirsi Ali, who wrote the script for Van Gogh's film "Submission" that criticized the treatment of women under Islam.
'No mercy for the wicked'
"There will be no mercy for the wicked, only the sword will be raised against them," the letter said, adding that the Netherlands, America and Europe "will go down."
Bouyeri also carried a will in his pocket written in good Dutch titled "Baptized in Blood," urging others to "go for it, and Allah will give you Eden instead of this filthy Earth."
Van Gogh, a distant relative of painter Vincent van Gogh, had received death threats after releasing his film in August.
Bouyeri has yet to enter a plea to charges including murder and membership in a terrorist criminal organization. There are seven other suspects in the case who face charges of forming a terrorist conspiracy to murder Van Gogh and belonging to a terrorist criminal group.
Child of 'Satellite City'
At the time of the Van Gogh attack, Bouyeri was living with several of the suspects in an apartment where police seized fundamentalist literature and videos. He was not on any terrorist watch list, though he has been convicted of assault and a violent robbery, police said.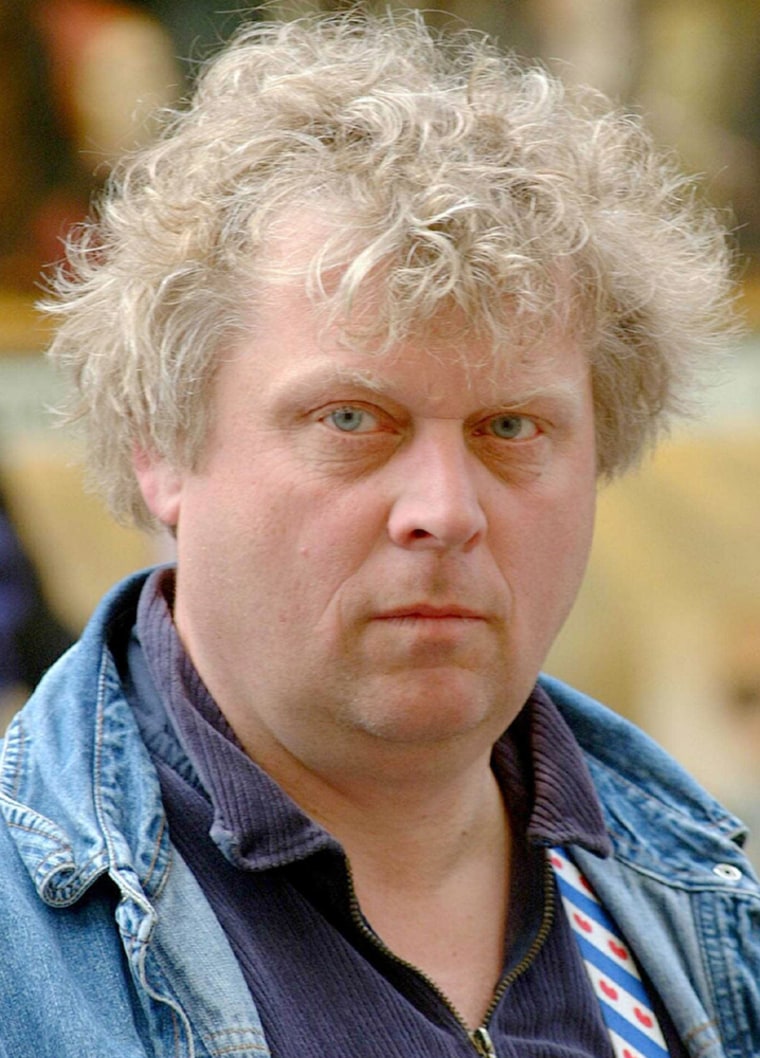 Bouyeri was born and raised in a working-class area of west Amsterdam sometimes called "Satellite City" because dishes broadcasting Arabic television are so common. His parents were Moroccans who arrived in a wave of immigration in the 1970s and spoke little Dutch.
Resentment of the Dutch establishment — including anger at government support for the United States and Israel — sometimes bubbles over. Police scuffled with youth on Bouyeri's street in 1998 — and again when they arrived to search Bouyeri's parents' house after the murder.
It is in areas like this that recruiting takes place.
"They may start out as nice boys, but once they go to Afghanistan or wherever for training, then it's all over," said a young Muslim woman who grew up in Bouyeri's neighborhood.
Fliers on the street
She said she had seen recruiters handing out literature and propaganda openly on the streets and in some mosques. The woman asked not to be named for fear of reprisals.
The case has prompted a backlash with Muslim groups on Monday asking the Dutch government to protect Islamic sites after an elementary school was bombed — the latest incident following Van Gogh's murder. The powerful, pre-dawn explosion in Eindhoven, about 75 miles south of Amsterdam, caused no injuries but blew out the school's front doors and scattered glass and debris.
Amsterdam city officials announced round-the-clock police protection for Islamic buildings. Ayhan Tonca, chairman of the Contact Group for Muslims and Government, said he'll ask Tuesday for permanent police protection, camera surveillance and undercover agents to help ensure the safety of Dutch Muslims — about 1 million in a country of 16 million people.
Tradeoff: 'Paradise' for murder
Separately, Dutch police Monday detained a third suspect in a case where a politician was threatened with beheading in a video circulating on the Internet, prosecutors said. The 20-year-old suspect turned himself in to Amsterdam police, a statement said. The custody of two other suspects, detained Friday on the same charges, was extended by 10 days.
The three are believed to have posted a video on the Internet promising "paradise" for the beheading of Dutch member of parliament Geert Wilders. It said he had insulted Islam.
The Dutch secret service says several dozen "muhajideen" veterans of wars in Afghanistan and the Balkans form a hard core of about 150 radicals who are active in the Netherlands.
Secret service spokesman Vincent van Steen said Monday it is difficult to track the suspects because they are not members of groups, but rather individuals with a common ideology. "It's more diffused. These are people who think alike."
Secret service Director Sybrand van Hulst said in a report published last year that youth with a "certain fascination" with terrorism are impressed by these Islamic warriors.
Jihad 101
After striking up a friendship, militants tell youths that modern mosques are too lax and take them to isolated, sect-like surroundings to convince them that taking part in jihad is a Muslim duty, with martyrdom the highest achievement.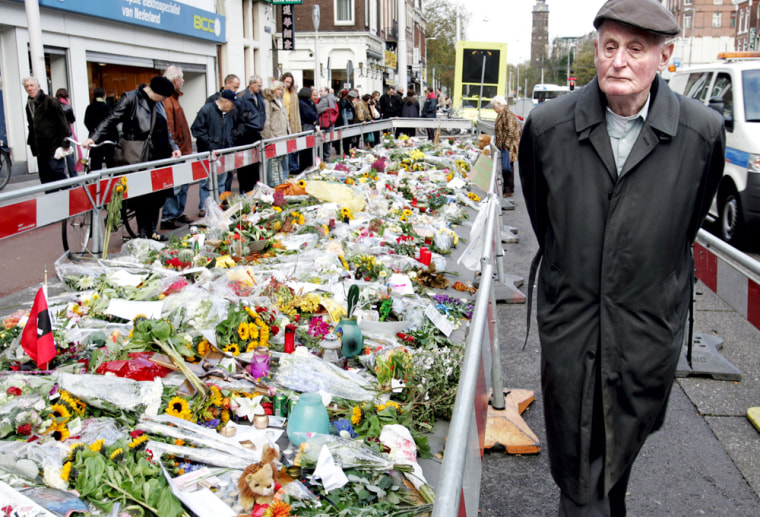 "They watch jihad videos with each other and go to readings, congresses and (Muslim) summer camps. ... In addition, they participate in Internet chatrooms that discuss jihad and Islamic martyrdom," the report said.
As the culmination of their training, the young men make a written or recorded statement of farewell to their families — similar to the one found at Bouyeri's arrest.
Bouyeri graduated from a local high school in 1995, and started college, but never finished. In 2001 he began volunteering at the Eigenwijks neighborhood center.
"My goal as part of the editorial staff is to sketch an image of the youth in this part of town," Bouyeri wrote in Eigenwijks' paper in March 2002. "Please, send us your opinions."
A spokesman for Eigenwijks said Bouyeri quit coming in August 2003 because he was upset that alcohol was served there, and that women mingled with men.
A like-minded friend
Bouyeri began attending services at the al-Tawhid mosque. There, he befriended Samir Azzouz, 18, who was arrested in the Netherlands in June for allegedly planning to bomb a major Dutch landmark and is now awaiting trial.
Al-Tawhid, which like most Muslim organizations has condemned Van Gogh's killing, said it was unaware Bouyeri ever attended.
"We're strict, but not more than that," mosque spokesman Farid Zaari said.
In mid-June 1999, authorities believe, Sept. 11 pilots Mohamed Atta and Marwan al-Shehhi met during a conference on Islamic Puritanism held at al-Tawhid, along with Ramzi Binalshibh — the man accused of coordinating the attacks on the United States. He's now under arrest in Pakistan.
German suspect Mounir El Motassadeq, whose trial in Germany for involvement in the attacks is ongoing, also attended that meeting. Al-Tawhid said it was also unaware the men were there.