/ Source: The Associated Press
Dutch Muslims and Christians urged an end to a cycle of retaliatory vandalism of mosques and churches Tuesday as slain filmmaker Theo van Gogh was cremated, a week after his murder by a suspected Islamic radical.
In a memorial service shown live on television, friends and family told stories about Van Gogh's playful nature and his love of provoking debate.
About 150 people gathered at the De Nieuwe Ooster Crematorium. Hundreds more watched on a screen outside. Mourners left flowers, cigarettes and beer at a makeshift monument where the 47-year-old filmmaker — a distant relative of Vincent Van Gogh — was killed.
"Our country is confused and grieving," said former Rotterdam Mayor Bram Peper, calling Van Gogh's murder an attempt to silence "the power of the word."
Van Gogh, a master of irony, was cremated to the music of the Lou Reed song "Perfect Day." He is survived by his parents, former wife and 12-year-old son.
Tension prevails
"He had a big mouth but everybody liked it because he was one of a few people who said what he thought," mourner Hans Debrichy said.
The Netherlands has been tense following his death, with attacks on both mosques and churches. Molotov cocktails caused minor damage at churches in Rotterdam, Utrecht and Amersfoort on Monday night following a half-dozen similar incidents at Muslim buildings, including a bombing at an Islamic school before dawn Monday. No injuries were reported.
Van Gogh, who received death threats for his film, "Submission," that criticized the treatment of women under Islam, was shot and stabbed while bicycling on a busy Amsterdam street. The killer cut his throat and — in a note impaled on Van Gogh's chest — threatened more attacks in the name of radical Islam.
Muslims condemn killing
Mainstream Muslim groups condemned the killing and asked the government to protect mosques after the explosion at the Muslim school in Eindhoven on Monday.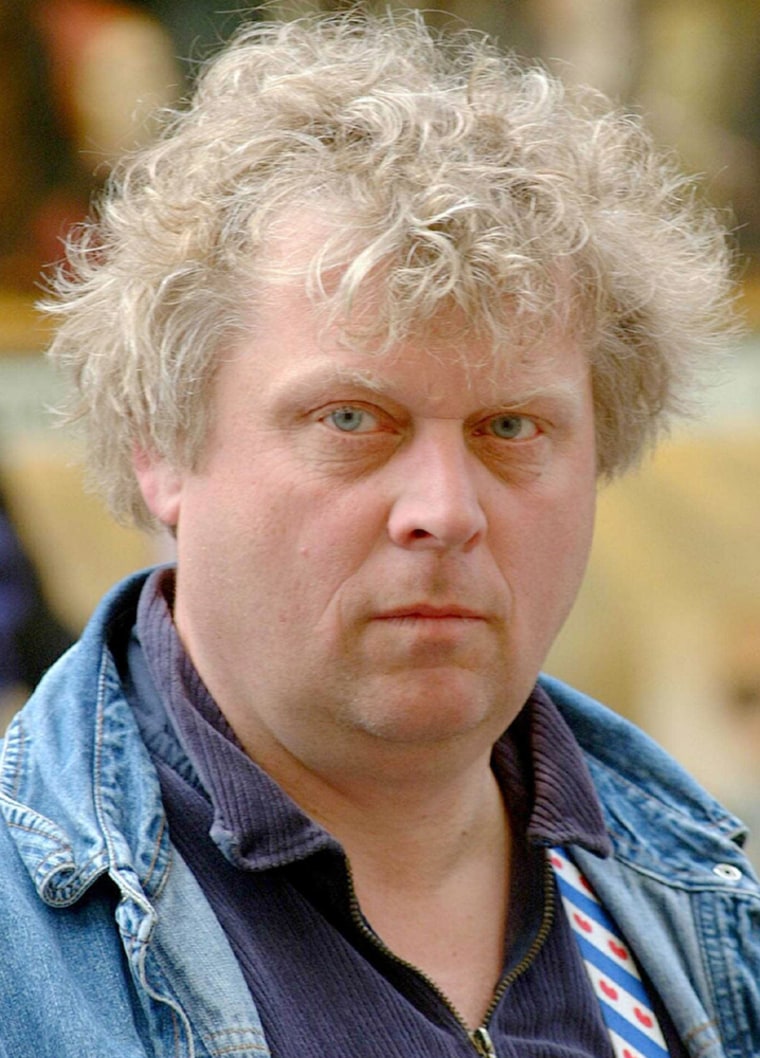 Jan-Gerd Heetderks, dean of the Netherlands' Protestant churches, said "the violence, the aggression must stop. And that goes for people who get the idea that they should damage Muslim mosques or schools, too."
His killing — and the violent response — has shocked many in the Netherlands who prided themselves on being part of what they considered a peaceful and open society.
It evoked memories of the 2002 assassination of Pim Fortuyn, a populist right-wing, anti-immigration politician. His slaying triggered a hardening of the government's attitude toward newcomers and the expulsion of many thousands of asylum seekers.
The murder prompted an outpouring of rage aimed mostly at the Muslim minority, which makes up about 6 percent of the Dutch population.
6 men held for conspiracy
Six men are in custody on suspicion of forming a terrorist conspiracy to kill Van Gogh, including the 26-year-old alleged killer Mohammed Bouyeri, a dual Dutch-Moroccan citizen who was arrested in a shootout with police.
A newspaper reported Tuesday that a suspected terrorist network believed responsible for Van Gogh's killing had access to confidential secret service intelligence.
The NRC Handelsblad newspaper, citing an internal secret service investigation, reported that a friend of Bouyeri received an unmarked envelope last summer with information about extremist networks of which he was allegedly a member.
The Dutch secret service admitted information had been leaked when police found confidential agency information at a house in Utrecht during a terrorism-related search in September.
Bouyeri is allegedly a member of a radical Islamic group said to have ties to terrorists in Spain and Syria.
Delighted in contrariness
Van Gogh was a cherub-faced cynic who loved to irritate — and sometimes insult — those he felt were too sensitive.
"I'm deeply religious — I worship a pig," he once said. "I call him Allah."
During his award-winning career, he lost several jobs for crossing boundaries of good taste and had complaints filed against him by Jews, Christians and Muslims.
On his TV interview show, "A Nice Chat," Van Gogh wore suspenders, chain-smoked and gave his guests cactus plants as parting gifts.
Parliamentarian Ayaan Hirsi Ali, who wrote the script for "Submission" and was threatened in the murder note, went into hiding after the killing.
"Don't feel guilty, Ayaan Hirsi Ali. Theo was threatened long before 'Submission,"' said Van Gogh's mother, Anneke, her voice cracking slightly. "Make sure that he is not forgotten: Freedom is not for people who are afraid."