/ Source: The Associated Press
A blood test early in pregnancy might help determine whether a woman runs an increased risk of having a stillborn baby, a preliminary study found.
If the findings are confirmed, doctors could use such information to decide whether to induce labor to try to save the baby, the researchers said.
The test detects a protein that in low levels is believed to signal that the placenta — which supplies nourishment to the fetus — is not functioning properly.
About one in 200 U.S. births are stillbirths, or babies born dead after about the 20th week of pregnancy.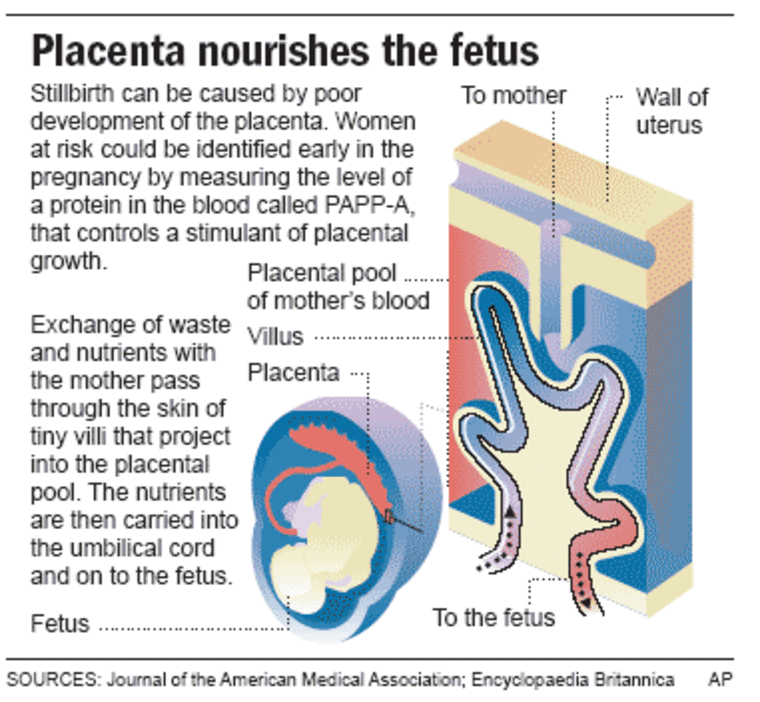 Up to now, there has been no diagnostic method to determine which women are most likely to have a stillbirth, though high blood pressure, diabetes and older age are known to increase the risk.
High-risk women typically are more closely watched during late pregnancy, and fetal heart monitors and ultrasound imaging are used to look for signs that the fetus is in trouble.
The study on the blood test appears in Wednesday's Journal of the American Medical Association.
What to do with information?
Women considered high risk because of their blood test results could be watched more closely during pregnancy to see whether the fetus is growing properly, and the baby could be delivered earlier to try to save its life, said Dr. Gordon C.S. Smith of Cambridge University in England, the study's lead author.
Dr. Siobhan Dolan, the March of Dimes' associate medical director and a reproductive genetics specialist at Albert Einstein College of Medicine in New York, said the study is "an excellent first step" toward identifying potentially high-risk pregnancies.
"But the next step we need is what will we do with that" information, he said.
The study involved 7,934 Scottish women given blood tests during the first 10 weeks of pregnancy. Those who had the lowest blood levels of the protein were about 40 times more likely to have a stillborn baby because of placenta problems than women with the highest levels. The fetal deaths occurred between the sixth and ninth month of pregnancy.
Among the 400 women with the lowest protein levels, there were seven placenta-related stillbirths, compared with three among the 7,534 women with the highest protein levels.
Despite the increased risk, stillbirths were still uncommon, occurring in only about one of every 50 women with low protein levels.
The protein, called PAPP-A or pregnancy-associated plasma protein A, is normally present in high levels early in pregnancy and is thought to be crucial for normal fetal growth.
Low levels have been linked with an increased risk for Down syndrome, a chromosomal abnormality that causes mental retardation, and with restricted fetal growth. In some countries, early blood tests are used to help detect such complications.
Tests for the PAPP-A protein are not routinely done in the United States.
Dr. Joe Leigh Simpson, an obstetrics specialist at Baylor College of Medicine, was involved in research published last summer that also linked low PAPP-A levels with stillbirths, though the increased risk was much lower than in the JAMA study.
Simpson said it remains to be shown whether there is anything doctors can do — other than delivering the baby early — to prevent stillbirths in these women. And he noted that inducing labor early might result in babies being born prematurely, which increases their risk of other complications.