Only a few months before the fall of the Berlin Wall, 21-year-old Chris Gueffroy was the last German to die at the German-German border, when he attempted to escape from East Berlin.
On Feb. 6, 1989, Chris Gueffroy and a friend tried to flee across the highly protected border strip, when they set off an alarm at the steel fence during their approach toward the wall.
Gueffroy was fatally shot by East German border guards. His friend Christian Gaudian was injured and taken to prison.
Fifteen years later, Chris' mother, Karin Gueffroy, still finds it difficult to share the joy of the fall of the Berlin Wall.
Feeling of imprisonment  
Karin Gueffroy separated from her husband and spent most of her adult life in East Berlin raising her two sons, Stefan and Chris. Like most East Germans, Gueffroy had accepted the restrictions in life under the communist regime and did not feel particularly uncomfortable with her situation.
Yet, her younger son felt imprisoned. "At age 12 or 13, Chris watched political TV shows from the west and always told me that one day, he will travel to America, his dream country," Gueffroy told NBC News.
"I was startled by his remarks and replied that he will not be able to leave East Germany, that it will never work," she added.
"Why not Mom? They cannot always decide everything for me, for all of us, from birth to death," Chris Gueffroy had responded at that time.
Determined to escape   
"The mid-eighties were a time when many people left. I remember that we had to say farewell to a good friend of ours. After Chris had brought her to the door, he was angry, asking me why we [were] not leaving," Gueffroy said.
Never before had Gueffroy and her son openly talked about departing East German, leaving their friends and family behind. She felt content with what they had, even though she disagreed with the country's oppressive policies. Little did she know that her son had become more and more uncomfortable with the system.
"Chris even called me a coward, said that he did not want to accept this lifestyle for the rest of his life," Gueffroy explained. "But he never talked about escaping or leaving the eastern part of Berlin."

But, Chris Gueffroy and his friend had a plan. The young man knew that his mother would have tried everything to prevent his escape attempt. "I would probably have chained him down, I would have not let it happen, it was just too dangerous," she said.
Shots in the night
On the eve of Feb. 5, Gueffroy returned from a short vacation. When she was unable to reach her son that night, she decided to go to bed.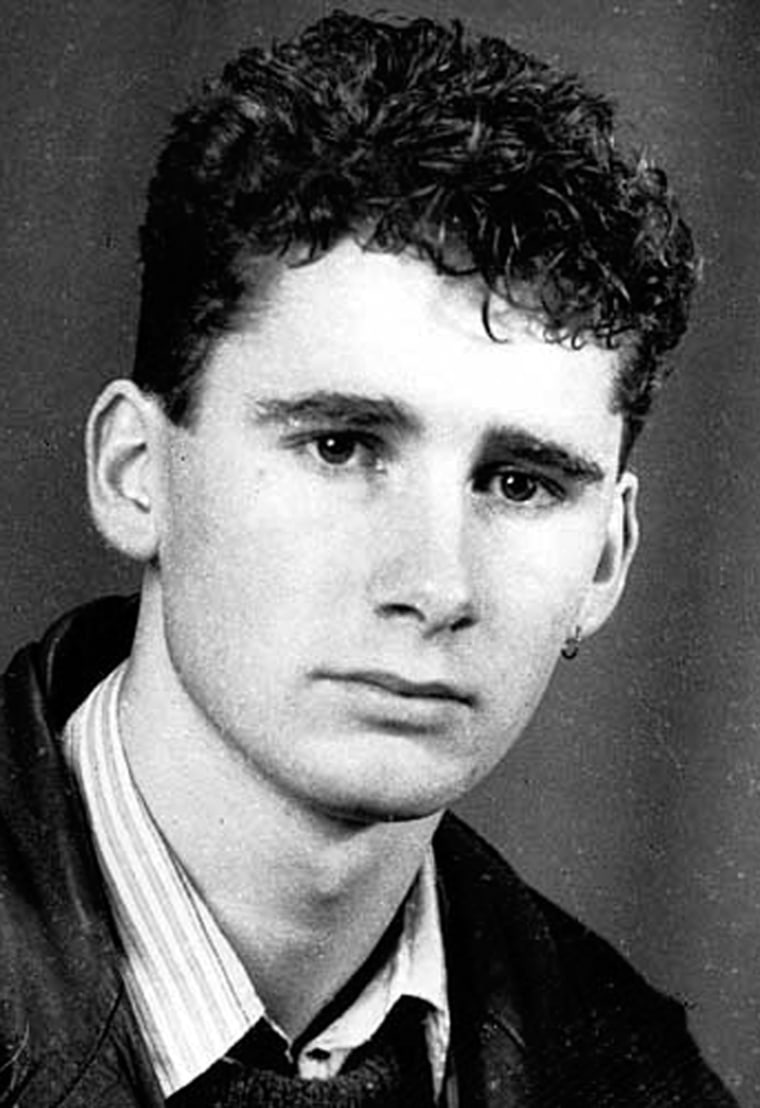 "I lived only a few miles from the border. There was only a small wooded area between my apartment and the wall. Fourteen years I had been living there, 14 years I had been hearing shots off and on," she remembered.
"Just before midnight, while I was reading, I suddenly heard a bang. Then several bangs again. I shrugged. There were these shots — I heard them again," said Gueffroy with an expression of fear on her face.
She could not know that the gun shots were directed at her son and his friend.
The next morning her son did not show up for a scheduled breakfast. And, even though newscasts on West Berlin radio stations reported about an incident at the border, Gueffroy did not make the connection.
"Only when I took the keys to his apartment and found his passport, money and paperwork neatly stacked on his desk, I knew, yes, he had probably tried it," she said.
It took a full two days before Gueffroy was officially informed about the death of her son by East German secret police, the Stasi. In those two, long days, agents had secretly occupied the apartment below, spying on her day and night.
Brutal interrogations
"On the afternoon of Feb. 7, there was a ring at my door and an inconspicious looking man asked me to come to the police headquarters a few blocks away. I knew it was Stasi," said  Gueffroy.
"When I walked into their office I kept thinking they probably arrested Chris and will bring him in any minute. That I will see him and wonder how to react," she added.
Stasi officers questioned Gueffroy for several hours before informing her that Chris had attempted an attack on a military installation and was fatally wounded in the incident.
"I remember that I took a deep breath and started screaming," she said. "He was only 20 years old, he did not do anybody harm and you simply shoot your own children here," she yelled at the officials.
For a period of six weeks, Gueffroy had to report to the secret police office regularly. She was called in two to three times a week, with up to eight hours of interrogations by the Stasi officers.
"One day they asked me about Chris' character," Gueffroy said. "'It is difficult to describe him, but sometimes he is like a small, wild horse,'" she replied to the officials.
On the final day of the so called investigation, Gueffroy was told that the case had been closed and that the government had acted legally correct. "Your son was a criminal and that is how he was treated," she was told.
"One of the officers then turned to me and said: 'What do you think we do with little wild horses?'" she said in tears. "I replied: 'I guess you simply shoot them.'" The Stasi officer nodded without saying a word.
No justice
"When the wall fell in November, I did not shed tears of happiness. I was sad, but also happy that no more people would get hurt or die at the wall," said Gueffroy.
Much to her content, the Berlin government erected a monument for Chris Gueffroy in the place where he tried to cross the border.
Ingo Heinrich, the former border guard responsible for the mortal shots on Gueffroy was at first sentenced to three and a half years in prison. In an appeal to the Federal Supreme Court in 1994, the verdict was lowered to a suspended term of two years.
In 2000, two former East German officials, Siegfried Lorenz and Hans-Joachim Boehme, were put on trial for the death of Gueffroy, but acquitted as the judge could not find evidence that they might have been able to lift the shoot-to-kill order.
Yet, when the case was retried in August 2004, the two men were found guilty and given suspended sentences of 15 months each.
"Chris paid a very high price for his courage and dream," said Gueffroy.