/ Source: The Associated Press
Wounded U.S. servicemen bore scars of a fierce battle for the Iraqi city, and told of a city teeming with heavily armed fighters who roamed the streets in small groups and fired from rooftops and mosques. One Marine said he saw many bodies, apparently those of insurgents.
"They were ready to fight to the death," said Lance Cpl. Travis Schafer, 20, a rifleman with a Marine battalion whose right hand was bandaged from where he had been hit by shrapnel after a rocket-propelled grenade exploded 50 feet from him on a deserted marketplace.
"It's house to house fighting, rooftop to rooftop," said Schafer, who was wounded Nov. 9, his first day in Fallujah.
Schafer was one of four wounded front-line troops who spoke with reporters Monday at Landstuhl Regional Medical Center, a U.S. military hospital in southwestern Germany treating wounded American troops who have been evacuated from Fallujah and elsewhere.
Military officials have estimated that 38 troops were killed and 275 wounded by Sunday in the Fallujah assault, which began Nov. 8.
Of the 419 patients admitted to Landstuhl over the past week, 233 had combat-related injuries, according to doctors. Doctors said bullet wounds and blast injuries from rocket-propelled grenades are the most common. An additional 46 troops from Iraq were en route to the hospital Monday, Landstuhl spokeswoman Marie Shaw said.

Near miss
In the line-up was Lance Cpl. Ryan Chapman, who survived a close call in the battle.
The 22-year-old Marine gunner from Lawrence, Kan., was wearing an ugly stitched-up wound over his left eye Monday, a reminder of an encounter with an insurgent in the Iraqi battleground city of Fallujah.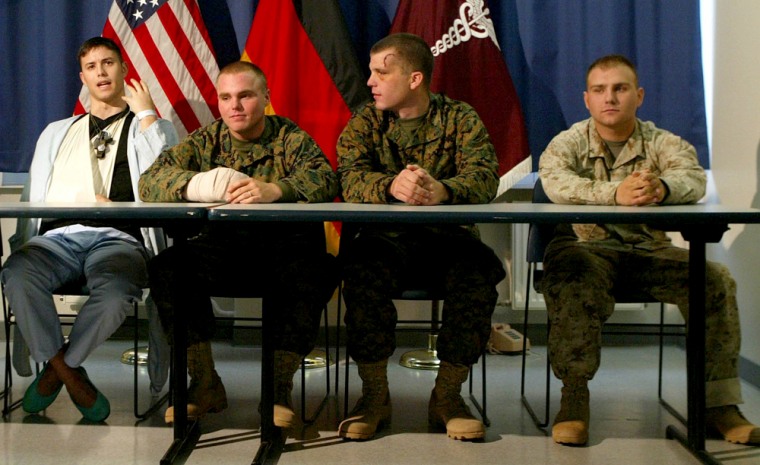 When a sniper began shooting at his Humvee, Chapman tried to find him with his missile launcher's telescope sight. But a bullet struck Chapman first, wounding him in the forehead just below the edge of his helmet.
"It's nothing too serious," Chapman, of the 1st Marine Regiment, told reporters at Landstuhl Regional Medical Center. "It cracked my skull but I think it looks worse than it is."
Schafer, with the 1st U.S. Marine Regiment, said he was surprised by the fighters' firepower.
He said his unit had pushed just 400 yards into the city when it came under heavy assault from small arms, mortars and rocket-propelled grenades.
Fire 'from all over the place'
"Even from mosques they were firing — from all over the place," Schafer said. "It seemed like they have a pretty unlimited amount of RPGs and mortars. They seemed to fling those about wildly."
There were "a lot" of bodies in the streets that appeared to be those of insurgents, Army Spc. Kris Clinkscales said.
The fighters were generally recognizable by their face masks and weapons, he said. He and Chapman said they saw no civilian casualties in Fallujah.
Clinkscales, a 22-year-old sniper team member from San Antonio, Texas, had his right arm in a sling because of shrapnel wounds from a rocket that struck about 20 feet away.
"It's something you anticipate can happen, but you never expect it to happen to you," he said.
'Distinct whistle'
Lance Cpl. Jeffery Owens, 21, was hit in the leg by shrapnel from a 20mm rocket. "It makes a really distinctive whistle," said Owens, of Harlan, Ky. "When I first heard the blast, I felt it go through my leg. The only thing on my mind was, I was worried about the rest of my friends, worried if they were hurt."
Chapman recognizes he had a close call.
"Everyone keeps telling me I'm lucky," he said.
Still, he said he is eager to go back into action.
"I want to go back — my buddies are out there without me," he said. "If I was well enough to go out, I would in a heartbeat go back."
Schafer agreed — but said he was also excited to go home to Puyallup, Wash., and celebrate his first anniversary with his wife, Jennifer, a student.
"It's something that I was going to miss, but because of this little incident, I'll actually be home for that one," he with a smile.