The world's biodiversity is declining at an unprecedented rate, the recognized global watchdog on endangered species said Wednesday in announcing its annual list of most vulnerable wildlife.
At least 15 species have gone extinct in the past 20 years and another 12 survive only in captivity, the World Conservation Union said in a report that accompanies its annual "Red List."
Current extinction rates are at least 100 to 1,000 times higher than natural rates found in the fossil record, the report stated. The data were released as 3,500 delegates gathered in Bangkok, Thailand, for a World Conservation Union conference focused on halting what's deemed an extinction crisis.
The report concluded that humans are the main reason for most species' declines. "Habitat destruction and degradation are the leading threats," the union said in a statement, "but other significant pressures include over-exploitation (for food, pets, and medicine), introduced species, pollution, and disease. Climate change is increasingly recognized as a serious threat."
3,330 more threatened species
The union, which is a coalition of leading conservation groups, called the report "the most comprehensive evaluation ever undertaken of the status of the world's biodiversity." Among the findings:
15,589 species (7,266 animal species and 8,323 plant and lichen species) are now considered at risk of extinction — an increase of 3,330 species since the 2003 Red List. The increase is largely due to the fact that scientists have finally been able to assess all of the world's amphibians.
One in three amphibians and almost half of turtles and tortoises are known to be threatened with extinction, along with one in four mammals, one in five sharks and rays, and one in eight birds.
The numbers of threatened species are increasing across almost all major taxonomic groups.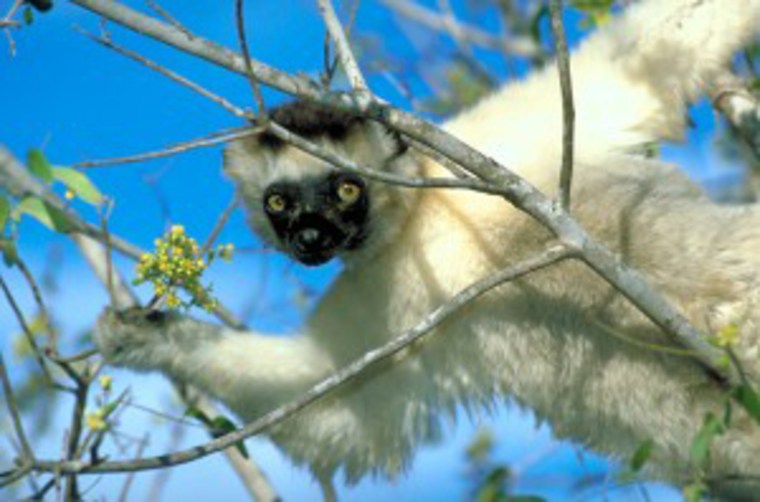 Craig Hilton-Taylor, who managed the Red List compilation, noted that "although 15,589 species are known to be threatened with extinction, this greatly underestimates the true number, as only a fraction of known species have been assessed.
"There is still much to be discovered about key species-rich habitats," he said in a statement, "such as tropical forests, marine and freshwater systems, or particular groups, such as invertebrates, plants and fungi, which make up the majority of biodiversity."
Species that fared worse than in 2003 are the now-extinct St Helena olive, the Hawaiian crow, which has become extinct in the wild, and the Balearic shearwater and giant Hispaniolan galliwasp lizard, which are now both critically endangered.
Where threats are concentrated
The report found that threatened species are often concentrated in areas that are poor and densely populated, such as much of Asia and Africa.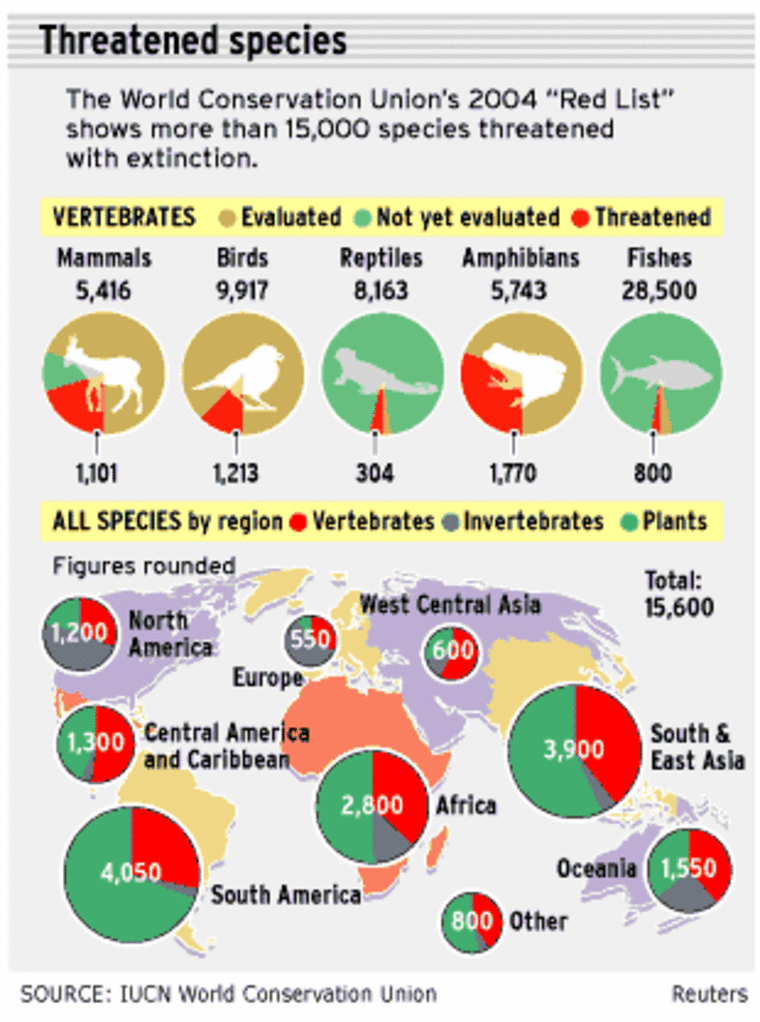 The union urged better off nations and international groups to step forward to help in those areas.
"The good news is that we still have time to save the majority of (the species), if the conservation community, governments, other organizations, and concerned individuals commit a sufficient amount of resources immediately," said Russ Mittermeier, the head of Conservation International and chairman of the World Conservation Union's primate group.
The entire Red List database is online at www.iucnredlist.org.