/ Source: a href="http://www.washingtonpost.com/wp-srv/front.htm" linktype="External" resizable="true" status="true" scrollbars="true">The Washington Post</a
Secretary of State Colin L. Powell shared information with reporters Wednesday about Iran's nuclear program that was classified and based on an unvetted, single source who provided information that two U.S. officials said yesterday was highly significant if true but has not yet been verified.
Powell and other senior Cabinet members were briefed last week on the sensitive intelligence. The material was stamped "No Foreign," meaning it was not to be shared with allies, although President Bush decided that portions could be shared last week with British Prime Minister Tony Blair, officials said.
According to one official with access to the material, a "walk-in" source approached U.S intelligence earlier this month with more than 1,000 pages purported to be Iranian drawings and technical documents, including a nuclear warhead design and modifications enabling Iranian ballistic missiles to deliver an atomic strike. The official agreed to discuss the information on the condition of anonymity and only because Powell had alluded to it publicly.
But U.S. intelligence officials have been combing the information carefully and with a wary eye, mindful of the mistakes made in trusting intelligence information alleging that Iraq possessed weapons of mass destruction. Powell, who announced earlier this week that he would not stay on for a second term, presented that intelligence in a February 2003 speech to the U.N. Security Council that was meant to convince the world that Saddam Hussein needed to be forcefully removed from power. Much of his presentation turned out to be based on information provided by unreliable sources.
If the information on Iran were confirmed, it would mean the Islamic republic is further along than previously known in developing a nuclear weapon and the means to deliver it. The documents included a specific warhead design with an implosion device on the tip and adjustments aimed at outfitting the warhead on existing Iranian missile systems.
U.S. intelligence has known since at least 2002 that Iran was capable of enriching uranium, the key ingredient in a nuclear bomb. Iran also has a successful missile program. But U.N. nuclear inspectors who have been investigating Iran for nearly two years have found no evidence that Tehran possesses a nuclear warhead design or is conducting a nuclear weapons program.
Denial by Iran
The Islamic republic, which on Sunday entered into a new deal with France, Britain and Germany to suspend its nuclear program, has denied it is trying to build atomic weapons and insists its work is part of a budding energy effort.
Western intelligence estimates of Iran's capabilities vary. But U.S. officials believe Iran could be three to five years from completing a bomb if it is successful at constructing and operating thousands of highly sophisticated centrifuge parts for enriching uranium.
The information provided by the source, who was not previously known to U.S. intelligence, does not mention uranium or any other area of Iran's known nuclear program, according to the official with access to the material. It focuses instead on a warhead design and modifications to Iran's long-range Shahab-3 missile and a medium-range missile in its arsenal. The Shahab-3 has a range of 800 miles and is capable of hitting Israel.
The official said the CIA remains unsure about the authenticity of the documents and how the informant came into their possession. A second official would say only that there are questions about the source of the information.
Officials interviewed by The Washington Post did not know the identity of the source or whether the individual is connected to an Iranian exile group that made fresh accusations about Iran at a news conference Wednesday in Paris. The National Council for Resistance in Iran charged that Iran was still enriching uranium and will continue to do so despite the pledge made Sunday to European foreign ministers.
The group also claimed that Iran received blueprints for a Chinese-made bomb in the mid-1990s from the global nuclear network led by Pakistani scientist Abdul Qadeer Khan. The group, which is considered a terrorist organization by the State Department, exposed a secret Iranian enrichment facility in 2002, but many of its claims since have been inaccurate.
The lack of certainty about the source who approached U.S. intelligence had kept officials from talking publicly about the information, and Powell's comments caught the small group of informed officials by surprise and angered some of them.
European concern
Powell's remarks also drew expressions of concern from European allies who just days earlier had entered into an agreement with Iran to suspend work on its nuclear program. Even if the documents are authentic, Iran's possessing them would not by itself violate international law, officials said. And the information was not enough to stop British officials from signing the agreement with Iran.
Yesterday, in an effort to assuage European concerns, the administration told diplomats from those countries that Powell misspoke in releasing information that had not yet been verified, sources said. During a conversation about Iran with reporters accompanying him on a trip to Chile on Wednesday, Powell said he had "seen some information that would suggest that they have been actively working on delivery systems. I'm not talking about uranium or fissile material or the warhead, I'm talking about what one does with a warhead."
Powell's spokesman said yesterday that the secretary stood by those remarks. "The secretary did not misspeak," said State Department spokesman J. Adam Ereli, who added that Powell's deputy, Richard L. Armitage, "saw the same information."
Ereli did not elaborate on the nature of Powell's comments at his daily briefing. White House spokesman Scott McClellan said only that "Powell was talking about intelligence that we have seen, that's what he was referring to."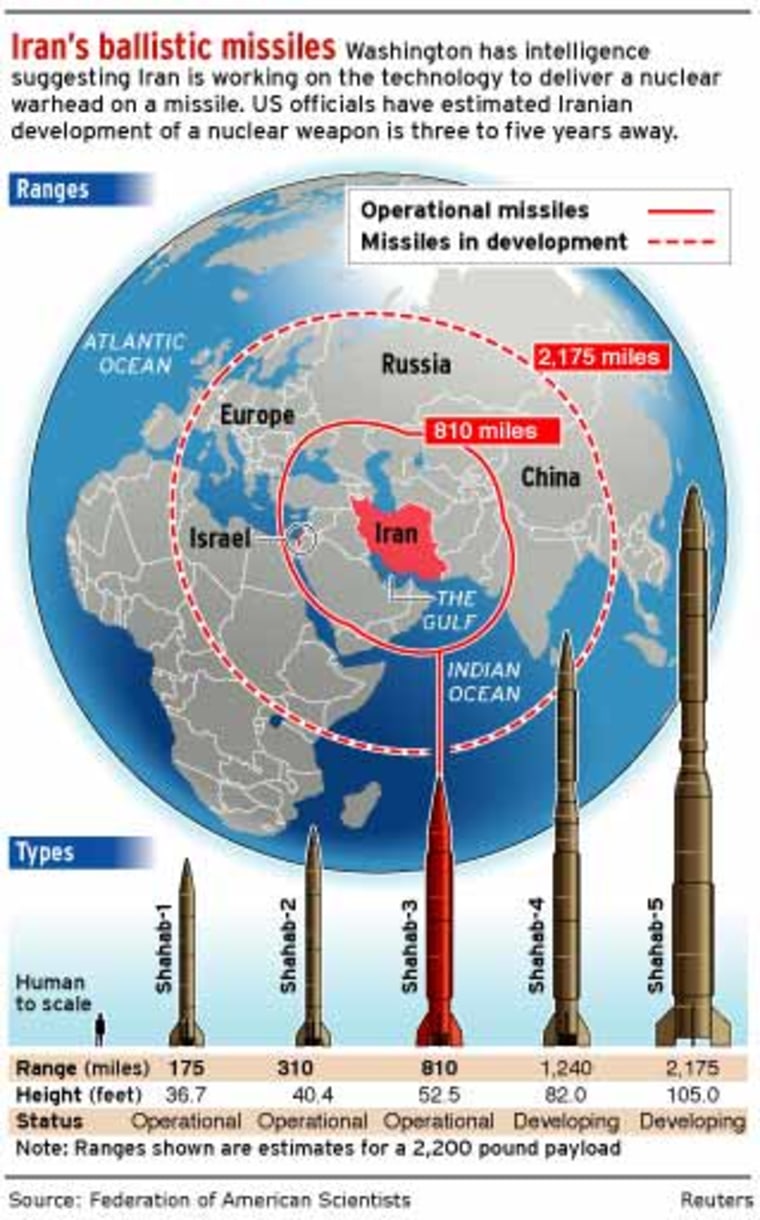 Meanwhile, senior State Department officials traveling with Powell in Santiago, Chile, said yesterday that President Bush will appeal to Asian leaders this weekend to intercede with North Korea to return to deadlocked talks on its nuclear weapons program.
Bush will press allied leaders of China, Japan, South Korea and Russia -- partners with the United States for more than a year in negotiations to disarm Pyongyang -- on the sidelines of the annual Asia-Pacific Economic Cooperation forum in Chile. The Bush administration believes North Korea may be more willing to reconsider rejoining the six-party talks now that the U.S. presidential election is over, the officials said.
With limited alternatives, U.S. officials hope the president's personal intervention will impress allies to try once again to prod North Korea. "Bush's meetings with leaders are going to be quite significant in stating his own commitment to the six-party process," said a senior State Department official who spoke on the condition of anonymity because of the sensitive diplomacy.
The diplomatic effort has been in trouble since Kim Jong Il's government boycotted a planned session of the six-party talks in September. The Bush administration believes North Korea was waiting to see the fate of Democratic candidate John F. Kerry, who had proposed the kind of direct talks the Clinton administration tried in 2000.
Japan and South Korea have offered economic and energy incentives as part of the package to win North Korea's compliance. But North Korea had been holding out for additional incentives, including the prospect of one-on-one talks with the United States, as conditions to resume negotiations.
Staff writers Robin Wright in Santiago, Chile, and Glenn Kessler in Washington contributed to this report.