In the 80s, high tech musical devices were usually reserved for New Wave acts like Devo and Kraftwerk. Twenty years later, the digital revolution touches everyone from high-profile recording artists to struggling garage-bands.
Naturally, many of these devices make perfect holiday gifts. Whether your Mozart (or Van Halen) is just beginning or ready to cut a demo tape, there's something for everyone in almost every price range.
Learning to play
Dozens of companies produce educational computer software offering for multimedia instruction on various instruments from the safety and anonymity of a home computer.
EMedia offers Method CD-ROMs for keyboard, guitar and bass guitar for about $50. Intermediate, blues and rock programs are also available for guitar. They also offer beginner packages that include a MIDI keyboard or (acoustic) guitar for $150.
For the more advanced guitarist, GuitarPort from Line6 allows players to plug directly into their desktop and download lessons and tabs. Also included are different amplifier models and digital effects to emulate favorite songs and artists.
Practice on the go
Many aspiring rock stars spend hours in front of the stereo, playing their favorite records over and over while attempting to imitate their musical heroes. Tascam makes this process a bit easier with their CD Portable Trainers for guitarists, bassists and singers.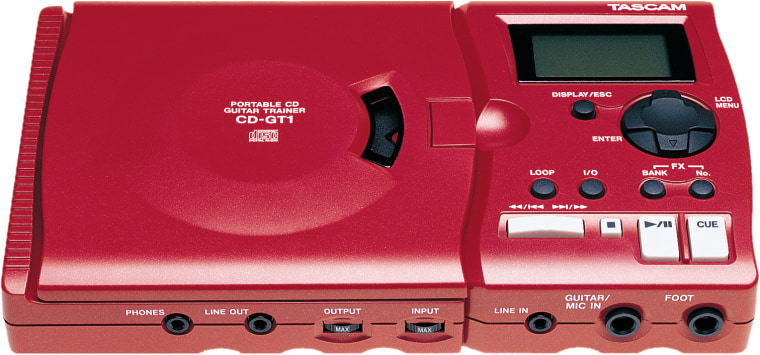 At just a bit larger than the average portable CD player, the trainers can slow the tempo of a song up to 50 percent without changing the pitch. Or you can retain the speed and change the pitch to learn a song in different keys. The Vocal Trainer can remove the center voice track, while the guitar and bass versions include various digital effects.
Most notable for parents and housemates, instruments, microphones and headphones plug directly into the trainers, eliminating the need for amplifiers. At around $150, it's a small price to pay for peace and quiet.
Not-so-solo jamming
One of the biggest problems facing an up-and-coming artist is getting together with a band for practice. PG Music solves this dilemma by providing accompaniment with Band-in-a-Box. Type in the chords, select a style and the program automatically generates an arrangement of piano, bass, guitar, drums and strings.
Both Windows and Mac versions of Band-in-a-Box retail for $88. Add-ons, including a MIDI fakebook, additional styles and even solos are available for download at extra cost.
Turntables not required
For the home DJ, producing mixes has never been easier. PCDJ offers several different flavors of its software ranging from $30 for the bare-bones version to $500 for the professional mixmaster. The player can fade between two digital audio files and alter the tempo of the songs, mimicking the traditional two-turntable setup. Higher level versions also include automatic tempo matching, looping and other audio effects.
Kinetic from Cakewalk puts the creation of original techno and hip hop grooves in the hands of point-and-clickers for $80. The program features over 400 sounds and riffs from a variety of synthesized instruments ready for recording or live performance.
Home recording
The Omega Desktop Recording Studio by Lexicon turns a home computer into a professional-quality recording studio. Instruments and microphones can plug directly into the mixer, which connects to the computer via USB. The $300 package includes a 32-track recording software suite to edit, process and mix compositions.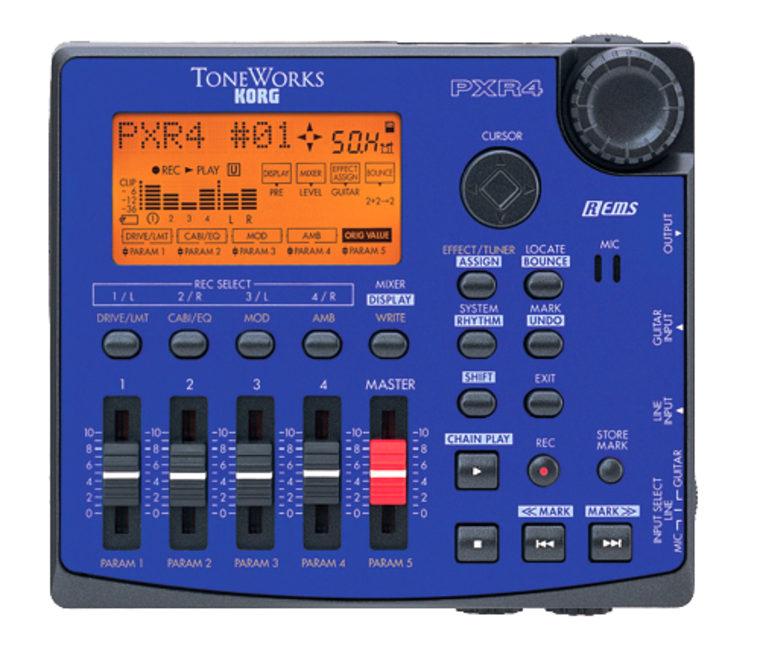 For those not wanting to lug a computer to the garage or studio, portable digital mixers may be the answer. Korg's PXR4 digital recorder and Tascam's Pocket Studio 5 both offer four-track recording and mixing in hand-held packages for around $300. The mixers feature built-in guitar and vocal effects, and record in MPEG format. Both can also connect to computers via USB.
Digital percussion
Electronic drums have come a long way since the syncopated, toy-like sound of Trio's 1982 hit "Da da da." Today's drums, from familiar companies such as Roland and Yamaha, can sound nearly identical to traditional acoustic sets. Plus, many can be programmed with various different sounds, making them much more versatile than regular drums.
Ranging in price from $600 to $5,000, these kits are a bit more expensive than traditional skins, but they are much quieter. It's even possible to play using headphones, making it possible to practice at night or in close proximity to others. Also, tracks can be recorded on the computer as MIDI files for later editing, playback and mixing.