/ Source: The Associated Press
Is it possible the word still hasn't gotten around? Leave your handguns and knives at home when you leave for the airport. The chain saw, land mines and gunpowder, too.
More than three years after the Sept. 11 attacks, air travelers still are trying to carry thousands of potentially deadly items on planes every month.
The Transportation Security Administration, which took over security screening at 450 airports in February 2002, said Tuesday it had confiscated 15.6 million prohibited items, including 2,150 guns, 75,241 box cutters and 4.7 million knives through the end of October.
Billie Vincent, former security chief for the Federal Aviation Administration, blames stupidity and forgetfulness in most cases.
'It isn't restricted to the farmer or the doofus'
"How do you deal with people who have to know about 9/11 and, even inadvertently, are still trying to get knives onto planes?" he asked.
Vincent said a prominent Washington lawyer once failed to realize he had his set of compact, mechanical tools in the briefcase he was trying to bring on board.
"It isn't restricted to the farmer or the doofus," Vincent said.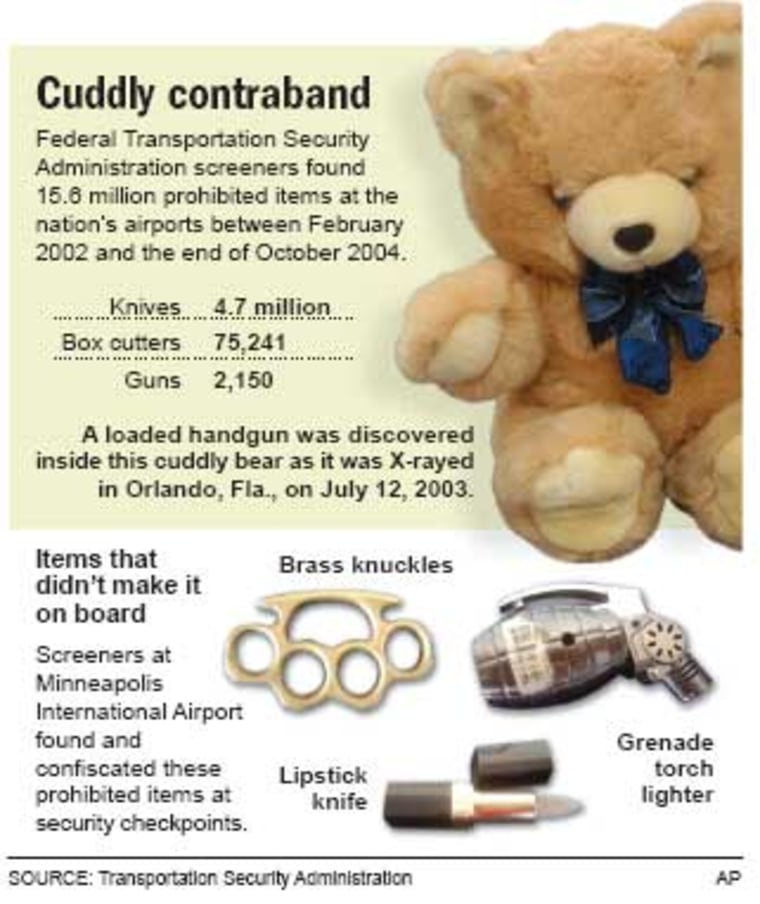 In October alone, screeners seized ammunition 2,000 times, along with 170,940 knives and 73 guns.
TSA spokeswoman Amy von Walter said local law enforcement officials have arrested people caught with prohibited items in some cases. It's up to local prosecutors to decide on criminal charges, she said.
A college student who hid bags of box cutters and fake bombs in the lavatories of four Southwest Airlines jets last year pleaded guilty to a misdemeanor as part of a plea bargain with prosecutors.
The student, Nathaniel Heatwole, said he was trying to expose what he called gaps in aviation security. By taking a dangerous weapon aboard an aircraft, he could have been charged with a federal felony that carries a possible 10-year prison sentence.
Most confiscated items trivial
Oregon Rep. Peter DeFazio, ranking Democrat on the House aviation subcommittee, said most of the seized items are trivial.
"Primarily nail files and small knives and scissors — mostly innocent things," said DeFazio, who has lost several pairs of mustache scissors to the TSA.
Some have not been so innocent.
The TSA has found knives disguised as lipstick, a radio with a handgun inside, a loaded gun stuffed into a teddy bear. Several people have tried to bring chain saws onto planes. An Army sergeant was kicked off a flight after an inert land mine was found in his checked luggage. One man packed gunpowder and a fuse for his hobby of shooting golf balls out of cannons.
"You name it, we've seen it," said the TSA's von Walter.
They haven't found everything, though.
DeFazio, who has reviewed classified reports on the screeners' performance, said they have trouble finding artfully concealed objects.
"They're crippled with machines that only look at items in one dimension and are very primitive," he said. "They have 1970s technology to find 21st century threats."
Better X-ray machines are on the market, DeFazio said, but Congress hasn't given the TSA enough money to buy new ones.