/ Source: The Associated Press
A car bomb exploded in a busy Mosul market Thursday and mortar rounds struck near the Italian Embassy and an Iraqi National Guard base in Baghdad, killing three civilians and wounding at least seven.
Two Iraqis were injured and hospitalized after the car bomb exploded in eastern Mosul, U.S. military spokesman Lt. Col. Paul Hastings said. Iraqi policeman Hassan Ahmed said the blast happened in an eastern Mosul fruit and vegetable market.
Mosul, 225 miles northwest of Baghdad, has been the scene of regular attacks against U.S. and Iraqi forces by insurgents aimed at derailing the country's reconstruction ahead of next month's elections.
The bombing came a day after clashes in the city between police and insurgents that killed four militants.
Insurgents also fired multiple mortar rounds toward an Iraqi National Guard base and the nearby Italian Embassy in Baghdad's Waziriyah neighborhood. Police Lt. Hussein Ali said three civilians were killed and five wounded in the attack.
"I heard an explosion and went to see what caused it and then another mortar came in and hit me," blast victim Bassem Mal-allah said from a nearby hospital.
Civilians often are killed and wounded by insurgents who are mounting attacks against Iraqi security forces seen as supporting the U.S.-led forces in Iraq.
5 killed in Samarra attacks
The rebels launched a series of attacks against U.S. and Iraqi government troops in Samarra, 60 miles north of Baghdad on Wednesday, leaving five Iraqis dead and several more wounded. An American soldier was lightly injured in a roadside bomb attack Wednesday evening in the volatile city, the military announced the next day.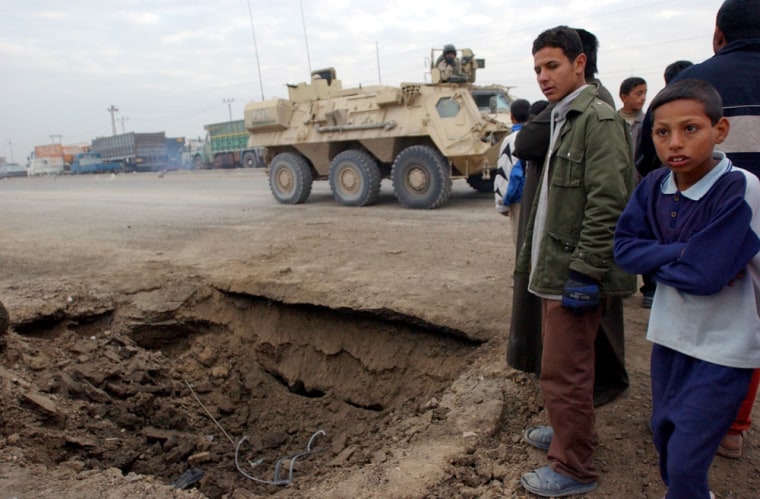 Samarra's police chief Maj. Gen. Talib Shamel al-Samarrai announced his resignation, saying he was unable to do his job properly.
"When I felt that I wasn't carrying out my duties as I should, I had to give an opportunity for someone else to carry on," al-Samarrai said Wednesday.
Resignations of top police officials, rampant absenteeism in the force and continuing assaults on police stations have raised concerns about the feasibility of holding elections next month to choose a 275-seat assembly, whose primary task will be drafting a permanent constitution for this overwhelmingly Muslim nation.
Iran rejects accusations of meddling
Iran, meanwhile, rejected accusations that it was trying to influence the vote in neighboring Iraq, saying the Iraqi people have made clear they won't take orders from abroad, state media reported.
"The Iraqi people have a shining record in fighting foreign exploitation and occupation and have proven that they won't accept foreign domination," Foreign Ministry spokesman Hamid Reza was quoted by the official Islamic Republic News Agency as saying.
He was reacting to comments made Wednesday by interim Iraqi President Ghazi al-Yawer and Jordan's King Abdullah II, both Sunni Muslims, in which they accused overwhelmingly Shiite Iran of trying to influence the outcome of the election.
"Unfortunately, some political currents in Iraq seek to tarnish the trend of elections there and cause concern in the public opinion," Asefi was quoted as saying.
In a move sure to gladden U.S.-led military commanders, Japan extended the deployment of its troops in Iraq.
Japan's Cabinet on Thursday approved a plan to keep its 550 non-combat troops in southern Iraq for another year. The current mission, focussing on water purification and other reconstruction projects, had been scheduled to expire next Tuesday.
"We must not give in to terror," Prime Minister Junichiro Koizumi said in a nationally televised address after his Cabinet approved the decision. "The Iraqis are trying to build a government with their own hands. We must support this. The Self-Defense Forces are needed for this end."