/ Source: msnbc.com news services
Across the country, millions of Americans gathered with family and friends on Thanksgiving Day to enjoy gut-busting feasts and take in holiday traditions such as football and parades.
In Detroit, Carl Williams braved 30-degree temperatures and biting wind to get up at sunrise Thursday to prepare turkey legs, bratwurst, hamburgers and hot dogs on an outdoor grill in before the city's annual Thanksgiving parade.
He had a lot of cooking to do. Thousands of people braved the chilly weather for the parade before football fans from the Detroit Lions-Indianapolis Colts game across the street started showing up.
"Shoot, this is the place to be," Williams said as he warmed his hands over the glowing coals.
In New York, where the weather was an unseasonably warm 65 degrees, the big hit of the Macy's Thanksgiving Day Parade was a giant yellow sponge with a red tie.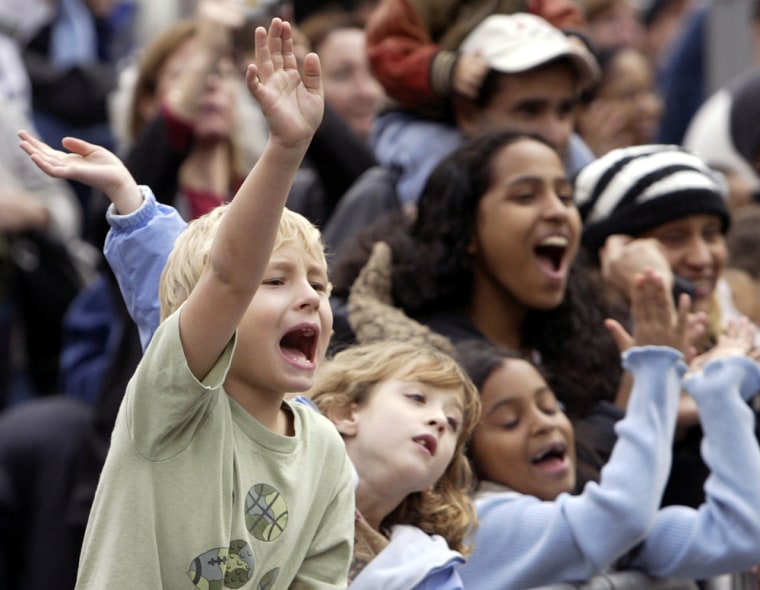 Thousands of onlookers jammed the streets to see the floating SpongeBob SquarePants and the scores of other gigantic balloons, floats and bands that mark the traditional kickoff to the holiday season.
Tim O'Connor risked total exhaustion by holding his 4-year-old grandsons Sean and Declan in his arms during the parade.
"The atmosphere of the parade is so friendly," he said. "It makes it a nice event, and it gets them out of the house so that parents can cook dinner."
For SpongeBob, however, the parade almost didn't happen. Forecasters had predicted rain and high winds in New York on Thursday that could have grounded the balloons out of safety concerns. Instead, the winds were barely noticeable and the temperatures hit an unseasonably warm 65 degrees.
Storm hits Midwest
The Detroit parade took place a day after the first winter storm of the season hit the Midwest. But the weather did not stop Nick Nicholson and his family from watching the parade in person, instead of on TV as they usually do. His daughters, Katie, 10, and Lindsay, 3, sat in a little red wagon at his feet, wrapped in fleece from head to toe.
"I wanted to sleep later, but this'll be fun," Katie said.
Meanwhile, travelers at Chicago's O'Hare International Airport were thankful just to get home Thursday.
The Midwest storm stranded hundreds of holiday travelers at the airport overnight after nearly 50 flights were canceled. The National Weather Service said parts of Illinois got up to 8 inches of snow, while up to 9 inches were expected in southern Michigan.
Strong thunderstorms, high winds and icy conditions made driving conditions treacherous for thousands of other travelers.
"It's not worth getting upset about — it's Mother Nature," said Theresa Pixler, whose flight from Chicago to Sioux Falls, S.D., was canceled Wednesday night. She hoped to make it to her final destination in Iowa in time for Thanksgiving dinner.
"You have to take it all in stride. We'll get there eventually."
Thanksgiving at war
For others, the place to be was in a war zone thousands of miles from home. In a mission weeks in the making, military chefs throughout Iraq served traditional Thanksgiving meals to American servicemen and women.


At Camp Victory in Baghdad, Sergeant Major Eric Parris, a spokesman for Multinational Corps-Iraq, said turkey and all the trimmings, right down to the pumpkin pie, would be on tables from Baghdad to Mosul and even in Fallujah.
Parris said commanders in Fallujah have gone to great lengths to make sure their troops have a little bit of home in their hearts and in their stomachs on the holiday, security conditions permitting.

Some units planned football games and "fun runs" to mark the holiday, as well as watching the NFL and college football games via satellite.
In Fallujah, Lt. Sven Jensen's U.S. Marines unit survived for weeks on military rations while living rough in Iraq's Fallujah, so he wrangled a truck Thursday and drove his men to the rear for a rare treat: Thanksgiving turkey and cranberry sauce.
Home away from home
Across the country, many families opened their homes to servicemembers who couldn't make the trips to see their own families for the holiday.
Joshua Flesher, a 20-year-old Marine based at Fort Knox, was one of four soldiers staying with a family in New Albany, Ind. "If it wasn't for them, I'd be standing duty right now," he said.
Most of the Marines invited to families' homes recently finished boot camp and will likely ship out to Iraq when they finish tank gunnery school.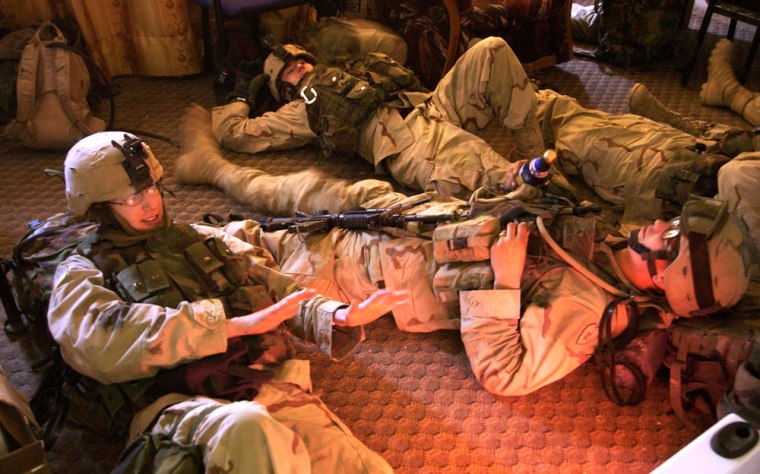 More than 100 servicemembers in Virginia also enjoyed a home-cooked Thanksgiving meal thanks to families there. Jan and Steve Daum of Gloucester, who were feeding two Army National Guard privates from Fort Eustis, figured the more guests, the merrier.
"We had done Thanksgiving with just the two of us, and it's not as much fun as with a crowd of people," Jan Daum said. "When you can't be with family, make a family."
Bush hunkers down on the ranch
President Bush spent a down-to-earth Thanksgiving Day at his ranch in Crawford, Tex., riding his mountain bike and also calling members of the military stationed around the world, most of them deployed to the Middle East.

It was a dual celebration: His twin daughters, Jenna and Barbara, marked their 23rd birthdays on the family's ranch. Also at the home were Laura Bush and her mother, Jenna Welch, and the president's parents, former President Bush and Barbara Bush.

The family tucked into leftovers from Wednesday's luncheon meeting with Spain's King Carlos and Queen Sofia. That meal had a Thanksgiving theme, with free-range turkey and gravy, mashed sweet potatoes, bass caught at the ranch, stuffing, pan-roasted vegetables, pecan and pumpkin pies with ice cream. There was cake Thursday for the twins' birthdays.
Sharing and caring
In San Francisco, thousands of the elderly and the homeless received free Thanksgiving meals.

And in Texas, organizers said they expected to feed 25,000 people at the annual Thanksgiving Day feast at San Antonio's convention center.

Elsewhere in Texas, some visitors to the United States are marking their first Thanksgiving. Two students from the African island nation of Madagascar will be treated by Abilene Christian University officials. The students said they're not sure about the holiday's full meaning, but that they believed the main idea is to share.
In Florida, residents still recovering from this year's disastrous hurricane season were taking time to be grateful for the little things.
"You're thankful for what didn't happen to you, being right here in this area. You just look around and be thankful," Richard Strong said as he looked at the barrier island of Sanibel, which was pummeled by Hurricane Charley in August. "The damage is still everywhere and very evident."
'I just wanted to come here'
In Michigan, an airport baggage area provided a setting for family reunions when about 70 members of an Army Reserve company returned home from Iraq for the holiday.
Edward Silverthorn was greeted by his wife and three children, ages 11, 9 and 5, who each wore a T-shirt that said: "My Daddy made it back from Iraq."
"I've been a single mom for too long," Silverthorn's wife, Anna, said at Detroit Metropolitan Airport. "I didn't care about the turkey. I just wanted to come here."