/ Source: The Associated Press
Shoppers swarmed the nation's malls and stores on Friday, even before the sun rose, to grab early bird deals on hot items like flat-screen TVs and DVD players as the holiday shopping season officially began.
Despite freezing temperatures in some places, and huge crowds everywhere, shoppers came armed with lists, credit cards and game plans with sometimes military precision. They created shortages already in some popular gadget gifts.
With an improving but still challenging economy, several merchants, including Toys R Us Inc., KB Toys Inc., and Sears Roebuck and Co., along with mall operator Taubman Centers Inc., reported that traffic was as least as good as last year. Some stores, like Toys R Us, opened their doors even earlier than planned to accommodate the hordes of shoppers who were waiting in line before dawn.
Musicland Group Inc., which operates Sam Goody, Suncoast Motion Picture Co. and Media Play stores, reported that traffic and business on Friday were ahead of last year's results, based on early reports, according to Laurie Bauer, a company spokeswoman.
Karen Burk, a spokeswoman at Wal-Mart Stores Inc., said it was too early to comment on business and traffic. She said there "was a huge rush" at 6 a.m., however.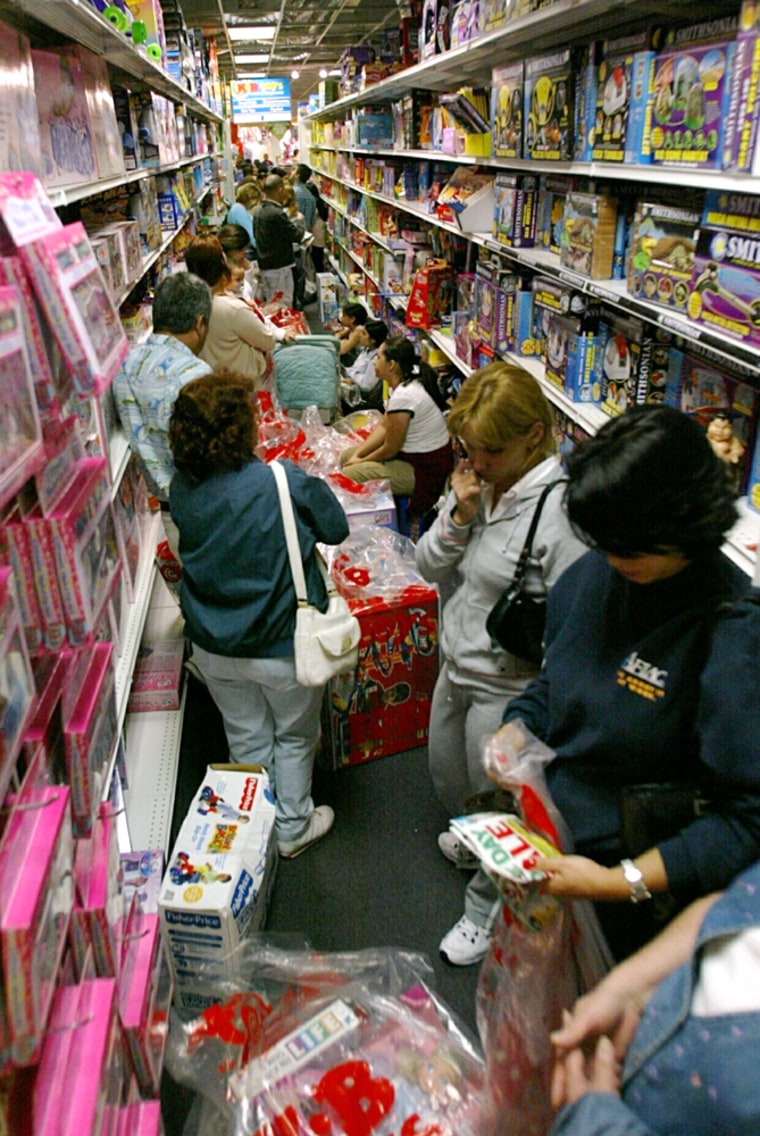 The world's largest retailer drew throngs of shoppers with such deals as a $139.92 flat screen Symphonic 20-inch TV/DVD combination; $4.77 fondu sets; and $25 children's 20-inch bikes, she said.
"There definitely seems to be more buying than a year ago," said Tracy Mullin, president of the National Retail Federation, who checked out three malls in Virginia on Friday.
Shoppers jammed stores, even as overall discounting appeared to be more selective than last year. Wal-Mart was more focused in its discounting, offering deals that would appeal to a wide range of consumers, according to C. Beemer, chairman of America's Research Group, based in Charleston,S.C.
"Every retailer knows that if they are going to win the holiday season, they must win this weekend," to keep the momentum going, said Beemer.
Retailers are keeping their fingers crossed that the crowds will keep coming throughout the next month.
Deals at dawn
By the time Wal-Mart's store in a Buffalo, N.Y. suburb of Hamburg opened its doors at 6 a.m., 1,000 people had formed a lined that spanned the entire store front, despite temperatures of 31 degrees.
"It's our tradition," said Ruth Pompeo, of Lackawanna, N.Y, who was up at 3 a.m. and in line by 4:30 a.m. with her 11-year-old niece Shelby Strack. "I don't know what I'm here to grab, actually, " she said. "Whatever I can."
Already, hot items were selling out. At another Wal-Mart store in Alpharetta, Ga., just north of Atlanta, a supply of discounted Video Now personal video players from toy maker Hasbro Inc. sold out in just 12 minutes.
That's why many shoppers mapped out a strategy to get the most coveted bargains — in the wee hours of the morning.
"The deals are better this early in the morning," said Karen Dawkins, from Cayce, S.C., who was at a Toys R Us store in Columbia, S.C. and was almost done with her buying shortly after 6 a.m. "I have my mother at Circuit City and my sister at Target ... so we have people stationed at other stores."
She added, "We all got together after Thanksgiving dinner and got the ads and made a list."
At a Plano, Tex., Best Buy Co. Inc. store, Martin Clouser stood watch just after 6 a.m. over a shopping cart stuffed with a printer, television set, a $14 DVD player and a voucher for a desktop computer. His wife, Teri, was hunting the aisles for more gifts.
"It's like a war plan," Clouser said. "She runs in ahead of me, and I get the cart. She picks out all the good bargains and carries as much as she can, then throws it in the cart and moves to the next station."
The Plano couple had good reason to be organized. They arrived at 4 a.m., only to find several hundred people already in a line that would snake around the store and down the block.
The list grows longer
Crystal Rhoades of Wake Forest, N.C., stood in front of Hudson Belk department store at Triangle Town Center in Raleigh, N.C. with Darlene Hackney of Creedmoor in temperatures hovering around 33 degrees.
Rhoades says it's her second or third time taking advantage of the early opening for the after-Thanksgiving sales. The day after Thanksgiving is known as "Black Friday" in the retailing business because the surge of shoppers has been known to push stores into profitability for the year.
"Since I had to go to work today, I figured I'd come in here before I go to work," she added. "So I've got until 7 o'clock to find a deal. After that, I'm out of here. I've got to be at work by 8 o'clock."
Rhoades had a short list until she spoke to Hackney.
"Sears has a DVD player for $19.99, so that's what I came out here to get. But since she told me about the bracelet and the earrings, I'm going to get one of those, too," she said.
Many of the nation's retailers are not panicking — not just yet anyway, according to John Morris, an analyst at Harris Nesbitt. They're just trying to drive as much traffic earlier in the season, he said. Discounting for the mall-based apparel retailers he follows is 5 percent below what it was a year ago.
Busy season
Those merchants that were struggling have to work harder to get customers into their store. KB Toys, which filed for bankruptcy in January, opened its doors at 5 a.m. again this year, but it ran early bird specials all day long, instead of having them end at noon.
Sears, which has long been mired in a sales slump, drew crowds by offering three times as many specials on Friday, compared with a year ago. It also did well with its free $10 gift card, which it gave out to the first 200 people that entered its stores.
Retailers' spirits have improved overall in recent weeks as falling fuel prices and job gains revived consumer spending momentum that slowed in the summer.
Dawkins of Cayce, S.C., said that she is spending more than in years past because her husband got a bonus.
But those with limited disposable income say they continue to be cautious. Fuel prices remain high, and the job market is still volatile.
The Washington-based National Retail Federation projects that total sales, after restaurant and auto sales are excluded, will increase 4.5 percent for the November-December period. That would be less than the 5.1 percent gain of a year earlier.
Michael Niemira, chief economist at the International Council of Shopping Centers, predicts a "pretty good Christmas," estimating that sales at stores opened at least a year for the November-December period will be up anywhere from 3 percent to 4 percent. That compares to a 4 percent rise a year ago.
In the online world, holiday sales, excluding travel and auction sites, are expected to increase 23 to 26 percent to $12.3 billion, according to comScore Networks Inc., an Internet research firm.
Retailers' efforts last year to get shoppers to buy early paid off.
During the 2003 holiday shopping season, the busiest day was the Friday after Thanksgiving, instead of the last Saturday before Christmas, which was the second busiest day, according to the International Council of Shopping Centers. That reversed a trend seen over the last couple of years, when the busiest day was the Saturday before Christmas, according to Niemira.