/ Source: The Associated Press
Foreign Minister Sergey Lavrov said Friday that Russia was concerned by the West's attempts to influence the situation in Ukraine, where allegations of vote fraud have sparked a political crisis that has brought the rival candidates' supporters into the streets.
Western nations including the United States and European Union members have called the election results fraudulent and expressed support for the opposition led by Viktor Yushchenko, which has unleashed huge protests in the Ukrainian capital and other cities.
"The attempt of some states to transfer the situation in Ukraine from the legal field provokes concern, especially when some European capitals say that they don't accept the elections and their next thesis is that Ukraine must be with the West," Lavrov said at a news conference.
"The Ukrainian people must decide who Ukraine wants to be with, and such statements make you think that somebody really wants to draw new dividing lines in Europe," he said.
Russian President Vladimir Putin all but publicly endorsed Yushchenko's rival, Prime Minister Viktor Yanukovych, and underlined his support by visiting Ukraine on the eve of both the initial vote and Sunday's run-off. On Thursday, Putin congratulated Yanukovych on his victory but said the election dispute should be settled in the courts, not in the streets.
On Friday, Moldova said it does not recognize the results of the election in Ukraine, putting the former Soviet republic at odds with Putin.
"Moldova expresses concern about the non-transparency of the voting process," Moldova's Foreign Ministry said. It said the "fundamental principles of democracy are distorted in Ukraine."
Respecting Ukraine's choice
Lavrov noted that not one but both candidates had filed legal complaints about the elections, and said the dispute should be handled "in the field of law."
"We hope that everyone will respect the choice of the Ukrainian people," Lavrov said.
The Ukraine crisis has driven a wedge between Moscow and the West, casting their continuing post-Cold War rivalry for influence across Europe into harsh relief.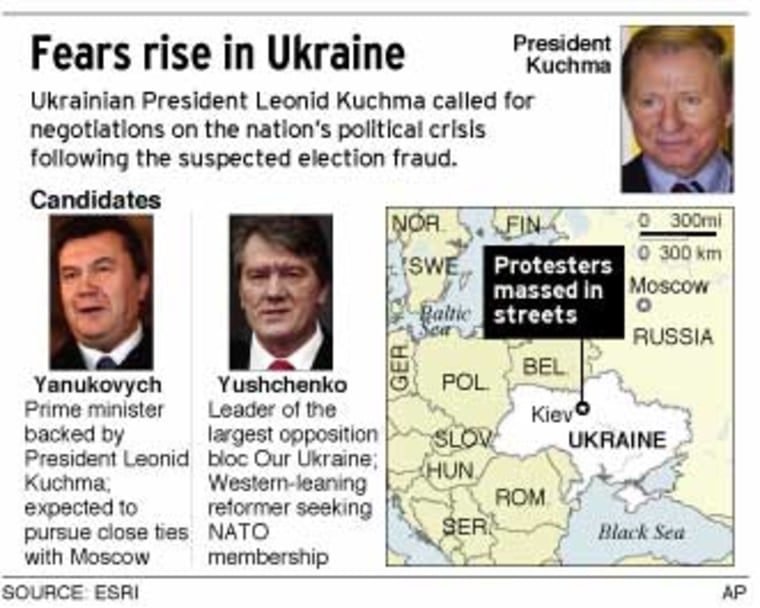 Ukraine is vital to Moscow's attempts to shore up its geopolitical position by opening new oil and gas transport routes and extend its economic clout by forming a free-trade zone involving four former Soviet republics.
For the West, an unstable Ukraine on the edge of the European Union could be a source of severe new headaches, including a possible wave of immigrants. Although Ukraine has given up its nuclear arsenal, Western governments have expressed fears that it could play a role in proliferation of weapons of mass destruction.
A liberal Russian political leader, Grigory Yavlinsky, accused Russian journalists on Friday of "lies and manipulating public opinion." He singled out state-controlled Channel One television and newspapers he did not name for acting like "slaves who envy others' freedom," and said they were "poisoning one part of the Ukrainian people against the other."
He said those journalists and their bosses "will bear their share of responsibility for the confrontation and possible clashes in Ukraine."
Opposition corruption?
Channel One, which is seen in many former Soviet republics, including Ukraine, has given blanket positive coverage to pro-Yanukovych demonstrators and accused their opponents of ratcheting up tensions.
For the second day in a row, Channel One broadcast a report alleging opposition demonstrators were being paid the equivalent of $9 a day to take part in the protest. Using grainy, jumpy footage caught on what it advertised as a hidden camera, it broadcast a scene of demonstrators being instructed over a loudspeaker to remain disciplined.
"Otherwise, you will immediately go home in disgrace and every village and every city will know that you could not cope," the voice over the loudspeaker said.