/ Source: The Associated Press
Cuba's communist government freed dissident writer Raul Rivero from prison Tuesday, the latest in a series of releases apparently aimed at cleaning up the island's human rights record.
Rivero was released a day after Cuba unexpectedly freed three dissidents who had been jailed last year in a broad crackdown. International human rights groups called on Fidel Castro's government to free dozens of others still behind bars.
"Cuba's release of these political prisoners is a welcome move, but many more remain incarcerated in violation of their fundamental rights," said Jose Miguel Vivanco, Americas director at Human Rights Watch. "We call on the Cuban authorities to release all of them."
Those freed on parole Monday included economics writer Oscar Espinosa Chepe, who was hospitalized behind bars for months with a liver ailment.
"I'm feeling happy now," Espinosa Chepe told The Associated Press at his Havana home, noting that Monday was his 64th birthday. "I had been really pessimistic. I didn't think I was going to be let out."
Also freed Monday for health reasons were dissidents Marcelo Lopez and Margarito Broche. Lopez has a neurological disorder, and Broche suffered a heart attack behind bars in August.
64 still jailed from last year
The latest releases bring to 11 the number of dissidents in the original group of 75 who have since been freed after being sentenced to prison terms ranging from six to 28 years in April 2003.
They were charged with working with the U.S. government to undermine Castro's socialist system, something the dissidents and American officials denied.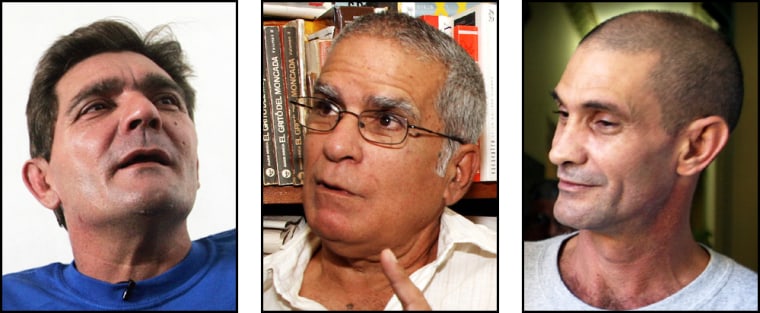 Vivanco regretted that the three men released Monday were freed on parole, rather than unconditionally.
"By granting them parole only, the Cuban government leaves open the possibility of returning the dissidents to prison to serve out their sentences in the future," said Vivanco. "Its a way of intimidating them from exercising their fundamental rights."
The New York-based Committee to Protect Journalists said it welcomed the release of Espionsa Chepe, one of more than two dozen independent Cuban journalists jailed on the communist-run island.
"Their only offense was doing their jobs," said the committee's Executive Director Ann Cooper. "We again call on Cuban authorities to immediately and unconditionally release all imprisoned journalists, and to allow them to work freely."
After his release, Espinosa Chepe spoke from his book-filled living room, where a small Christmas tree sat atop a refrigerator in the corner. He said he hoped the rest of the prisoners would return home.
"We are nonviolent people, who have not committed any crimes," he said.
Despite the difficulties suffered in jail, Espinosa Chepe said did not want to leave Cuba.
"I feel Cuban and I want to die in my own country," he said.
Follows closer ties to Spain
Castro's government made no public statement about the dissidents Monday. The latest releases come just days after Cuban Foreign Minister Felipe Perez Roque announced his country had resumed formal contacts with Spain, whose new government has pushed to restart a dialogue with the island nation.
Spain has repeatedly criticized last year's dissident crackdown. But the new Socialist government of Prime Minister Jose Luis Rodriguez Zapatero has said all Spanish political parties and the European Union should work to encourage the Caribbean island to open up.
In Washington, State Department spokesman Richard Boucher welcomed the releases but said the detainees never should have been imprisoned in the first place.
"We continue to condemn the unjust incarceration of dozens of other prisoners of conscious in Cuba," Boucher said. "We hope that they can return to their work to build a truly just and open Cuban society," Boucher said.
Veteran rights activist Elizardo Sanchez, who heads the Cuban Commission on Human Rights and Reconciliation, applauded the latest releases, but said no fundamental changes have been made on the island.
Sanchez said he thought the government released the dissidents for two reasons: to avoid their possible deaths in jail and to send "false signs of flexibility to the European Union and Spain."