/ Source: The Associated Press
A robotic airplane called ScanEagle has done more than 1,000 hours of intelligence and reconnaissance work for the Marines in Iraq, its developers say.
ScanEagle was developed and built by the St. Louis-based defense unit of the Boeing Co. and the Insitu Group, based in Washington state.
Boeing officials said they could not comment on specific ScanEagle missions, but spoke generally of its use.
It travels above insurgent positions and sends real-time video images to Marines on the ground. The unmanned device can relay facial expressions on enemy soldiers, and can transmit in such detail that it shows steam rising from their coffee.
The 4-foot-long (1.2-meter-long) aircraft has a 10-foot (3-meter) wingspan and can fly up to 15 hours at a time on less than two gallons (7.5 liters) of fuel, Boeing officials said.
Rising role for unmanned aircraft
Unmanned aircraft such as ScanEagle are expected to play an increasing role in future battles because the Pentagon sees the planes as an integral part of combat missions. Weapon systems are in the works that will share a common operating language so soldiers, ships, submarines, planes and satellites can share information in a battlefield network.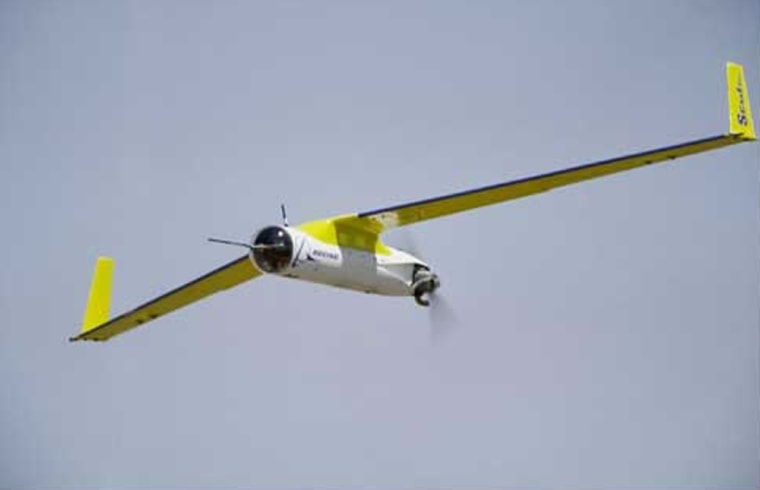 Executives at Boeing, the lead integrator on the Future Combat Systems program for the Army, said unmanned combat aircraft will complement piloted planes.
"In general, unmanned combat aircraft will be able to provide the dull, dirty missions that you don't want pilots involved in," Dave Martin, the Boeing program manager for ScanEagle, told the St. Louis Post-Dispatch in Sunday's edition.
Chicago-based Boeing and the Insitu Group of Bingen, Wash., received a contract in June from the Marines to provide two ScanEagle mobile-deployment units in Iraq. Each unit consists of several ScanEagle planes as well as related computers, communication links and ground equipment.
Project started at sea
ScanEagle evolved from Insitu Group's idea for miniature robotic planes that would fly weather reconnaissance over the Pacific Ocean.
The planes would collect data to help with forecasting from areas where weather balloons don't go, said Steve Nordlund, vice president of business development at Insitu.
Before the war in Iraq started, Insitu Group developed its SeaScan unmanned aircraft to serve the commercial fishing industry to spot tuna. The fishing venture has been sidelined as the 50-person company builds planes for the military, Nordlund said.
Nordlund said Insitu Group plans to introduce a ScanEagle that can stay aloft for 30 hours next year.
"Taking the pilot out of the cockpit lowers cost and lowers risk," he said. "That's the perfect unmanned solution. Anything we can do to keep Marines out of harm's way is adding value."
ScanEagle doesn't need a runway because it takes off from a catapult launcher. A 50-foot (15-meter) pole with a rope snags the aircraft when it's time to land.
ScanEagle has a global positioning system and flies programmed missions. Its real-time video can be sent to troops carrying laptop computers. The images also are sent to a ground-control station where intelligence officers can analyze feeds and relay information.
The plane costs about $100,000 to build, not including the ground-control center. Venture capital and Boeing research funds have underwritten the cost of the ScanEagle project, Nordlund said.
Martin said the ScanEagle's price will drop when the number of planes in production increases.