/ Source: msnbc.com news services
Scores of exhausted residents crowded onto ferries Monday to escape villages ravaged by flash floods and landslides while Philippine officials sought international help to rebuild after back-to-back storms left at least 566 people dead and more than 500 missing.
The storm and typhoon that struck late Monday and Thursday respectively set off flash floods and landslides, destroying hundreds of houses, farms, roads and bridges. Damaged infrastructure hampered rescue and relief efforts in remote villages, officials said.
Social Welfare Secretary Corazon Soliman appealed for international help in "rebuilding water systems, toilets, livelihood in agriculture for people whose farmlands were buried in mud."
Official figures released earlier said 640 people had died in the storms, but the latest tally lowered the figure to 566.
EU, other nations pitch inAustralia, the European Union, Japan, New Zealand, the United States as well as U.N. agencies and the International Red Cross quickly responded with financial aid, transport and relief goods.
U.S. Ambassador Francis Ricciardone, who flew by helicopter Sunday to villages in the hard-hit eastern province of Quezon, said roads and bridges needed to be repaired immediately to allow relief goods to flow to isolated areas.
"The devastation was worse than I had imagined," Ricciardone said. "It was quite distressing: logs everywhere, mud everywhere. Roads were cut off in many places and bridges were down."
Washington offered to dispatch troops to undertake humanitarian help, including at least one helicopter for transport and a team of U.S. military damage assessment experts. It also donated $200,000, 500 body bags and plastic shelter materials to the Philippine Red Cross, he said.
Marie North, a spokeswoman for the International Federation of Red Cross, said the group is appealing for $1.7 million to buy emergency relief supplies.
'We don't have a home now'Hundreds of villagers tried to leave hard-hit areas, including Real in Quezon. More than 400 people jammed a ferry capable of carrying only 108 passengers. The coast guard allowed the ferry to sail to a nearby town after passengers agreed to get off.
Rosalie Salvidar, a 25-year-old cashier, stood at Real's pier with her family's muddied belongings — a small refrigerator, TV set, desktop computer, electric fan and three sacks of clothes. Log-laden mudslides had crushed their house in nearby Infanta.
Salvidar said she and her family would return to their hometown in another Quezon town. "We don't have a home now," she said.
Most of the destruction was wrought by a tropical storm that blew through northeastern provinces late Monday, killing at least 529 people and leaving 508 others missing. Typhoon Nanmadol struck the same region late Thursday, leaving 37 dead and 38 missing, according to revised figures by the Office of Civil Defense.
Deforestation has stripped hillsides of vegetation that could have held mud and other debris in place. Many believe years of illegal logging set off the landslides.
Macapagal Arroyo suspends loggingPresident Gloria Macapagal Arroyo on Saturday suspended all logging and said illegal loggers would be prosecuted in the same manner as terrorists, kidnappers, drug traffickers and other hardened criminals. She also urged Congress to stiffen penalties for illegal loggers and their cohorts.
It was unclear how long the moratorium would last or whether it was nationwide.
But experts say the problem is more complex and warned the environmental cost is likely to rise without a more comprehensive policy approach. Poverty, failure of governance and graft could be among factors for the rapid disappearance of the forests.
About 20 storms and typhoons hit the Philippines a year.
'Trauma, shock' in Quezon
Army and civilian engineers worked round-the-clock to clear mud-covered roads and build temporary bridges to reach relief to coastal towns in Quezon.
"People there are still in trauma and shock," Soliman said. "We literally have to feed them because they lost everything. Even if they have money, there's nothing left to buy in that area."
She said Manila had received $518,000 worth of relief supplies from international and local agencies for distribution to over 500,000 people affected by the storms.
Drinking water, food, medicines and clothes were brought to Quezon by navy ships, airlifted by helicopters and then carried by hundreds of soldiers who walked hours to reach disaster areas.
'Lucky Me' rations
Oxfam, a British charity, said supplies of food for relief efforts would run out in about two weeks.
"If we were not able to put in safe water in about three or four days, we are looking at a serious situation of disease breaking out. Already, diarrhea has started," Lilian Mercado, Oxfam's country manager, told Reuters.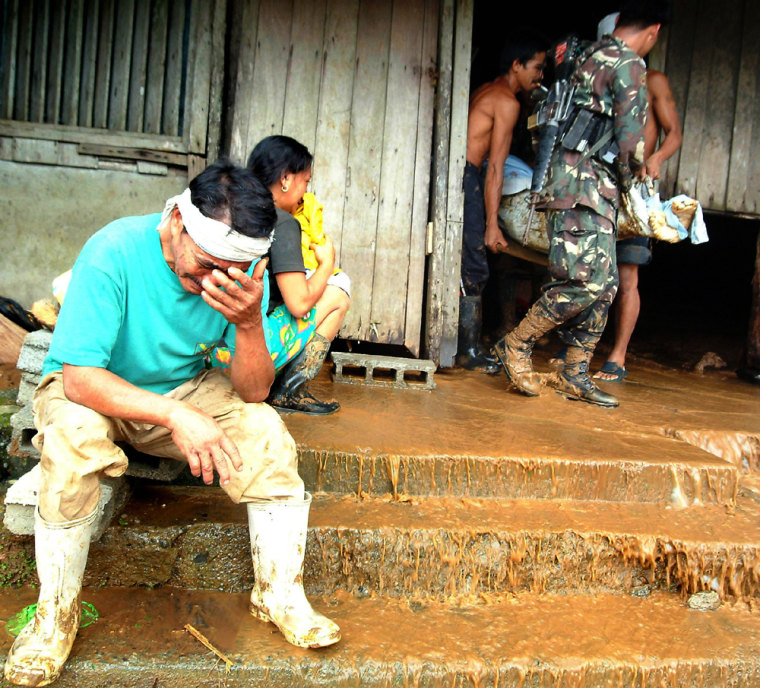 The military is handing out about four and a half pounds of rice, two tins of sardines and two packets of "Lucky Me" instant noodles for each family per day, but many survivors have no means of cooking the emergency rations.
Disaster officials said relief efforts will continue in the next 10 days before rehabilitation work begins. Nearly 98 percent of the areas hit by the disaster had been reached, including the tiny Polilio island in the Pacific Ocean.
"Nature has punished us severely," said Jesus Pugay, a 62-year-old farmer in the town of Infanta. "Life here has been difficult. I don't know how long we can survive this ordeal."
The agriculture department said on Friday that $2.3 million worth of crops and fishery products were destroyed or damaged by the storms.
'Phenomenal' devastation
"The devastation is very phenomenal," said Ricciardone, the U.S. ambassador, after landing at a local school where hundreds of people have taken shelter.
Lt. Col. Restituto Padilla, an air force spokesman, said 25 helicopters may be able to deliver over 15,000 pounds of relief goods as weather continued to improve.
A navy landing ship ferried heavy equipment and a coast guard hospital ship left Manila for the eastern coast to help in relief and clearing operations.