/ Source: The Associated Press
Mozambique's poor, many carrying small children, trudged along narrow dirt roads in oppressive heat Wednesday to pick a replacement for the president who has ruled this downtrodden African country for the past 18 years.
Over two days of voting, Mozambique will pick a successor to retiring President Joaquim Chissano, who is stepping down after two elected terms, opening the possibility that an opposition candidate will win power in this impoverished African country after 30 years of rule by the Frelimo party.
Even Frelimo candidate Armando Guebuza — the symbol of the status quo as Chissano's hand-picked successor — has promised a fight against corruption in the government bureaucracy after decades of single-party rule.
Guebuza and former rebel leader Afonso Dhlakama of the opposition Renamo party — a former guerrilla movement — are the top contenders among five candidates for president. Seventeen parties are running for the new Parliament, which also will be decided in voting that ends Thursday.
Calls for change
"The people want change. It is the most important thing in Mozambique," Dhlakama said after he voted in the capital Wednesday. "Even if a party has done very well, when it lasts 15 or 30 years, then people want change. And that is what will happen here."
Long lines formed outside polling stations early Wednesday, seemingly indicating a heavy turnout. But oppressive afternoon heat drove many away in the capital, and heavy rains, common in December, held down the numbers in some areas in the north and central areas of the country.
Officials and independent election observers said it was too early to gauge the turnout. Observers said the election was proceeding in a smooth and orderly fashion.
'Better the devil you know'
The ruling party appeared to be doing well amid the mansions and manicured lawns of the affluent Sommerschield area of Maputo, where people in designer clothes and driving luxury cars said they voted for the familiar, some out of loyalty to the ruling party and some because they simply trust others less.
"I know there is a lot of corruption," said Yolanda Mapengo, a student who voted in Sommerschield. "But better the devil you know than someone new, who starting from scratch, will have to steal even more."
Voters who trudged on foot to cast ballots at the Power of the People School in Hulene — a district of Maputo so poor that the school doesn't have doors — said they had voted for the man who promised more jobs, better health care and schools.
Still healing from war
|In a country still healing from the civil war that killed a million people before it ended in 1992, Mozambican political analysts say choosing a president based on what he promises rather than on old war allegiances is sign of a maturing democracy.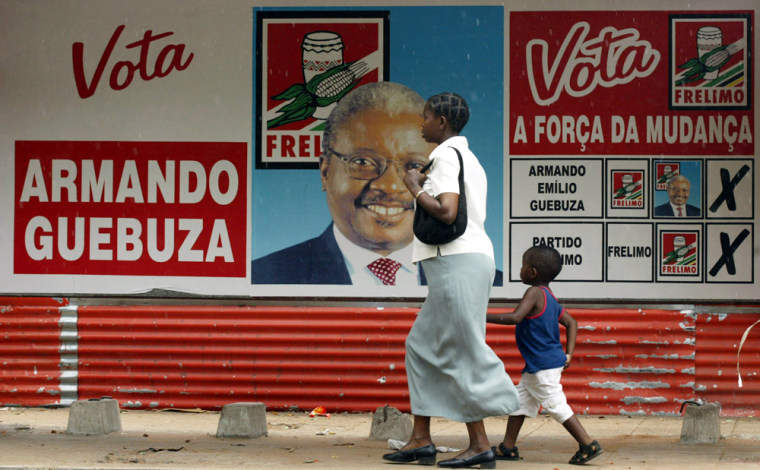 Mozambique is hailed as a success story, at least in Africa. It defied the odds, kept the peace and began to grow at a remarkable rate, averaging more than 7 percent a year. But poverty remains at its worst here.
Dhlakama's Renamo waged a 16-year civil war against the Frelimo government after independence from Portugal in 1975. The war killed a million people, created 5 million refugees, destroyed Mozambique, and along with Frelimo's failed experiment with Marxist rule, hopelessly impoverished its people.
More than two-thirds of the country's 19 million people live on less than a dollar a day. On the U.N. Human Development Index, which measures income, education and longevity, Mozambique ranks a miserable 170 out of 175 countries. Many feel neglected by development policies that have been unevenly applied.