/ Source: The Associated Press
As Kevin Houde wielded the saw, his 4-year-old son Cameron squatted on the ground beside him. Working as a team, they made a clean cut at the base of the 7-foot tree that will mark the Christmas season in their home this year.
Family members hollered "timber" as the fragrant balsam fir toppled to the ground. Standing a few feet away, Cameron's mother, Meghan, captured the Norman Rockwell moment on video.
Millions of other Americans, however, aren't as enamored with the idea of a freshly cut tree. They'll either drag their artificial trees down from the attic or head to a store to grab a manmade evergreen.
The trend gets a "bah humbug" from the live tree industry, which has seen its market share plummet for well over a decade.
"If people would only realize where these artificial trees are made — in Third World countries," said Clement Meserve, who is also quick to remind people that plastic trees are not biodegradable. A sign at his Boiling Spring Tree Farm brags at how live trees help counter greenhouse gases and clean up the atmosphere.
"Choose and cut"
As time-strapped buyers forgo natural trees for the artificial variety, Meserve's "choose and cut" farm, where the scent of balsam lingers in the air, represents a segment of the live tree business that's holding its own.
By offering hot chocolate, cookies and rides in carts pulled by tractors or horses, tree farms have attracted families who make a holiday tradition of their trip to the countryside to pick out a tree.
Cutting a tree hearkens back to a time when people wandered into the woods, felled a tree and hauled it home. "People were stealing them back then," Meserve said. "They just didn't realize it was called theft."
The "choose and cut" share of the live tree market jumped from 29 percent in 2000 to 35 percent in 2003, according to industry figures. Chain stores had big gains and stands run by charities remained level while local retail lots saw their share tumble by more than half.
Overall, though, it has been more than a decade of rough sledding for the nation's Christmas tree growers.
More households choose artificial
In 1990, 35.4 million households put up real trees and 36.3 million displayed artificial trees, according to a consumer survey by the National Christmas Tree Association. A decade later, the split was 32 million live and 50.6 million artificial.
Since 2000, sales of natural trees have dropped even more sharply, from 27.8 million in 2001 to 23.4 million last year.
During that period, artificial tree sales have risen from 7.3 million to 9.6 million amid improvements in their quality.
The first artificial Christmas trees were made in Germany from goose feathers during the 1880s amid worries about the demise of fir forests. America's first fake trees were produced 50 years later by the Addis Brush Co. with the machinery it used to make toilet brushes.
Aluminum Christmas trees made a splash in the 1960s, when they were produced in a range of colors and sizes in Manitowoc, Wis., once a center of the aluminum cookware industry. The aluminum trees are now collectors items.
Today's fake trees, the most realistic ever, are made from petrochemicals in factories in China and other Asian nations.
"The technology in artificial trees has really come a long way. It's really hard to tell if it is artificial without touching it," said Bob Jacobson from Atlanta-based Home Depot, which sells both types of trees.
A convenient Christmas
Artificial trees appear to be particularly popular with apartment dwellers and empty nesters who don't want to fool around with the extra maintenance of a real tree, Jacobson said.
These days, artificial trees come with hinged branches that no longer need to be assembled one by one. Many of them also come with holiday lights built in, enabling buyers to avoid untangling long strings of lights.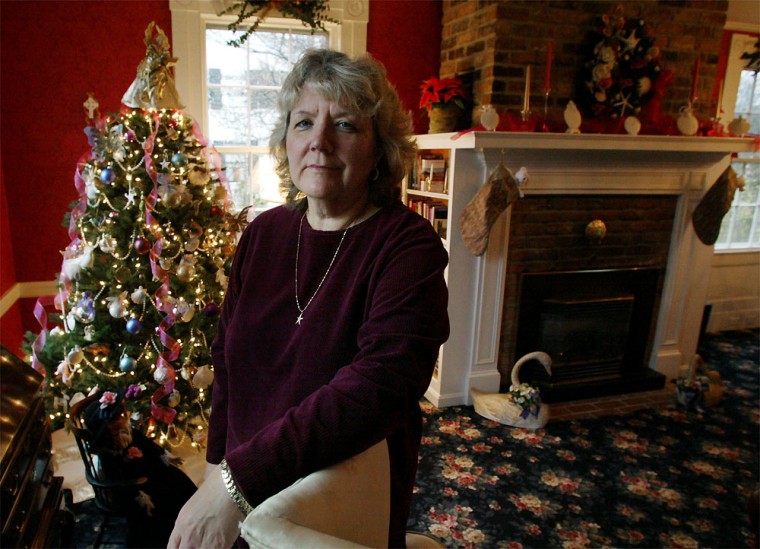 The pre-lit trees hit the market about five years ago and gained momentum as prices dropped, said Leon Gamze, owner of Tree Classics of North Barrington, Ill., a major Internet supplier of artificial trees.
"If you ask most people what's the biggest pain about putting up the tree, they say it's getting the lights up," Gamze said.
Gamze, who has his own factories in Bangkok and China, offers 50 varieties of trees ranging in size from 4 1/2 feet to 40 feet and in price from $69.95 to $11,995. The most expensive is a pre-lit 30-foot emerald green giant with 21,100 clear or multicolor lights and 64,800 tips.
The biggest reasons for the success of manmade trees are fire safety concerns and the public's desire for convenience, he said.
With fire codes excluding live trees in many public buildings, Gamze said his trees can be found in such landmarks as the U.S. Senate in Washington and New York's St. Patrick's Cathedral.
Although Home Depot's sales of live trees are increasing, Jacobson agrees that market trends seem to favor the artificial tree business.
For its part, the live tree industry is pulling out all stops to retain customers and attract new ones.
Mutant trees?
The National Christmas Tree Association is participating in a promotional effort for the hit movie, "The Polar Express." The trade group took off the gloves with "Attack of the Mutant Artificial Trees." The online game, which appears on its Web site, showcases elves who use snowballs to stop the mutating trees that are "sucking the spirit out of Christmas."
Gamze dismisses such efforts as hopeless. "They can fight back all they want. It's a losing cause," he said.
Even at the northern tip of Maine, on the edge of the largest contiguous forest in the Northeast, Ken and Debbie Martin prefer plastic to wood.
For more than two decades, they have taken their artificial tree out of storage to display at their restaurant, the Long Lake Sporting Club in Sinclair. More recently, they purchased one of Gamze's manmade trees for their home.
"It beats going into the woods to try to find a good one," said Ken Martin, who thinks artificial trees look better. "They don't dry out, they're not a fire hazard and they don't make a mess."
But a fake tree won't do the job for Chuck and Brenda Granger of Scarborough, whose 15-month-old son Logan rode in a backpack while his parents searched for the perfect tree at the Boiling Spring Tree Farm.
"Natural all the way," said Logan's mom. "The smell is great. And the activity in doing this as a family makes it feel more like Christmas."