/ Source: The Associated Press
The scientist analyzing the blood of Ukrainian presidential candidate Viktor Yushchenko said Friday that tests confirm he was poisoned by TCDD, the most harmful known dioxin.
Abraham Brouwer, professor of environmental toxicology at the Free University in Amsterdam, where blood samples taken in Vienna last week were sent for analysis, told The Associated Press that the dioxin was TCDD, chemically known as tetrachlorodibenzoparadioxin.
TCDD is a key ingredient of Agent Orange, a herbicide that was blamed for myriad health problems in U.S. veterans of the Vietnam War and local villagers.
The level of dioxin in his blood is more than 6,000 times higher than normal and is the second highest ever recorded in human history, Brouwer said earlier this week.
Friedrich Forsthuber, a spokesman for the Vienna regional court, said Thursday that Austrian authorities had sent a file to Ukraine containing Yushchenko's medical records and the results of interviews with witnesses from the Rudolfinerhaus hospital, where he was treated. He said the file was sent "about a month ago."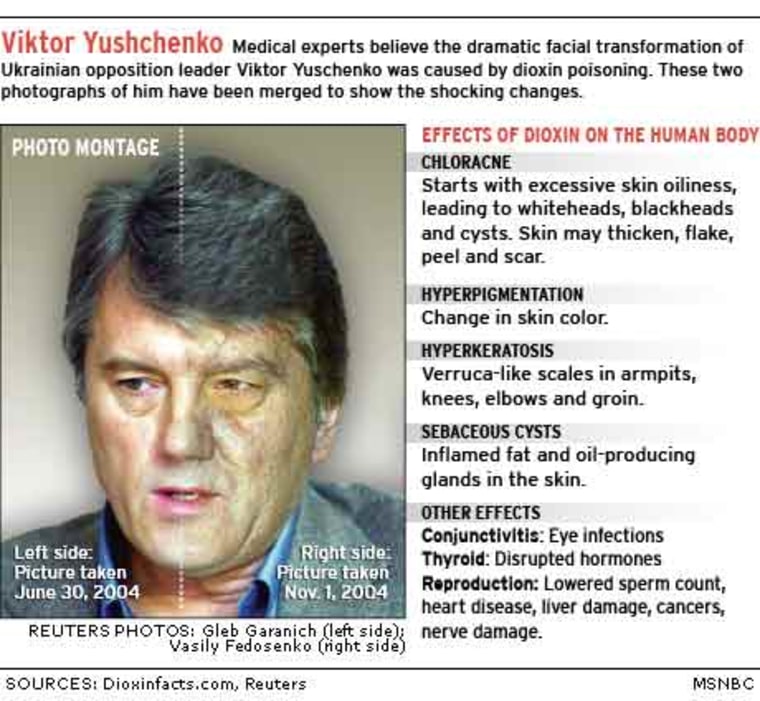 Back on the campaign trail
The rivals made overlapping campaign trips to the eastern industrial city of Kharkiv on Friday, sparking fears of more tension ahead of the Dec. 26 rerun election.
With just nine days left before the Supreme Court-ordered revote, Yushchenko and Prime Minister Viktor Yanukovych stumped for votes and traded accusations about provoking more unrest and violence.
Ukraine's Supreme Court ordered a rerun election after ruling that a Nov. 21 presidential runoff election was flawed by fraud.
The Western-leaning Yushchenko has been working hard in recent days to expand his base of support from Western parts of the country, where Ukrainian nationalism is strong, to the eastern areas.
At a meeting with his supporters in a Kharkiv theater, Yanukovych described the opposition movement as a "planned, elaborate and financed move aimed at seizing power in Ukraine."
"I'll lead you to the victory," he was quoted as saying by the Unian news agency.
He was later greeted by several thousand supporters waving flags, banners and balloons in his blue-and-white campaign colors.
Brief clash
"Together we are an invincible force," Yanukovych said as his supporters yelled in approval.
Across town, Yushchenko addressed a rival rally awash in his trademark orange color. He also toured the city's tank factory, a leading manufacturer of armored vehicles since Soviet times.
He urged hundreds of workers at a metal factory to "vote according to their will," Unian reported.
Kharkiv police said they were taking "all precautions" to avoid trouble between Yushchenko's and Yanukovych's supporters. "Their routes will not intersect in Kharkiv," duty officer Yuriy Morozykov said.
But about 40 supporters of the two candidates clashed briefly after a Yushchenko rally in Kharkiv, the Interfax news agency reported. Police separated the two sides and no one was injured, the report said.