/ Source: The Associated Press
Prime Minister Viktor Yanukovych resigned Friday, making a grudging admission that he had little hope of reversing the presidential election victory of his Western-leaning rival.
Yanukovych announced his decision in a televised New Year's Eve address, saying he would push ahead with his appeal to the Supreme Court against the election results that showed pro-Western reformer Viktor Yushchenko as the winner — though he admitted it was likely futile.
"We are still fighting, but I don't have much hope," Yanukovych said.
Yanukovych has seen much of his support fall away, losing the backing of outgoing President Leonid Kuchma and watching as many of his top advisers deserted him. This week, he returned to work as prime minister, but the opposition blockaded his government headquarters, refusing to let him convene a Cabinet session. The meeting went ahead in another building without him.
On Thursday, election officials rejected his complaints of fraud, upholding Yushchenko's victory.
"I have made the decision to submit my formal resignation," he said. It appeared his resignation was effective immediately.
"I believe it is impossible to have any position in a state that is ruled by such officials," Yanukovych said, in an apparent reference to his former ally Kuchma. "This is my personal position."
Sunday's revote was ordered by the high court after it overturned Yanukovych's victory in a Nov. 21 run-off that it ruled fraudulent. Violations in that election prompted huge protests in Kiev by Yushchenko's followers that lasted for days.
Yanukovych insisted in his address that he should be the president. "I will act as an independent politician, as the rightful winner of the legitimate Nov. 21 election."
No mass fraud this time
International monitors reported no mass falsifications in Sunday's voting — in contrast to their criticism of the Nov. 21 round. Still, Yanukovych has refused to concede defeat. He submitted 27 volumes of complaints to the Central Election Commission, claiming that at least 4.8 million people — mainly the disabled and sick — were deprived of their right to vote by election reforms introduced after the first runoff.
The complaints also included allegations about lack of ballots, illegal campaigning on election day and problems with voter lists. The 15-member commission unanimously rejected the appeal.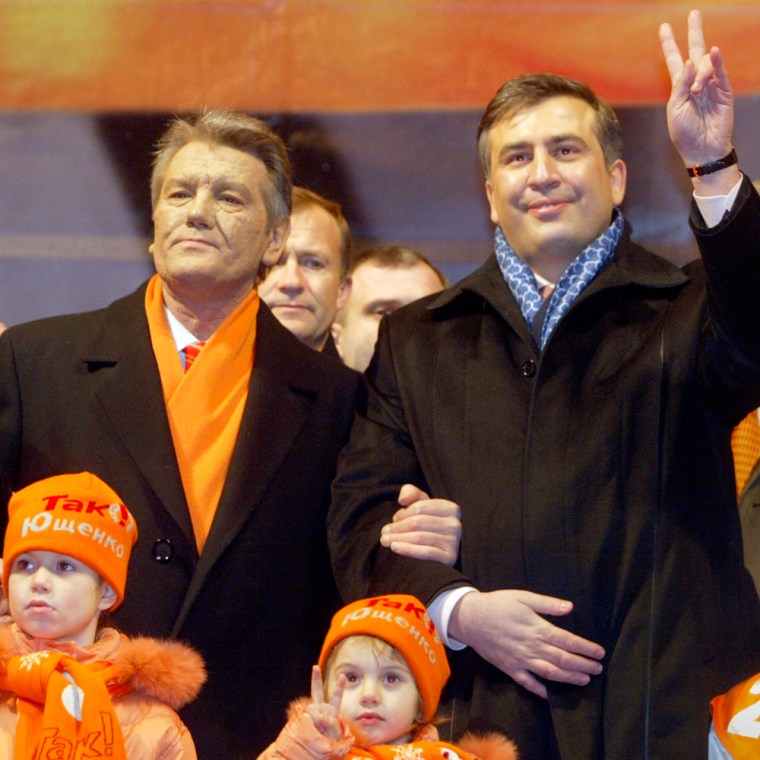 Yanukovych's announcement came as Yushchenko prepared to meet with Georgian President Mikhail Saakashvili, one of his staunchest foreign supporters. Saakashvili, who has displayed his support for the opposition's Orange Revolution by regularly wearing an orange tie, arrived in Kiev Friday, making his first stop in the sprawling tent camp on Kiev's tree-lined main street.
"I couldn't support you as an official during your revolution, but I was with you and I feel myself again a resident of Kiev," Saakashvili, who studied international law in the Ukrainian capital, told the crowd in Ukrainian.
People massed around him, chanting "Georgia!" and "Well done!"
Saakashvili took office on a wave of peaceful protests in November 2003 dubbed the "Rose Revolution" — and like Yushchenko he was touted as a reformer aiming to change a government seen having grown corrupt or heavy-handed since independence from the Soviet Union. Yushchenko supporters consider the Rose Revolution to be inspiration for their own.
Nodar Dumbadze, a member of the Georgian youth movement Kmara that helped lead the bloodless "Rose Revolution" in Georgia, called his president's visit to Ukraine "an act of solidarity with the Ukrainian revolution and the Ukrainian people."
"Together we are celebrating a free Europe," he said. About 20 Georgian flags flew above the camp, alongside Yushchenko's orange banners.
The Western-leaning Yushchenko draws his support largely from Ukraine's west and the capital Kiev, while Yanukovych's stronghold is in Ukraine's largely Russian-speaking east.