When Andy Lee and Samson Choi walked down the dock on Phi Phi Island, they thought they had arrived in paradise. But the two 26-years-olds from Los Angeles had no idea that in just moments they would be swept away by a wall of water created by the largest earthquake in 40 years.
As they headed down the well-worn dirt alleyway toward their hotel, Lee noticed something strange.
"I looked behind me and there was a rush of water, but only about a foot high," Lee said. "Within seconds it was up to our waists."
That stream became a rushing river, pinning Choi against a house before sweeping him out to sea. Lee was already in deep water and struggling for his life.
"I was terrified, I was in shock," Lee said, his eyes beginning to well up with the memory. "I couldn't believe that this was the way I was going to die."
Lee thrashed against the swirling ocean, struggling for breath. He went under once, twice, a third time and just when he felt he could not hold out any longer, he pushed to the surface again.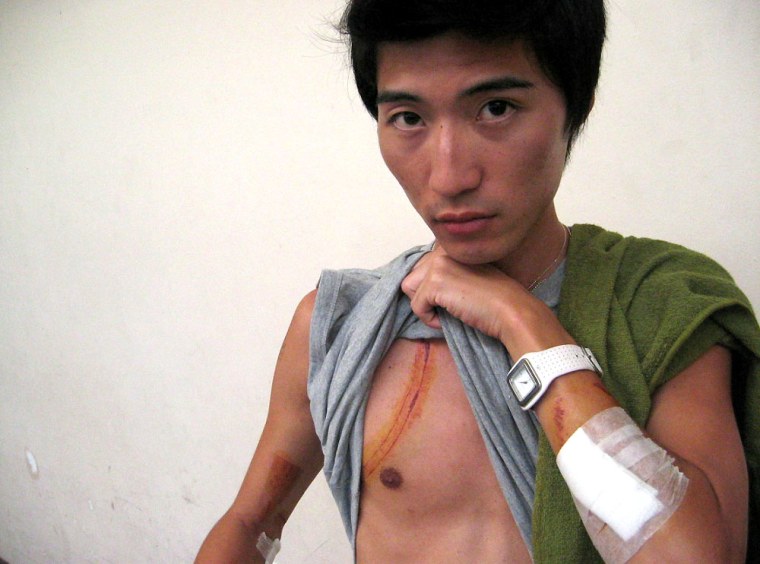 "I was able to get a half or maybe just a quarter breath of air, but it was enough."
Lee grabbed a buoy nearby and held on tight. When he saw an overturned kayak he swam to it and clung on until someone on a nearby boat saw him and pulled him aboard. Choi had already been rescued.
Efforts to recover the dead
As the death toll in Thailand continued to grow late Wednesday, it became increasingly clear how lucky Lee and Choi were.
As many as 1,600 people were killed in Thailand alone, among them more than 700 foreign tourists, including at least 12 Americans. The U.S. Embassy expects that number to increase as more bodies are identified.
In the underground parking garage at Patong Beach Hospital the sickly-sweet smell of death easily overwhelmed the smell of street stall vendors roasting skewered chickens and fish on small grills.
One-hundred and fifty-nine pine coffins have been stacked in the garage — many of them big enough to hold refrigerators — built to accommodate the now bloated and rapidly decomposing bodies.
Thai soldiers, wearing surgical masks, raced against time to arrest the process, before the bodies became impossible to identify.
In a well-choreographed drill, the soldiers used hammers to smash square blocks of dry ice, carrying the shards on sheets of plastic and dumping them inside the coffins. They worked at a very high tempo — almost as if they were trying to rescue the living — rather than preserve the dead.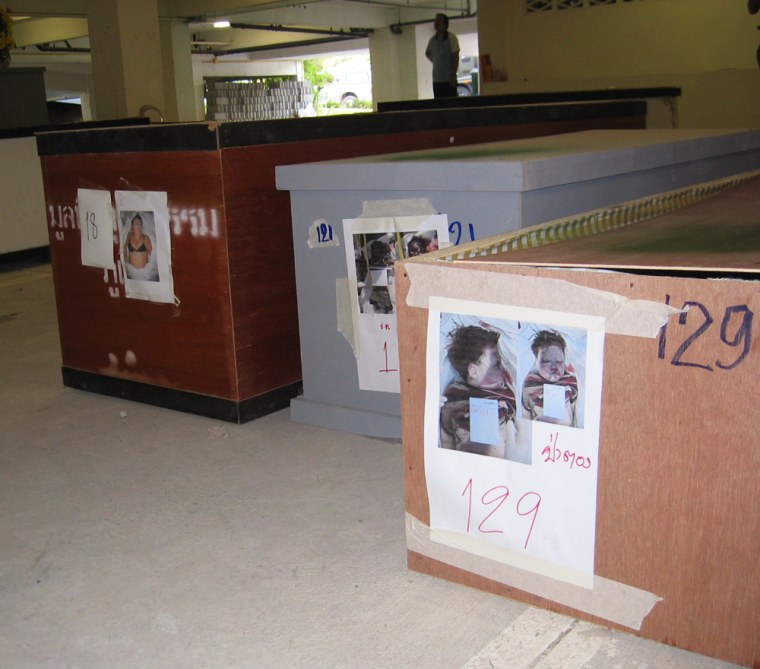 On the sides of the coffins were photographs of the deceased as they were found, special attention paid to jewelry or tattoos, anything that could help with identification.
The pictures were grisly — bruised, blackened, bodies misshapen from the ferocious force of an angry ocean. 
Old, young, small, large, South Africans, Australians, Canadians, English, Thais, all victims of the earth's unrest on a day when she seemed to have precious little mercy.
Looking for loved one
A German man flipped through a clipboard with the same pictures. He was looking for his brother. When he got to a certain page he stopped. This was not how he wanted to remember him.
He put down the clipboard and walked to the corresponding coffin number. The lid was removed and he nodded.
Despite his loss, he was relieved. One of the few with closure, certain about what happened and able to take his brother's body back home.
Patong Beach's usually bustling oceanfront, Thaweewong Road, now looked like the apocalypse. 
A bright yellow speedboat, cracked in two like an eggshell, sat in the middle of the street.
The sidewalk has disintegrated under the sledgehammer force of the water, and cars defy gravity posed in every position imaginable, all except sitting on their four wheels.
And the beach, littered with chunks of concrete, has become the road, while the road covered in sand, has seemingly turned into the beach. 
The ocean worm has burrowed through the island and in doing so, turned everything inside out.
Everything gone
As night fell, several immigrant men, tailors who specialize in turning out handcrafted suits for Western tourists at lightning speed, sat around a makeshift table in front of what's left of their shop.
They had only a couple of small lights, powered by a car battery, but it was still very easy to see they had lost everything.
The owner, Gillan Rai, a Nepalese man married to a Thai woman said he was worried about how he'll support his wife and three children.
He said he's worked his entire life to build his business and, in an instant, it was gone.
"The wave was like a cobra," he said, demonstrating with his hand, "it fanned out before crashing down on us."
One of Rai's employees said he just arrived in Thailand a few weeks ago, happy about the prospect of a new job and a new life.
"I don't know what I'll do now," he said, "but I have to work."
Rai held up a bottle of vodka that the men had been mixing with their colas as they talked. The bottle was scratched and the label torn.
"We found it," he said, "washed up on our doorstep the day after."
He smiled knowingly, the irony not lost. While the ocean has taken away all he's ever had, it had left him a way to toast his own misfortune.