While law enforcement agencies and professional sports organizations say they are doing everything they can to muscle anabolic steroids off playing fields and out of gyms, the drugs remain readily available to anyone either blind to the risks or willing to gamble their health in pursuit of a perfect set of "ripped" pecs. Until last week such rash purchasers didn't even have to leave their homes to procure the illegal strength-building drugs — they merely had to log onto eBay.
The public drug dealing on eBay screeched to a halt last week after a three-month investigation by MSNBC.com, when a phone call to eBay's spokesman to inquire about the steroid sales triggered an all-out sweep to remove all listings and threats of legal action against the sellers.
In the course of the investigation, dozens of items that appeared to be anabolic steroids were advertised and sold on eBay. A few of the auctions occurred in the open but many used the simple ruse of listing the drugs as "books about steroids" to avoid detection by the site's security team.
'That's our bad'
"Until you brought this to our attention, it wasn't getting as close a look as it should have," said Rob Chestnut, an eBay vice president, former federal prosecutor and the company's point man on rules enforcement. "They were titling it as a book and we were missing it. That's our bad."
To determine whether the goods were what they were purported to be, MSNBC.com worked with the National Association of Boards of Pharmacy, an organization that often aids law enforcement agencies in investigations of illegal sales of prescription drugs over the Internet, to purchase some of the apparently illegal products and have them tested.
In October and November, an NABP investigator purchased four items on eBay that appeared to be steroids, paying between $90 and $140 for each order. In two cases, eBay shut down the auctions before they ran their course.
"I got a notice from eBay saying this auction was ended because of a violation of the rules, but the transaction still went through," said the investigator, who spoke on condition of anonymity.
Truth in advertising
All four products — injectable solutions in factory packaging, oral tablets labeled in Spanish as being for veterinary use and unmarked pills in a plastic bag — turned out to be just what the sellers claimed they were: anabolic steroids like Dianabol, Sustanon and testosterone propionate.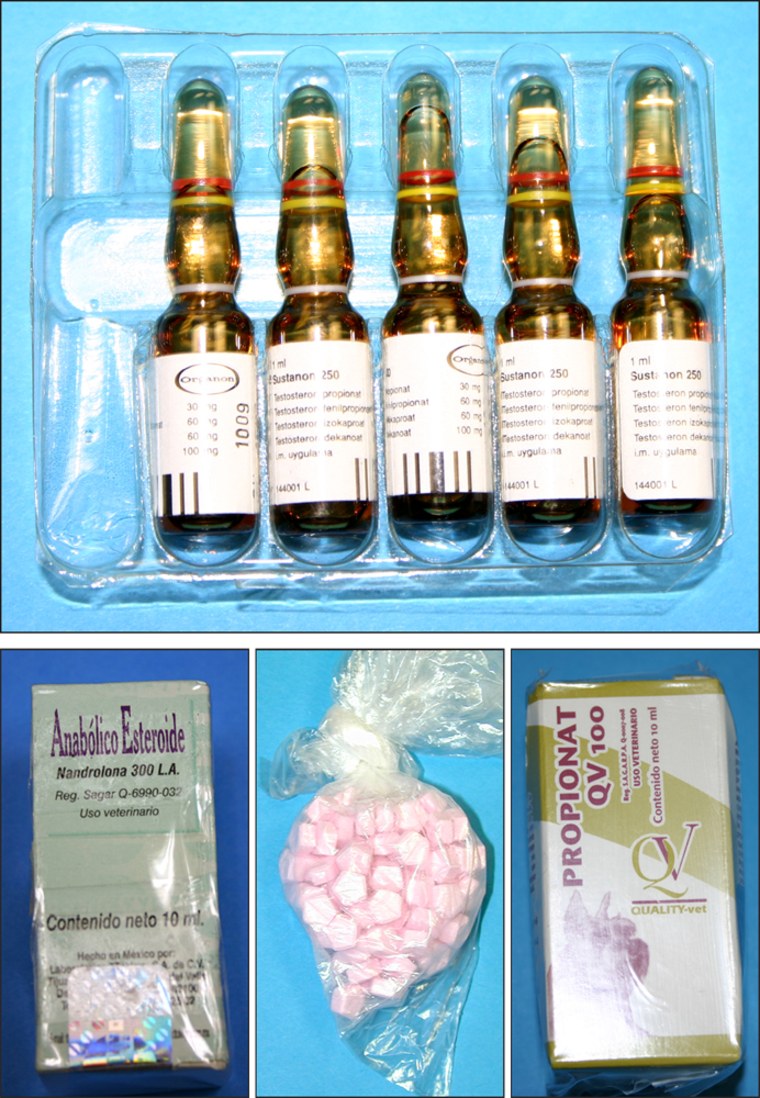 All are Schedule III controlled substances under federal law, in the same class as barbiturates, LSD precursors, veterinary tranquilizers and narcotic painkillers like Vicodin. Simple possession of any Schedule III substance without a prescription is punishable by up to one year in prison and/or a minimum fine of $1,000 under federal law.
While the eBay sales represent only the visible tip of a much bigger problem of the illegal purchase of prescription drugs via the Internet, experts said the presence of steroids on the popular Web site is especially troubling because they could be seen there by the most vulnerable potential users — teens and preteens looking to quickly bulk up for school sports or add some definition to still developing bodies.
"I might search for weeks without discovering this, but I would not be surprised to learn that younger individuals would be able to find this easily and make a purchase," said Dr. David Black, an expert on steroids and president, CEO and medical director for Aegis Sciences Corp., a Nashville, Tenn., company that tested the steroids as part of the MSNBC.com investigation.
EBay alerted about problem last year
A congressional source, who spoke with MSNBC.com on condition of anonymity, said that both eBay and the Drug Enforcement Administration also should have had little difficulty in spotting the sales, since Sen. Charles Grassley, R-Iowa, alerted them to the presence of illegal steroids on eBay during a Senate hearing last summer.
At the July 13 hearing of the Senate Caucus on International Narcotics Control, Grassley called the easy availability of steroids on eBay "outrageous and unacceptable" and noted that "young athletes can buy the needles used to inject the illegal steroids directly into their bodies on eBay."
"To make matters worse, counterfeit steroids are being sold widely," he said. "These fake drugs are very convincing in appearance. … Fake steroids have been known to have mixtures of cooking oil and even motor oil in them. Imagine a high school student injecting motor oil into his or her body!"
The hearing garnered no headlines, but it did result in letters being sent to both the DEA and eBay informing them of the problem and demanding action, said the source.
MSNBC.com also obtained a written statement from the DEA responding to the drug caucus in which it said it was working with eBay to prevent such sales.
"The DEA now regularly conducts 'key-word searches' of eBay to identify and removed steroid … listings from the auction pool," it said. "We have also provided eBay with an extensive list of Schedule III anabolic steroids (both trade and generic names) to add to their 'filters' to prevent the substances from appearing on their site."
EBay says it never received letter
Chestnut, the eBay official, rejected the assertion that the company had ignored a warning from Grassley about steroid sales, saying he never saw a letter from the drug caucus or heard from the DEA that people were systematically selling steroids on the site.
"I haven't seen the letter ever," he said. "… I was not aware that there was any significant, concerted effort to sell steroids on eBay."
While the letters' precise impact could not be determined, the congressional source said they did trigger a 98-pound-weakling response to the problem, one that was quickly outflanked by the steroid sellers.
"Before the hearing, they didn't mask what they were selling. It was just steroids or Dbol or whatever," the source said. "Afterward, they started saying they were selling photographs of steroids, so you'd see an 8-by-10 photograph of Dianabol and a description saying something like 'this photograph has 200 pixels' so you could delineate the amount of pills you were buying. Then came 'books.' You'll see, next week, they won't be using books anymore."
The DEA did not return repeated calls from MSNBC.com seeking comment about the sale of steroids on eBay or statistics on the number of steroid cases the agency has pursued in the last year.
Filters adjusted to catch 'books'
Chestnut, the eBay official charged with keeping the site free of fraud and auctions of illegal goods, acknowledged that the steroid sellers had evaded the site's security filters by listing the drugs as books. "We've now made an adjustment in our system so that in the future it will catch that," he said.
He also said that after being informed of the problem last week, he took immediate action to discipline what he described as a handful of perpetrators responsible for the steroid sales.
"We threw all of them (the sellers) off the site and we told them that because they were doing something that violated the rules and the law, we were compiling all the information we had and proactively turning it over the law enforcement. We have reported this to the DEA and we're asking them to investigate this."
'Can I get in trouble?'
One of the sellers who sold steroids to the NABP investigator confirmed in an e-mail exchange with MSNBC.com that eBay suspended his account last week and said it was forwarding information on the sale to authorities.
"Can they do that? Can I get in trouble?" wrote the seller, who identified himself as a student at the University of Florida and claimed he had obtained the drug by stealing it from "someone's bathroom" during a college party before later deciding to sell it on eBay.
The answer to those questions are "yes" and "yes," according to Rick Collins, a New York attorney and author of "Legal Muscle: Anabolics in America," who said that even a steroid seller with no previous criminal record could face severe repercussions.
"It's typically charged as a felony and it's not uncommon to see jail time, ranging from months to years depending on state law," he said.
Sellers face problems beyond jail
"But even if jail is not part of the ultimate sentence, the ramifications of the arrest and or conviction can be significant," Collins said. "For example, a person with a professional license, a teacher, a broker, can lose their employment based on a drug conviction, including possession of steroids."
Collins said that postal authorities in particular have become more aggressive in attempting to intercept prescription drugs, including steroids, purchased via the Internet and mailed to customers in the United States.
"The scrutiny of packages coming into the United States has increased tremendously," he said. "There are X-ray machines at ports of entry where foreign packages are inspected, and suspicious packages can be opened and the contents examined or tested."
Bob Anderson, a spokesman for the U.S. Postal Inspection Service, said the agency "aggressively pursues persons or groups who ship illegal drugs through the mail."
Federal crackdown
He said that in fiscal 2004, postal inspectors made 127 arrests for mailing steroids and had seized 105,948 units; one unit is equivalent to 50 tablets or a 10cc vial of injectable steroids. Over the same period, he said, the service made 183 arrests involving the shipping of illegal drugs purchased via the Internet.
But he said that agency investigators were "not aware of any illegal steroids being sold on eBay," and praised the site's security team for its efforts to root out illegal activity.
The Bush administration made a crackdown on the illegal sale of prescription drugs, including controlled substances illegally mailed into the United States, a cornerstone of its drug control strategy unveiled last spring.
Many experts on steroid abuse applaud the stepped-up enforcement, which they say is necessary to allow states and federal government to regain the ability to regulate the sale of drugs to their citizens.
"We remain concerned about how accessible prescription drugs are via the Internet and want to ensure that proper controls are put in place," said Carmen Catizone, executive director of the NABP, which represents state boards that regulate land-based pharmacies.
Disagreement on success of law
But some critics say that the Anabolic Steroids Control Act of 1990, which added steroids to the list of federally controlled substances, has been a failure.
"I don't think it's been successful at all, unfortunately," said Brian Grasso, a physical trainer in Chicago who campaigns against steroid use by children. "Steroids use has been increasing exponentially among young people over the last 10 years."
Others who support the tough laws, like Donald Hooten Sr., whose 16-year-old son, Taylor, committed suicide after taking steroids, said enforcement efforts aimed at average steroid users are undermined when professional athletes like baseball player Jason Giambi suffer no repercussions when they admit to using them.
"I'm hoping that's going to have an impact," Hooten, who runs the Taylor Hooten Foundation to educate young people to the health risks of steroids, said of recent revelations about steroid use in baseball. "At least somebody got caught, but there's no indication yet that there's going to be any consequences."
Other critics say that tough laws that lump steroids in with addictive narcotics have unnecessarily created a new class of criminals by prohibiting doctors from prescribing steroids to adults for body-enhancement purposes.
"In my experience, the majority of people using anabolic steroids without a prescription are not teenagers and are not competitive athletes but are mature, healthy adult males seeking cosmetic improvements, namely a leaner, more muscular body," said Collins. Recent studies show that steroids can be used safely under a doctor's supervision, he said, noting that they already are used to treat ailments like AIDS wasting.
A legitimate last resort?
While he is not subject to U.S. jurisprudence, British fitness trainer Mick Hart, who advocates the use of steroids as a last resort for serious bodybuilders and adults who need a little help creating a chiseled physique, also said that strict anti-steroids laws are misguided.
"Steroids should be the last thing you should do," the author of "The Layman's Guide to Anabolic Steroids" said from his home-gym complex in the English countryside. "You have to have basically used up all options."
Such laws give rise to black market sales that create risks well beyond the known side-effects of steroids because the purchaser has no idea what he or she is getting, said Hart, adding that anyone who would buy steroids on eBay is, in his estimation, "a nut ball."
"We all have our ways of getting a bit of gear," he said, using a slang term for steroids, "but buying it on eBay would be the absolute dogs' bollocks last thing you should do."