After years of work behind closed doors, Amazon.com founder Jeff Bezos has gone public with a plan to build a suborbital space facility on a sprawling ranch under the wide open skies of West Texas.
Bezos' Seattle-based Blue Origin suborbital space venture is starting the process to build an aerospace testing and operations center on a portion of the Corn Ranch, a 165,000-acre spread that the 41-year-old billionaire purchased north of Van Horn, Texas. Over the next six or seven years, the team would use the facility to test components for a craft that could take off and land vertically, carrying three or more riders to the edge of space.
Blue Origin's team has been laying the groundwork for the hush-hush project from a 53,000-square-foot warehouse in Seattle, but this week's announcement fills out a puzzle that previously could only be guessed on the basis of isolated rumors. Blue Origin has been the most secretive of several space ventures bankrolled by deep-pocketed private backers — a club that also includes software pioneer Paul Allen (SpaceShipOne), Virgin Group entrepreneur Richard Branson (Virgin Galactic) and video-game genius John Carmack (Armadillo Aerospace).
Details of Bezos' plan were first reported in this week's edition of the Van Horn Advocate, the community's newspaper, and confirmed Thursday by Blue Origin spokesman Bruce Hicks.
Contacts with FAA
Bezos told the Advocate that Blue Origin already has contacted the Federal Aviation Administration, which plays a lead role in regulating nongovernmental launch facilities. FAA spokesman Hank Price confirmed that Blue Origin was in the midst of the pre-application process for a launch site license.
But Hicks said Blue Origin was just starting to work on getting the necessary clearances. "Obviously a lot of work needs to be done, including the environmental assessment work, the FAA work and so on," he told MSNBC.com.
Hicks said the first elements of the facility, including an operations building, an engine test stand and storage tanks for fuel and water, could be built in the next year or two. The facility, along with all the buffer zones required for safety, would take up "maybe 5 percent" of the Corn Ranch acreage, he said.
Hicks said Bezos and Blue Origin's other principals, program manager Rob Meyerson and launch manager Ed Rutkowski, were not available for comment Thursday.
Bezos' Southwestern roots
With an estimated worth of $5.1 billion, Bezos is ranked No. 82 on Forbes magazine's latest list of the world's richest people. Amazon.com, the company he founded in 1994, is one of the world's leading online merchants. Bezos still serves as Amazon's president, chief executive officer and chairman, but in the year 2000 he used millions of dollars from his personal fortune to start up Blue Origin as well, following through on a boyhood dream.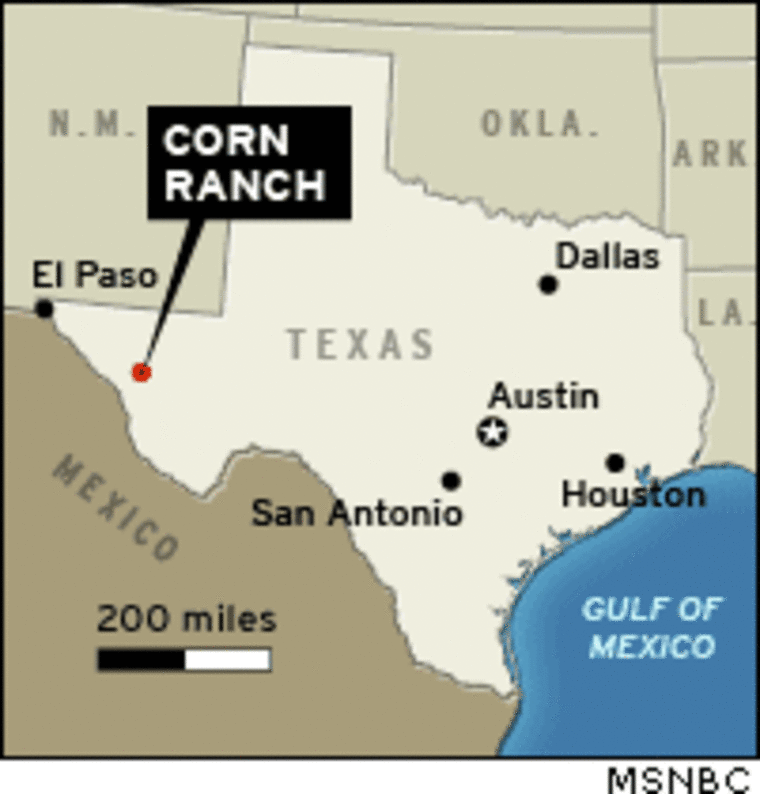 Although Amazon.com and Blue Origin are both headquartered in Seattle, Bezos' roots go back to the American Southwest. He was born in New Mexico and spent childhood summers on his grandfather's ranch in South Texas. Bezos told the Advocate that he learned much from those experiences, and that led him to buy the acreage in West Texas.
"I hope to give my family the same experiences on my West Texas ranch now," he was quoted as saying.
In the interview with the Advocate, Bezos emphasized that Blue Origin would take a deliberate approach to spacecraft development. "It may take several years for this project to get in high gear and have a significant economic impact on the area," he said.
Other private space ventures have a more accelerated timetable: Branson, for example, plans to start offering suborbital rides in the next three years or so, most likely from the Mojave Airport in California. That facility, which served as SpaceShipOne's base, has already received its FAA launch site license.