/ Source: The Associated Press
The littlest students at one Anchorage school are learning their lessons in Russian, the complex tongue of Alaska's former owner and a language increasingly important for improved international relations.
Kindergartners and first-graders at Turnagain Elementary School attend two three-hour sessions a day — one in Russian, one in English — in a program described by foreign language experts as a first for a public school in the United States.
It's serious stuff tackling the 33-letter Cyrillic alphabet and many consonant sounds not found in English. Russian is spoken as a first language by 170 million people; it's a second language for at least 100 million more.
"This language takes so long to learn, so this is a great way to do it," said Janice Gullickson, coordinator of the Anchorage School District's world languages office. "We envision a grand product."
The age of the students is what makes the Alaska program unique, experts say. Many schools nationwide offer Russian as a second language to middle and high school students.
"What Anchorage is doing is indeed new," said Dan Davidson, director of the Washington-based American Council of Teachers of Russian. "I think Alaska has really hit on what we'd like to view as a new model."
School to expand classes
The program is being launched with a $490,000 three-year grant from the U.S. Department of Education's foreign language assistance program. Officials with the 49,000-student district plan to expand it each year at the 365-student school, ultimately offering it in all grades.
Two Russian natives are among the four teachers assigned to the program. On a recent January morning, Katerina Huelsman held up flash cards before 16 attentive first-graders.
"SLOO-shai-teh mee-NYA," she said. Translation: "Listen to me."
Up went a card showing slumbering children and up went a dozen hands. "Spaht!" called out a girl, correctly pronouncing the word for "to sleep."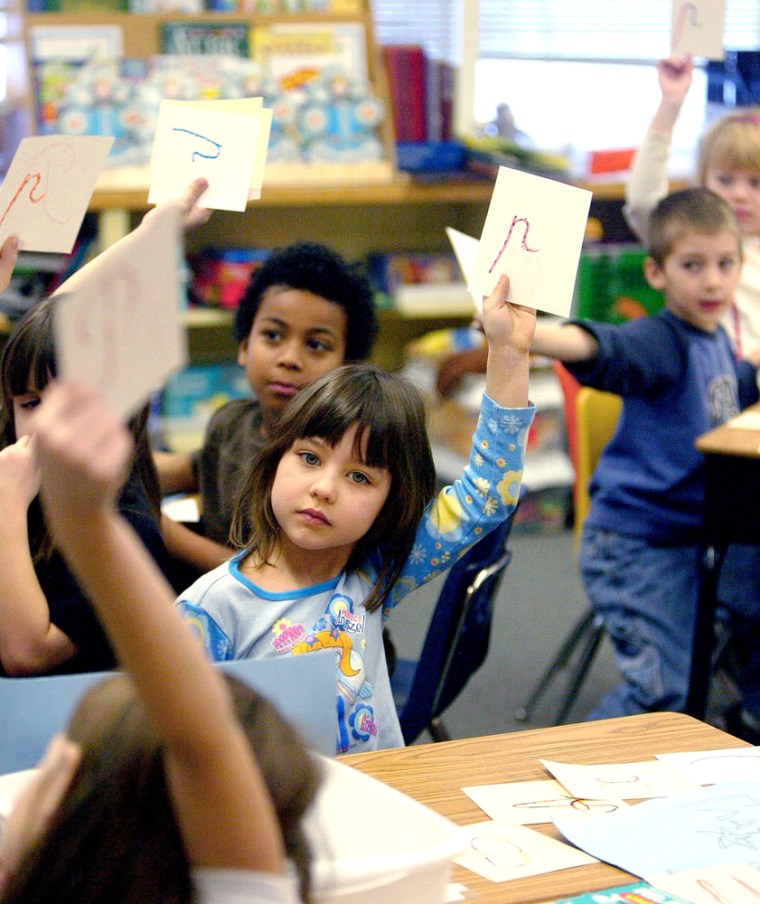 Only six of the students come from Russian-speaking homes. About 5,200 people — less than 1 percent of Alaska's population — claim Russian as their primary heritage, according to 2000 census figures. Still, the program was born in a state with long ties to its Slavic neighbor.
The link began thousands of years ago with Siberian nomads who are believed to have migrated over the Bering Strait. Eighteenth-century Russians explored the Alaska coast, imparting geographic names and remnants of their culture that remain today. Traders established the earliest modern settlements in the territory purchased by the United States for $7.2 million in 1867, almost a century before Alaska was admitted as the 49th state.
The relationship took on boundless promise with the end of the Cold War, said Elena Farkas, coordinator of the Russian Immersion program. Farkas campaigned for such a program for more than a decade, almost from the time she arrived from Magadan, Anchorage's Russian sister city since 1991.
The way she sees it, the new program is building a corps of future ambassadors.
"The time is right," she said. "People look at Russia differently, not as an enemy anymore. We need to establish a national relationship with Russia — and one way to establish a relationship is to know the language and culture."
Thinking beyond Alaska
Russian — along with Arabic, Chinese and Korean — are identified as the most crucial languages to learn in international relations, said Davidson of the Russian teachers council, a division of the nonprofit American Councils for International Education.
Mastering those languages is critical for improving international relations and the same skills are greatly needed in trade, research, fisheries and oil development, Davidson said.
Aside from the global implications, language immersion exposes students to a rich cultural experience, said Tom and Meg Kibler, who enrolled their 5-year-old daughter, Kaitlyn, in one of the two kindergarten classes offered through the program. Their fourth-grader daughter, Haley, also gets brief lessons in Russian through Turnagain's program for non-immersion students.
"I want our girls to know the world is bigger than Anchorage or Alaska or the U.S., for that matter," said Tom Kibler, a former Russian linguist with the Army who now leads language classes for parents of immersion students. "The more we learn about different cultures and people, the more we recognize we have so many similarities."
Kaitlyn just likes Russian.
"It's fun, really fun, to learn a different language," she said.