The noodles at New York's avant-garde WD-50 restaurant certainly look delectable enough. Just don't try carb-loading with them.
Served on a smear of smoked yogurt, they are, in fact, made almost entirely from shrimp, not a grain of flour in the mix. It's the latest innovation from chef Wylie Dufresne, who at 34 has made a name for himself among the culinary elite as a kitchen master who's willing to employ more than a dash of food science to create his dishes.
The all-shrimp noodles exist thanks to a naturally occurring enzyme that binds together proteins without residue or much water. It's possible, using what Dufresne calls "meat glue," to adhere two pieces of protein that were never intended to go together -- chunks of pork and duck, say.
"You could make a medieval beast if you wanted to," Dufresne says.
Dufresne was introduced to meat glue by chef Heston Blumenthal at The Fat Duck Restaurant outside London -- who similarly gained a name for himself by merging food science and haute cuisine. He quickly implemented it throughout his menu.
For instance, a casingless sausage is made by mixing rabbit with parsley, the Middle Eastern spice mix za'atar and a bit of meat glue, then cooking it in a vacuum-packed plastic pouch using "sous vide" techniques.  Thin slabs of lamb belly are joined together and braised for a lean, almost bacon-like treat.
But the noodles spurred quite the buzz (and more than a dash of controversy) among foodies and chefs alike -- not the least because low-carb's legacy continues to resonate.  That prompted Dufresne to apply for a patent on his concoction. "Personally, I believe there's a market for noodles that have no carbs," he says.
When news of the pasta hit the message boards of eGullet, a popular food Web site, speculation buzzed as to Dufresne's magic ingredient. "Egg white," proposed one writer. "Agar-agar," suggested another.
'Limited by your imagination'
Actually, the substance in question is called transglutaminase. It was derived from a microbe known as Streptoverticillium mobaraense, developed commercially and marketed as Activa by Ajinomoto Company Inc., the Japanese food-ingredient giant that also commercialized MSG after its food-enhancing properties were discovered in 1908. (Ajinomoto is the Japanese name for MSG.)
Developed in Japan about two decades ago, Activa was approved as a U.S. food ingredient around 1998. But its original purposes were far less dramatic: as a means of creating solid meat products and improving the texture (or "bite characteristics," as company literature puts it) of sausages.
Tapered pieces of meat like beef tenderloin could be joined so that small pieces wouldn't be wasted. Bacon could be wrapped around muscle meats without toothpicks or twine. Whole chunks of deli meat could be easily sliced.  Scallops could be fused together almost seamlessly, and rainbow-hued slices could be created from thin layers of fish fused together.
"It's only limited by your imagination," says Tony Payne, associate director of applications development for Ajinomoto Food Ingredients LLC, one of the company's U.S. subsidiaries.
Behind the science
Transglutaminase works by cross-linking two amino acids -- glutamine and lysine -- to create a bond between protein surfaces. Sold in powder form, it can be sprinkled on a side of meat or fish, or mixed together in a slurry and then applied.
Approved by the Food and Drug Administration and the Agriculture Department, forms of transglutaminase occur naturally in humans and in food animals, and so it is considered safe.
It can also be useful, says Joe Regenstein, a Cornell University food science professor, in finding ways to bundle together little scraps of meat or fish that otherwise might get thrown away. It also allows food manufacturers to create uniform portion sizes for some foods.
"You're not looking at your neighbor's plate and saying, 'He got a bigger steak than mine,'" Regenstein says.
All sorts of uses
The tricky part to transglutaminase cooking is the ratio: just one percent by weight of powder to protein. Even when mixed with water, it accounts for a tiny, tasteless smidgen of the finished product. Dufresne's shrimp pasta are said to consist of nearly 99 percent shellfish.
Activa was meant to be sold to large food manufacturers, and it only comes in one-kilo batches (to be used on 220 lbs. of meat) but crafty chefs have tracked down plenty.
Sean Brock, executive chef of the Capitol Grille at Nashville's Hermitage Hotel, hunted down a batch about a year ago. Like Dufresne, he'd heard about Blumenthal's efforts at the Fat Duck.
"We got some immediately and went nuts," Brock says. "Every day, I would do three or four things."
One of the most successful results: "lobster Cheetos," a light-as-air crustacean take on the classic cheese puff, fried in olive oil and served by the bowlful with dipping sauces.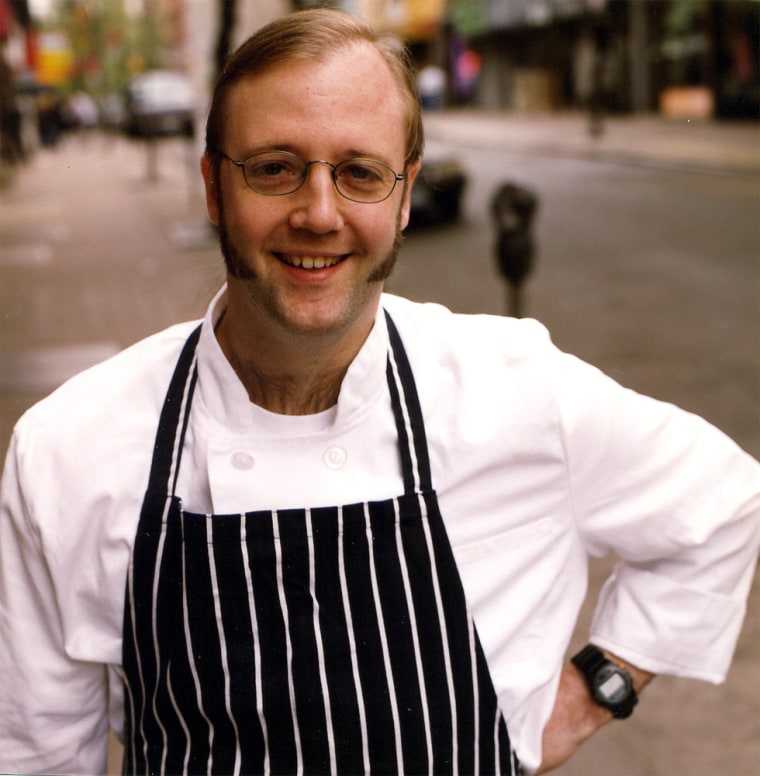 Dufresne, too, keeps sketching out new uses for meat glue: thin sheets of chicken meat wrapped around an egg yolk. And he has a handful of plans to expand his starchless pasta repertoire.
He has, for instance, tried pastas made from milk or sesame paste.  Dark chicken meat could be used to make a very different take on chicken noodle. In fact, he'd like to cook an all-poultry ragu Bolognese: chicken pasta, chicken sauce and crispy chicken skin for texture.
With his patent application outstanding, Dufresne hesitates to describe the exact process for preparing his noodles. And though he may commercialize it, don't start boiling water yet. He has no plans to sell them as a supermarket item, a la Wolfgang Puck.
He'd rather stay in his kitchen on Manhattan's Lower East Side and find new ways to tinker. "That's more important to me than being known as the guy who invented shrimp noodles," Dufresne says. "My hope is to have an interesting restaurant that makes good food."
Should you want a taste, the shrimp noodles are available on WD-50's tasting menu. Nine courses are $95.