I'd been begging for an OQO for nearly a year. I saw one at the Consumer Electronics Show back in January, 2004 and couldn't wait to try it. It wound up taking me close to 12 months to get one to play with. But, as soon as regular production OQOs hit the market I began living with a model 01.
It may look like a PDA, but the OQO is really a fully-functional Windows XP computer.  It's just 4.9 inches long, 3.4 inches wide, 0.9 inches thin, and weighs only 14 ounces. You could probably fit one in a coat pocket or purse, but while it seems quite sturdy I think you'd want to protect it more than that.
Inside is a 1GHz Transmeta processor, 20GB hard drive, 256MB of RAM, an 800 by 400 pixel color transflective display, 3D graphics with 8MB of video RAM, integrated 802.11b WiFi and Bluetooth, a microphone, FireWire/1394 and USB 1.1 ports and a stereo headphone jack.   OQO has no built-in speaker. 
For typing and cursor control there's a slide-out QWERTY thumb keyboard, what OQO calls a TrackStik with mouse buttons, a digital pen (to use it as a mini-tablet computer) and a thumbwheel.
The rechargeable, removable lithium polymer battery has a clever LED charge indicator on the back. The company claims up to three hours of computing per charge, but if you're like me and keep WiFi turned on all the time, expect more like two hours. In normal use the battery gets warm to the touch, which makes the OQO feel warm to hot in long sessions.  If that bothers you, there's a software adjustment to keep the internal cooling fan running a little longer.
OQO comes with a small but heavy metal desktop stand, an AC adapter and a docking cable that plugs into the three connectors on the bottom. That docking cable is thick and long and could be described as OQO's umbilical cord. The cable provides you with new connections: a 3D accelerated 1280 x 1024 VGA video output, additional USB and FireWire ports, an Ethernet connection, another place to plug in the AC adapter and an audio out.
Model 01's docking cable isn't quite as elegant a solution as I would have liked, but for a first model it is OK. It allows you to take OQO with you on the road and then plug it in and use it as a desktop PC with a full-sized monitor, keyboard and mouse.
OQO also comes with a carrying sleeve that looks like a form-fitted black polyester sock with a piece of cardboard sewn in one side to help protect the screen. I'd love to see a heavier-duty metal case as an option.
After using model 01 on the road and at home, I agree with its inventors: It's powerful enough to run your most complex applications. Model 01 was capable of doing everything I ask.  Plus, it's really fun to use.
I wouldn't want to type a long review on the tiny keyboard using my thumbs but for all smaller tasks like e-mailing, Web surfing, IMs, and short tomes it's terrific.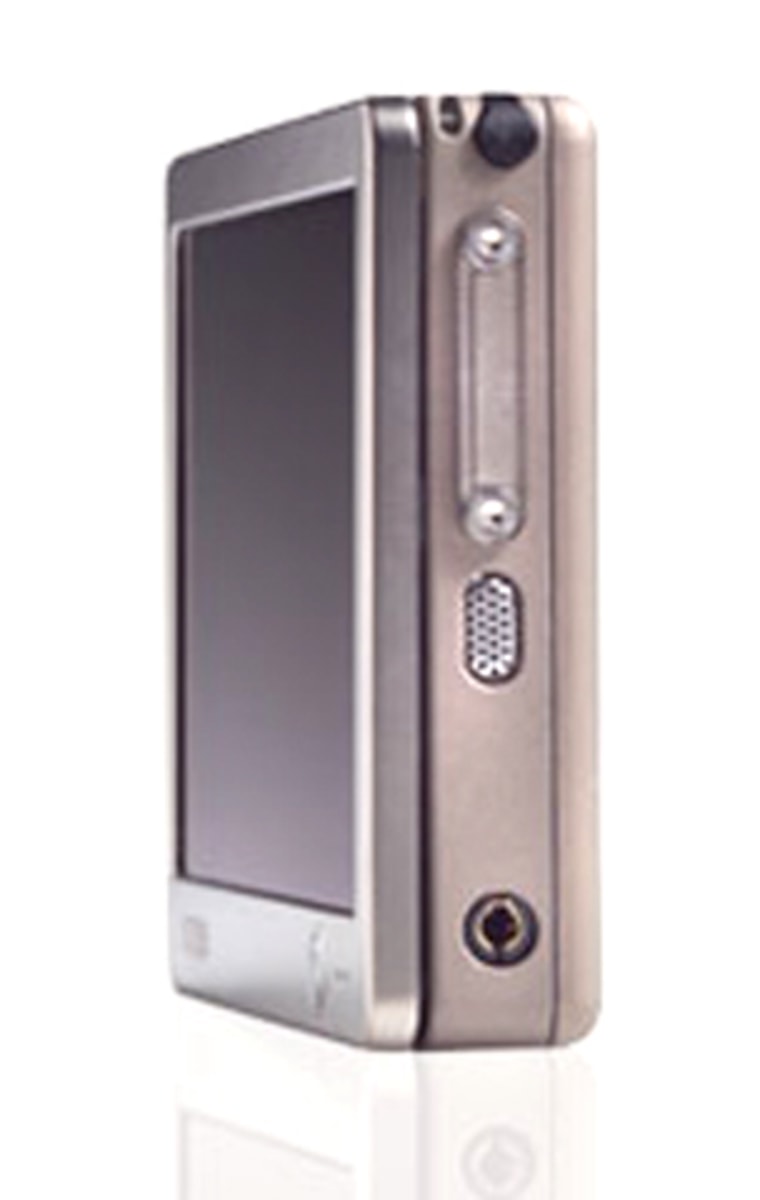 Of course, like most devices, the OQO isn't perfect. The Transmeta Crusoe processor inside has never been the speediest chip on the planet. It's built for efficiency and handles PC computing tasks well – if somewhat slowly. It's actually well matched to everything else inside especially the speed of the built-in 802.11b WiFi and Bluetooth.
Speaking of WiFi, early samples of the model 01 had major problems handling the built-in WiFi system. Sometimes the wireless would just quit, then disappear from the desktop completely.  Luckily, OQO posted a fix on their Web site in January that has solved the problem.  Overall, support on OQO's Web site must be commended.  Most of the questions you'll have are answered in the online knowledge base.
As for price, miniaturization is not cheap. The model 01 sells for $1,899 with Windows XP Home and $1,999 with XP Pro. Add $300 if you want Microsoft Office 2003 Small Business edition pre-installed.
OQO gives you a one-year limited warranty. They also offer extended warranties: Two years for $179 or three for $249, probably a good idea to consider protecting your investment.
One thing has not changed since the first time I saw a model OQO: everyone's reaction to it.  First, they can't believe it's a real PC and then they can't wait to get their hands on one.  More people asked about buying one than complained about its size.  If you think an ultra personal PC (uPC) is just what you need then don't hesitate to check out the model 01.