/ Source: The Associated Press
With thousands cheering him on, Pope John Paul II returned to the Vatican on Sunday, two weeks after undergoing throat surgery to ease his breathing problems and hours after greeting pilgrims in a raspy voice that raised hopes he would fully recover.
The 84-year-old pope crossed himself just before he left Rome's Gemelli Polyclinic hospital in a gray Mercedes minivan with tinted windows rather than in the glass-paneled popemobile he used after a previous hospitalization last month.
A television camera inside the van showed John Paul on his way back to the floodlighted Vatican as he waved through a partially open window at the thousands of Romans and tourists who lined the nearly three mile route. His motorcade drove beneath the Arch of the Bells and into St. Peter's Square just as night fell.
Cheers from the crowd
Patients in robes ventured out onto their balconies to bid the pope farewell, and cries of "Viva il Papa!" ("Long live the pope!") were heard as the van made the trip back to the Holy See.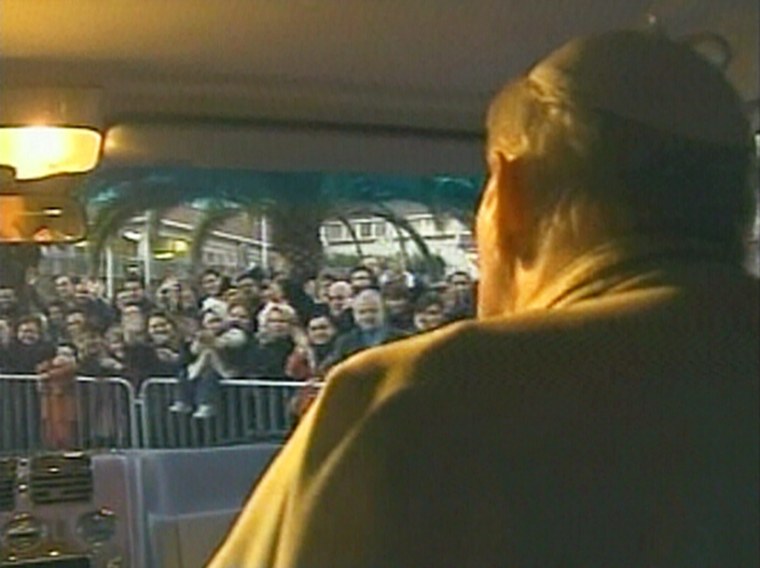 Earlier Sunday, the pope spoke just a few words to the faithful gathered beneath his 10th floor hospital suite, waving and making the sign of the cross with a steady hand.
"Dear brothers and sisters, thank you for your visit," he said, reading from a sheet of paper. "To everyone, have a good Sunday and a good week."
It was the first time since his Feb. 24 operation to insert a breathing tube in his windpipe that John Paul addressed the faithful in remarks carried live. In three previous appearances, the pope had remained silent.
The Vatican's brief statement announcing his release made clear that the pope was not cured but was well enough to continue his recovery back at St. Peter's. The Holy See had said last week that John Paul would be released in time for Holy Week celebrations, which begin on March 20 with Palm Sunday and culminate a week later with Easter.
The Holy See did not say whether the breathing tube had been removed or replaced with another type designed to make it easier for him to speak. Its next health update was expected on Monday.
"The Holy Father, in agreement with the attending physicians, will return to the Vatican this evening, where he will continue his convalescence," the Vatican said in a statement.
Roman Catholic pilgrims were delighted.
"The pope is putting everything back together," said Silvia Toscano, 28, of Sicily, standing vigil outside the hospital. "The Lord helps him, and perhaps it also helps him to know that there are so many people who wish him really well, who love him."
The pope's speaking difficulties are complicated by Parkinson's disease, raising concerns over John Paul's ability to communicate to the faithful and guide the world's 1 billion Roman Catholics.
Hometown pilgrims greeted
Archbishop Leonardo Sandri of Argentina, the pope's public voice since his latest health crisis, read the weekly Angelus prayer and blessed the faithful at St. Peter's Square on Sunday.
In a message read by Sandri, the pope expressed his gratitude to journalists who "not without sacrifice" are carrying out their work, "thanks to which the faithful in every part if the world can feel closer to me and accompany me with affection and prayer."
John Paul also said he hoped to see many young people taking part in a Palm Sunday celebration at St. Peter's Square, which he said "leads us toward" the Roman Catholic Church's World Youth Day in Cologne, Germany, in August.
The pope greeted pilgrims from his hometown of Wadowice, Poland, who sang and prayed beneath his room, waving Polish flags and bouquets of flowers and carrying a gift basket filled with lamb, ginger cakes and other Polish delicacies.
"It is enough for us that the Holy Father is coming quickly back to health, and we have the hope that our prayers and our presence here were the cause of this," said Eva Filipiak, the town's mayor. "We hope that we have helped him to carry his cross."
Hundreds of people cheered and applauded as they gazed up at the pope's hospital window. Some used binoculars to see him better and snapped pictures with their cell phone cameras.
"It's something inside that you cannot express with words," said Pina Mariani, 54, wiping tears from her eyes.