/ Source: The Associated Press
"Baywatch" actress Alexandra Paul and another woman were arrested Monday after blocking the path of trucks hauling GM's pioneering EV1 electric cars to Arizona to be destroyed, police said.
Officers booked Colette Divine and Paul, who played Lt. Stephanie Holden on the TV series, on suspicion of failing to obey an officer, police Lt. William Berry said. The women, both of Los Angeles, were released on their own recognizance and were to be arraigned Tuesday.
The two were among dozens of electric car supporters holding an around-the-clock vigil outside a General Motors Corp. training center in Burbank, where more than 70 EV1s had been stored en route to a recycling plant near Mesa, Ariz. GM has declined the group's offer to pay a total of $1.9 million for the vehicles.
Police said Paul and Divine were in a car that blocked the center's driveway for two hours as trucks loaded with EV1s were attempting to leave. They refused to move despite police orders to do so, Berry said.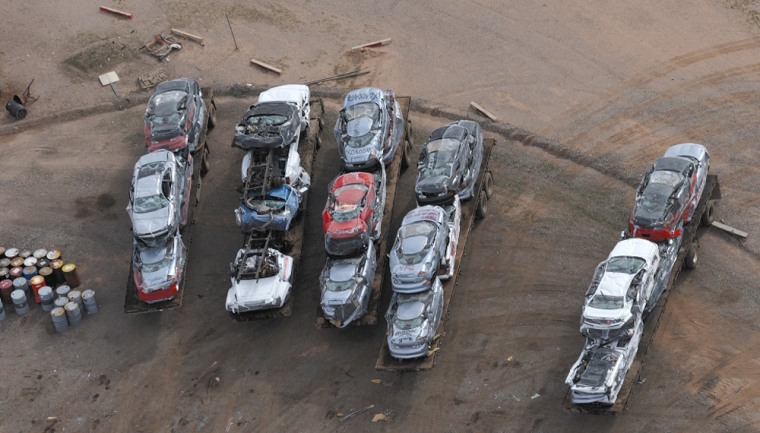 Four trucks hauled away 28 EV1s after the driveway was cleared, GM spokesman Dave Barthmuss said.
"Our goal is not to have anyone arrested," he said. "We respect their beliefs, but we have to be allowed to do business and carry out our business decision as would any company."
The company said the cars never became popular enough to turn a profit, and that they must be destroyed because there isn't a large enough supply of the car's 2,000 parts. That could make the vehicles unsafe and lead to lawsuits, GM contends.
The group, which includes environmentalists, technology enthusiasts and entertainment industry workers, said the monthlong vigil would continue despite the arrests. A call to Paul was not immediately returned Monday night.
"The one thing they (Paul and Divine) asked to relay to media was that it was a very peaceful act and they are very committed to saving these cars," said organizer Chelsea Sexton, a former GM employee responsible for promoting the EV1, who now advises environmental groups and automakers on alternate-fuel vehicles.