/ Source: The Associated Press
The fate of Terri Schiavo once again was in the hands of a judge early Monday following an extraordinary, day-long political fight over the brain-damaged woman that consumed both chambers of Congress and prompted the president to rush back to the White House.
Taking the Senate's lead, the House early Monday passed a bill to let the woman's parents ask a federal judge to prolong Schiavo's life by reinserting her feeding tube. President Bush signed the measure less than an hour later.
An attorney for her parents, Bob and Mary Schindler, later arrived at federal district court in Tampa and filed a request for an emergency injunction to keep their daughter fed.
When the attorney, David Gibbs II, was asked if he had any indication when the judge would rule on the request, he said: "I have no way to know, just that it's in the hands of the court."
Family reaction
"I'm numb, I'm just totally numb. This whole thing, it's hard to believe it," Bob Schindler told reporters outside the hospice where his daughter entered her fourth day without food or water.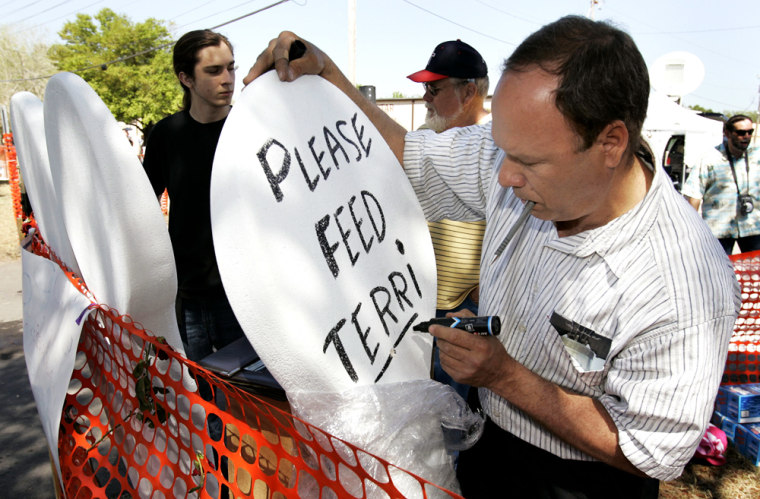 "I think that the Congress has more important things to discuss," he told CNN, calling the move political and criticizing House Majority Leader Tom DeLay, who helped broker the congressional compromise.
Outside the hospice, a shout of joy when news of the House bill's passage came. Among those cheering was David Bayly, 45, of Toledo, Ohio: "I'm overjoyed to see the vote and see Terri's life extended by whatever amount God gives her."
Legal battle continues
The 41-year-old woman's feeding tube was removed Friday on a Florida judge's order. Schiavo could linger for one or two weeks if the tube is not reinserted — as has happened twice before, once on a judge's order and once after Gov. Jeb Bush passed "Terri's Law," which was later declared unconstitutional.
George Felos, a lawyer for Michael Schiavo, did not return repeated phone messages seeking comment Monday. The voicemail box of George Greer, the Florida circuit judge who presides over the case, was full and didn't accept messages.
Terri Schiavo suffered brain damage in 1990 when her heart stopped briefly because of a chemical imbalance. She can breathe on her own, but has relied on the feeding tube to keep her alive.
Court-appointed doctors say she is in a persistent vegetative state with no hope of recovery. Her husband says she would not want to be kept alive in that condition, but her parents insist she could recover with treatment.
Bob Schindler visited his daughter late Sunday and said he noticed the effects of dehydration on her. He said she appeared to be getting tired, but eventually responded to his teasing by making a face at him.
"It tells us she's still with us," he said.
Brian Schiavo, Michael's brother, said he spent Sunday afternoon with his brother and Terri at the hospice, but Terri did not move or make any noises. "Anybody that thinks that she talks and responds, they need to have a mental health examination," he said.
The bill passed in Congress applies only to Schiavo and would allow a federal court to review the case. The House passed the bill on a 203-58 vote early Monday after calling lawmakers back for an emergency Sunday session. The Senate approved the bill Sunday by voice vote.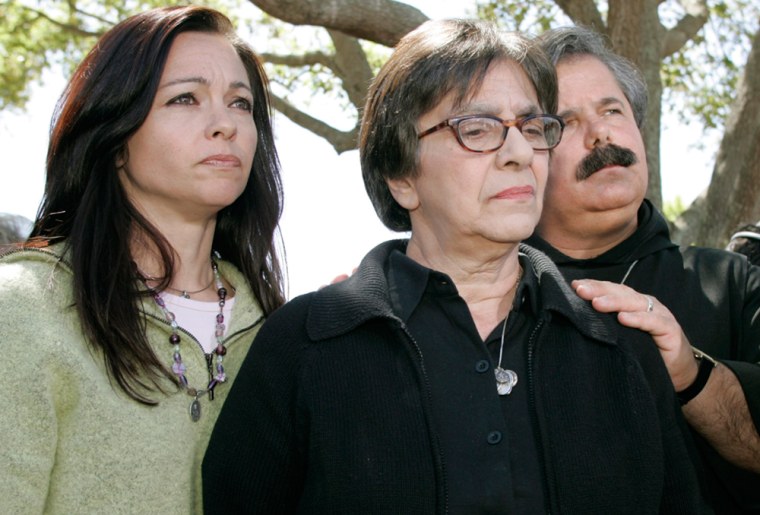 "In cases like this one, where there are serious questions and substantial doubts, our society, our laws and our courts should have a presumption in favor of life," President Bush said in a statement after signing the bill.
A crowd of about 50 people prayed and sang outside the hospice. One man played "Amazing Grace" on a trumpet, as a pickup truck pulled a trailer bearing 10-foot-high replicas of the stone Ten Commandments tablets and a huge working version of the Liberty Bell.
Gov. Bush, praised the actions of Congress. "We in government have a duty to protect the weak, disabled and vulnerable," he said in a statement Monday. "I appreciate the efforts of state and federal lawmakers on both sides of the aisle who have taken this duty to heart."