/ Source: The Associated Press
Anatoly Chubais, the powerful head of Russia's state-controlled electricity monopoly and architect of its much-maligned 1990s privatization push, survived a roadside bombing and ambush Thursday when an armored limousine carrying him to work was raked by gunfire after an explosion.
A retired Russian army colonel and explosives specialist was arrested hours later after investigators traced a Saab car that may have been used as the getaway vehicle, according to the ITAR-Tass news agency, which cited unidentified law enforcement officials.
Chubais was one of the most controversial figures in Russia's post-Soviet history, and the attack raised questions about whether the motive was rooted in politics or an ambitious plan to divvy up the world's largest power grid, creating a new constellation of winners and losers.
Chubais, 49, head of Unified Energy Systems, was being driven to work from his country house in an elite area west of Moscow when a bomb containing 2.2 pounds of TNT exploded near his BMW limousine, tearing a 15-foot-wide crater in the pavement, investigators said.
Two attackers wearing combat fatigues then sprayed the car with automatic weapons fire as Chubais' driver sped off. After briefly exchanging fire with security guards, who had been following in another vehicle, the attackers fled into a nearby forest, police spokesman Alexander Alexeyev said.
Nobody was hurt. Russian television showed video of the BMW, its hood riddled with bullet holes.
Target expected attack
A visibly shaken Chubais said at UES headquarters that he had been expecting an attack.
"Speaking honestly ... there were recently grounds to suggest that something like this could happen," said Chubais, who had revealed in a recent interview that he had survived three previous assassination attempts. He said he understood "quite clearly who may have organized today's assassination attempt," but he would not give any names.
He also said he would not be daunted by the attack.
"The main thing I can say today is that everything I have done — regarding both the reform of the country's energy sector and the unification of democratic forces — I will continue to do with redoubled energy," he said.
Law enforcement officials could not immediately be reached for comment on the report that the retired colonel had been taken into custody.
ITAR-Tass said investigators found the car on a street by the Moscow River and determined it belonged to the suspect's wife, who lives in a nearby apartment. It said the retired colonel, born in 1948, had been assigned to the Russian general staff and a specialist in mines and explosives.
'Atmosphere of hatred around him'
Chubais is widely loathed by Russians for overseeing the massive sale of state property that followed the 1991 collapse of the Soviet Union. The program was heavily criticized for essentially giving away prized state-owned business and property to tycoons with ties to high officials, while most Russians remained mired in poverty.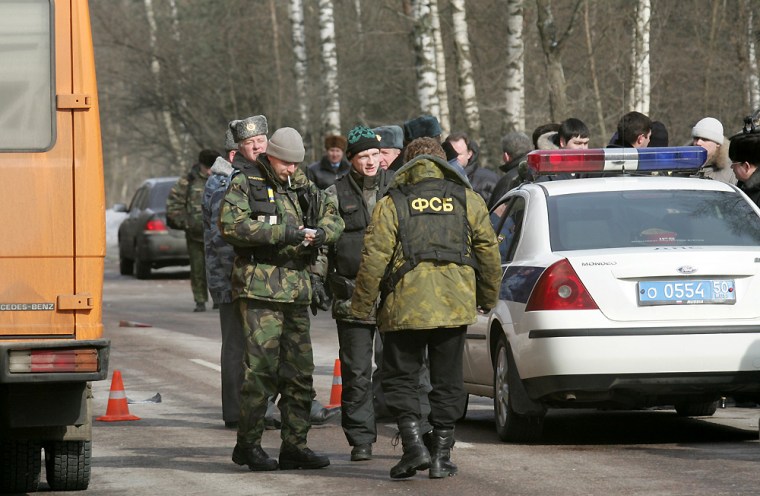 "The atmosphere of hatred around him is a factor," analyst Yevgeny Volk said. "There is a huge collection of people who would like to teach him a lesson."
Russia has seen numerous murders and attempts to kill prominent business and political leaders since the 1991 Soviet collapse, and few have been solved.
After serving as chief of staff for former President Boris Yeltsin, Chubais took over UES in 1998. He has launched a radical restructuring of the decrepit electricity monopoly, sparking fears that select businessmen could be allowed to buy up key electricity assets in shady insider deals and prompting bitter protests by foreign minority shareholders.
Business, government at odds
The reforms — which will split more than 40 regional energy companies into separate generating, transmission and marketing companies, with current shareholders receiving a stake in proportion to their current share — were finally adopted in February 2003, but uncertainty lingers over how they ultimately will be implemented.
Businesses eager to buy into captive electricity sources have been angered by a government decision to retain control over the regional generating companies due to be created under the reform.
Aluminum baron Oleg Deripaska has opposed reforming the electricity market, apparently fearing rate hikes.
"Virtually any" of Russia's big business interests could have been behind the attack, Volk said. "Chubais has strained relations with virtually all sectors of business — oil, gas, aluminum."
Irina Khakamada, a prominent liberal politician, told Ekho Moskvy radio that the attack "must have been linked to difficult processes of redistribution of UES assets."
Political motive?
Others pointed to Chubais' prominent role in Russian politics. He is a co-founder of the Union of Right Forces, a leading liberal party that was pushed out of parliament as President Vladimir Putin strengthened his grip in 2003 elections.
"I am sure it is a political case," said Arkady Volsky, head of the Russian Union of Industrialists and Entrepreneurs, a lobbying group.
Columnist Yulia Latynina, a prominent Putin critic, suggested that the attack could have been aimed at neutralizing a potential challenger to the Kremlin's political plans as elections in 2007 and 2008 draw closer.
"I don't think they wanted to kill him," Latynina said. "Most likely they wanted to warn him."
Putin called Chubais to ask about his condition after the attack, Chubais aide Andrei Trapeznikov said, according to the Interfax news agency.