/ Source: Canoe & Kayak Magazine
Looking for a perfect family canoe trip with desert landscapes rivaling the Grand Canyon, ancient Indian ruins to explore, and no crowds? Then pack up the kids, strap on your canoe, and head to Canyonlands National Park for a float on the Green River. Just don't forget to calculate the "Sky Factor."
What is the Sky Factor, you ask? Some historical background is required to explain this phenomenon.
I spent the better part of my 20s living out of the back of my rusty blue Toyota truck, migrating between Alaska and Baja, guiding monthlong kayaking, mountaineering, and hiking trips in some of the most remote wilderness imaginable. Life was simple: I had no mortgage or bills to pay, everything I owned fit in a backpack, and my only worry was finding the best deal on PowerBars, my diet of choice. I prided myself on my wilderness savvy, technical skills, and efficiency in leading novices in challenging situations. I figured that eventually I would wind up alone in a remote Alaskan cabin, spending my days in blissful solitude with bears and wolves as my only companions. My main fear in those years was getting married or, even worse, having kids. Visions of living in suburbia, owning a minivan, mowing the lawn, knowing my mailman's name, and going to McDonald's Playland put me in a cold sweat. That life would be unbearable. My fellow guides would never come visit.
Then I met my match—a spunky female kayaking guide from California—and visions of a remote and lonely cabin in Alaska quickly faded. Before I knew it, we had a house, a lawn mower, and a mailman named Steve. And then we had Skyler, our son. Things became much more interesting with a curious, energetic infant: hence the origin of the term Sky Factor. Basically, anything broken, missing, or unexplainable in our household, we soon realized, was most likely a result of the Sky Factor.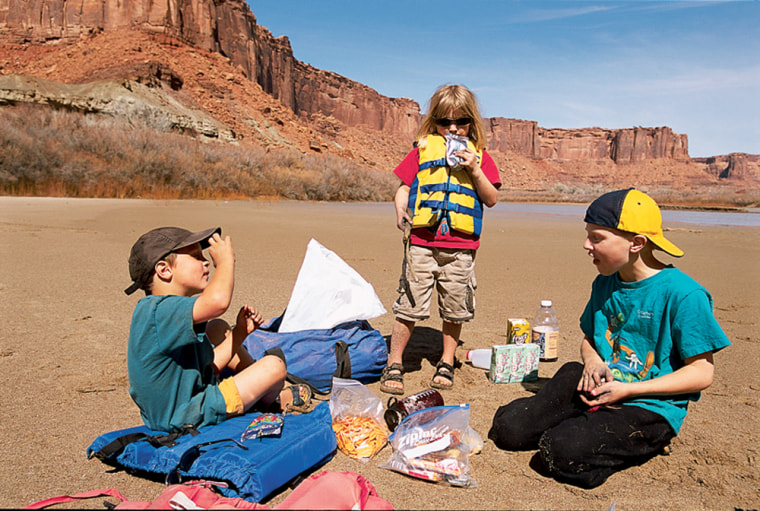 Ever since starting our family, my wife, Cree, and I had looked for a great wilderness canoe trip on which we could take Skyler. We had done a few overnight trips together, but we were ready for a weeklong adventure for the whole family. We could hardly wait to introduce our son to something that had always been an important part of our lives. Secretly, I envisioned grooming him for later expeditions.
"There are no rapids to worry about, just a couple of spots of swift water. You will have no problems at all," Bob Jones, co-owner of Tag-A-Long Expeditions, assured me over the phone. "We shuttle families with young children a lot, and they really enjoy the trip. And right now, the weather looks good—nice and sunny."
Tag-A-Long Expeditions would shuttle us to Mineral Bottom, where we would start our trip, and then meet us five days later near the confluence of the Green and Colorado Rivers for a jet-boat ride back to Moab, Utah. Ordinarily, I wouldn't give much thought to any water Class III or below, but I found myself preparing for the worst rapids imaginable. This was the trip's first manifestation of the Sky Factor. To keep our son safe, I spent hours shopping on the Internet for rescue pulleys and floats, as if we were running Tsangpo Gorge instead of going on a flatwater float.
Skyler's swimming ability was questionable, but he loved the water. We ruled out flipping as an option, no matter what. That would surely give Skyler a tainted view of boating. I even considered making him sleep in his PFD, so I could rest easy at night.
In Moab, we met our friend Eric and his two kids, who were joining us for the adventure. Eric is another guide-turned-suburbia-dweller. He jumped at the idea of taking his kids along; unfortunately, his wife couldn't take the time off from work to join us. We loaded up our vehicles and canoes in Moab, and Bob Jones drove us to Mineral Bottom. After a harrowing switchback descent along vertical sandstone cliffs, where we passed the wreckage of cars that had fallen off the road, we arrived at the put-in. We quickly packed up the boats and pushed off into the slow-moving current. After days of preparation, I finally began to relax and enjoy the peaceful solitude of the river.
"Yeeeeehawwww!" Skyler squealed in a high-pitched scream, so sudden that I literally dropped my paddle.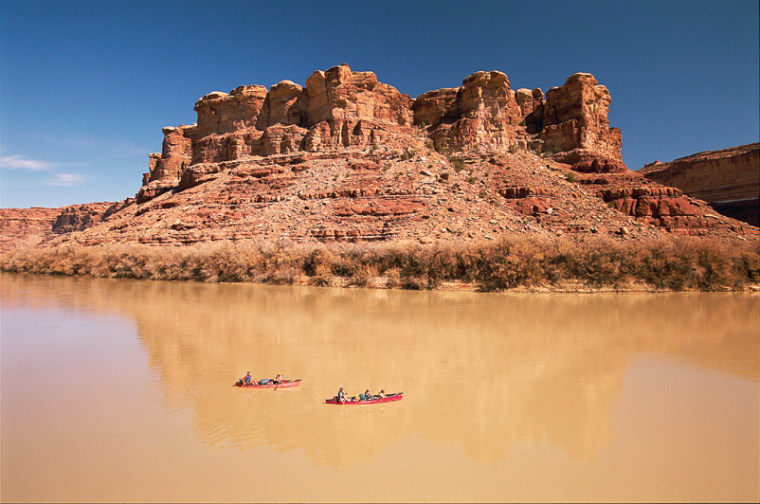 "What's wrong?" I angrily demanded.
"Nothing, Dad. I just wanted to scream," he cheerfully replied. "I like being outside."
"Well, I'm glad that you're having a good time, but please don't scream," I instructed my son.
"Dad? I thought the only place I couldn't scream was inside the house," Skyler continued. "We are outside now, and that's where you said I can scream all I want."
"It's true, I did say you could scream outside, but this is different," I replied.
"How is it different?" he wanted to know.
"Because when you're in the wilderness, screaming scares the animals and other people," I patiently explained.
"Dad? What's wilderness? Is our backyard wilderness?" Skyler's inquisition continued.
Only 10 minutes into our trip, I was engaged in a losing debate with a four-year-old. Instead of enjoying the river, I was already near my limit. The Sky Factor had struck again.
We continued paddling down the silty river, meandering around bends and oxbows, gazing at the sheer cliffs of Wingate sandstone towering overhead. Skyler and Eric's kids, Taylor and Morgan, entertained themselves for miles with echoes off the canyon walls. About every two hours we stopped on a sandbar to let the kids run around and, of course, eat. Kids always seem to be hungry, and a constant intake of calories is required to ensure happy campers.
We set up camp on a huge sandy beach—the perfect kids' camp. A nearby prehistoric ruin dominated the skyline, and the setting sun transformed it from tan to crimson. The surrounding rocks were painted every hue of red before being overtaken by dark shadows that slowly climbed the canyon walls. Ravens croaked overhead.
Cree and Eric were in charge of planning the food, and our first night's menu featured burritos, followed by cocoa and chocolate bars for dessert. Knowing how important food is in keeping kids happy, I was fairly confident that nothing could go wrong that night. But I'd also learned to never underestimate the Sky Factor.
While relaxing after dinner near the river, I began to hear giggles and snickers coming from camp. The distraction soon transformed into a chorus of exuberant screams, so I returned to investigate. What I discovered stopped me in my tracks. Skyler and Morgan, Eric's five-year-old daughter and Skyler's new girlfriend, had decided that my North Face VE-25 tent made a perfect jungle gym. They had zipped themselves inside and, with a full charge of sugar from cocoa and candy, were using it as a kids' mosh pit. Impressions of feet, hands, and faces pressed into the yellow nylon as the kids bounced off the tent walls. It had survived hellish storms on Denali, but I feared that my mountaineering dome was doomed without serious intervention. With Eric's help I broke up the rave, and then gave Skyler a lecture on how important it is to take care of equipment in the wilderness. In response, he once again brought up the wilderness question.
One aspect of our Green River trip that was a pleasant surprise was our absolute solitude. The cloudless desert sky, warm sun, and occasional ravens were our only companions. We never saw another paddler during our entire trip. Since it was March, the river was low and there were abundant sandy beaches, allowing us to camp almost anywhere we wanted. We spent our days lazily paddling on the river, digging sand castles during rest breaks. We didn't see any large mammals, until the kids spotted a beaver.
"BEEEEEEAVER! BEEEEEEAVER! BEEEEEEAVER!" Skyler and Taylor hollered simultaneously and so loud that my ears rang for 10 minutes afterward.
"Be quiet, you guys," I whispered. "You don't want to scare him away."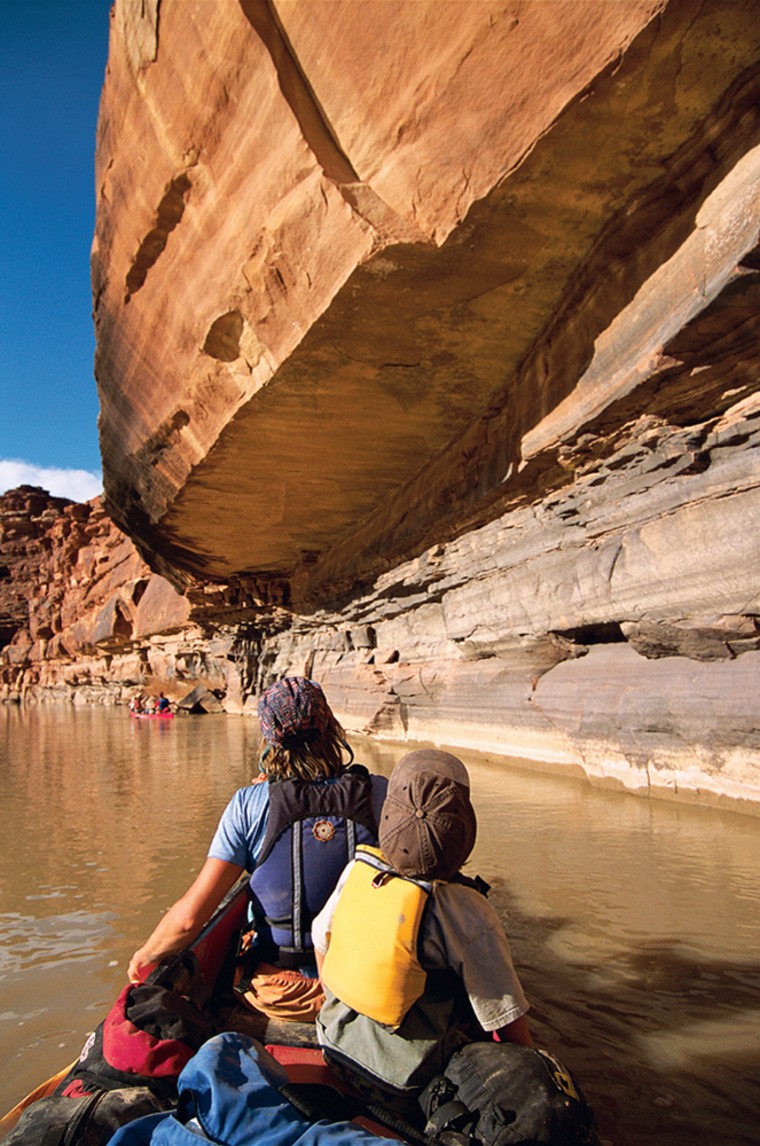 I watched the plump beaver as we paddled by. It was motionless, inert, almost as if it was stuck in the muddy riverbank. I came to one conclusion—the kids' screaming had produced the first beaver heart attack ever witnessed. We paddled back upstream, closing in on the poor creature before he flopped back into the river, smacking the water with his tail as he submerged.
By day four I was feeling proud of Skyler and the other kids. They had become solid campers and were really enjoying their adventure in the wilderness. No Game Boys, Happy Meals, or cartoons. Just real-life experiences that build character. Despite his young age, Skyler showed glimmers of efficiency in camp: he helped with loading the boats and even doing dishes. In short, he was making his ex-guide dad happy. Sure, there had been lots of trying moments and nearly a dead beaver, but things were good.
We entered Stillwater Canyon, identified by its vertical to overhanging zebra-streaked sandstone walls rising directly out of the river. Green juniper and piñon trees dotted the red sandy hillsides. We had paddled from spring to summer. At Mineral Bottom, buds were just beginning on the trees. By Stillwater, new green leaves fluttered on the cottonwoods. It was also noticeably warmer in the deep canyon.
The Sky Factor was the furthest thing from my mind when Skyler announced, "Dad, I have to go to the bathroom."
"OK, fine, we'll stop in just a minute," I answered, thinking we would continue for at least another half hour. Anyone who has kids knows that the declaration "I have to go to the bathroom" is a frontal assault on an adult trying to get somewhere on time. Often they don't really have to go to the bathroom at all, and they're just bored, employing a tactic to get out of the car, or in our case, the canoe.
"Dad, I really have to go," Skyler repeated. I looked at his contorted face, which I interpreted as his best feigned look of concern. No way would I fall for this ruse. We continued paddling.
"Dad, if you don't stop right now, I'm going number two in my pants!" Skyler frantically cried a minute later.
With that, I recognized his genuine agony, and instantly felt deep guilt, then sheer panic. Our river toilet (required by the Park Service) was buried under other gear, and not easily accessible. Our calm afternoon turned into a mad scramble for the potty. I frantically dashed to shore, unstrapped gear, and rummaged through dry bags searching for the toilet paper. Meanwhile, Skyler pleaded, "Hurry, I can't hold it any longer!" Finally, the toilet was ready—there was no need to move it out of the canoe—and Skyler went about his business. Disaster was barely averted.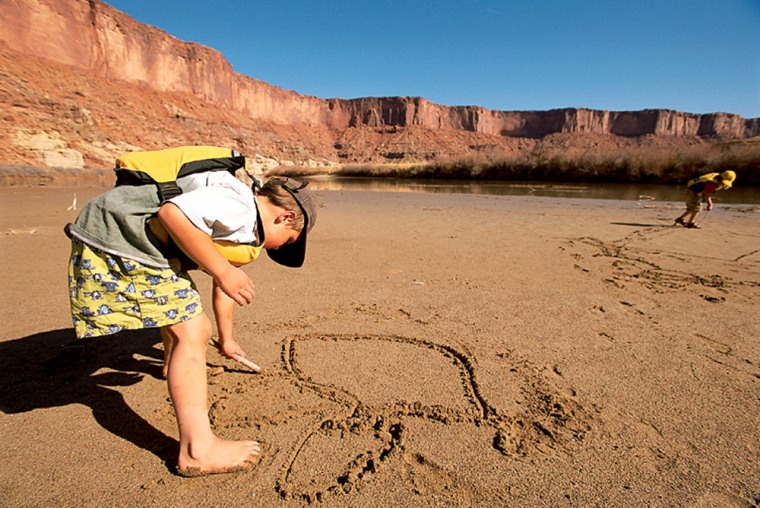 On our last morning, we merged onto the Colorado River and continued downstream to Spanish Bottom. The combined rivers had a different personality, with stronger current, pushy eddies, and large boulder-choked channels. Beyond our final camp we could hear the roar of rapids in Cataract Canyon, the start of serious whitewater.
I sat on the beach while Cree and Eric looked for petrified wood behind camp. I watched Skyler and Morgan playing in the wet sand, both obviously having a great time.
Despite my earlier worries about getting tied down, it was now hard for me to imagine not having a kid. Canoeing with Skyler turned out to be the most important thing about our trip. It wouldn't have been nearly as much fun without him, or the Sky Factor. Funny how times change. But one thing hasn't—we still don't own a minivan.
Canoe & Kayak Magazine is the number one paddlesports resource, with a wealth of information about canoeing and kayaking destinations, gear, and techniques.