/ Source: Sport Diver Magazine
Hawaii emerges straight from the world's collective imagination of paradise. With whales, dolphins and sharks, vast clouds of colorful butterflyfish, green sea turtles and whole crowds of creatures found only in the waters of this Polynesian undersea Mecca, Hawaii offers a vast realm of discovery and exploration. These spectacular volcanic wonderlands have all the blue thrills you can handle.
MAUI
From the "House of the Sun," Mount Haleakala, through the remarkable beauty of the Hana Road, and offshore to the one-of-a-kind diving off Molokini Crater, Maui features a complete set of the elements that define paradise. Still relatively unfettered by mass tourism, Maui revels in its pastoral charms -- but it's not without its share of top eateries and luxury resorts. Maui is also considered to have the greatest variety of diving in the Hawaiian Islands. Abundant sea turtles and sharks, and huge numbers of fish, define the underwater landscape here. Humpback whales crowd the sea during their birthing season, often causing roadblocks with their near-shore leaps.
The nearby uninhabited island of Kahoolawe is riddled with volcanic caverns. Diving the island of Molokai is like descending into a Wild West shootout   thrilling, unpredictable, seat-of-your-pants kind of diving. During most dives, lemon butterflyfish accompany divers like bright yellow leaves in an autumn wind. And the night diving here is modestly described as spectacular. Spanish dancer nudibranchs often take off like magic carpets during night dives, while eels, cowries, slipper and bull's-eye lobsters and a host of other nocturnal denizens will keep your dive light humming.

Almost a second home for Maui divers is the nearby island of Lanai, which seems to exist solely for the pleasure of divers. Here you'll find the world-famous lava domes of First and Second Cathedral, where shafts of light pierce the caverns like a thousand radiant swords. Beyond that is an incredible diversity of dive sites, in which a great variety of marine creatures play out their lives around this diver's playground.
The site called Pyramids gets its name from the sheer number of pyramid butterflyfish that flit around the top of the pinnacle. At another site, Fish Rock, menpachi, pipefish, viper moray, large cowries and whitetips headline a Hawaiian who's who list that will have you poring over ID books for hours after a day of diving  and that's just on the reef. Look to the blue and you'll have a good chance of seeing spotted eagle rays, manta rays and passing sharks, and in season, perhaps even humpback whales.
TOP DIVE SITES: MAUI
Inside Crater

Pyramids

Enenue

Back Wall

Puu Koae

Molokai

Hidden Pinnacle

Black Rock

First Cathedral

Second Cathedral

Fish Rock
KAUAI
Known as the Garden Isle, Kauai should change its name to Hollywood's Preferred Backlot. It seems every inch of this lush island has appeared in a TV show or movie. Perhaps its two most famous natural features are the indescribable and awe-inspiring Na Pali Coast and the spectacular Waimea Canyon. In between are about a zillion waterfalls, and the wettest spot on earth, Mount Waialeale. With some of the most spectacular scenery on the planet, it's a mecca for hikers, mountain bikers, producers, adventurous types and, of course, divers.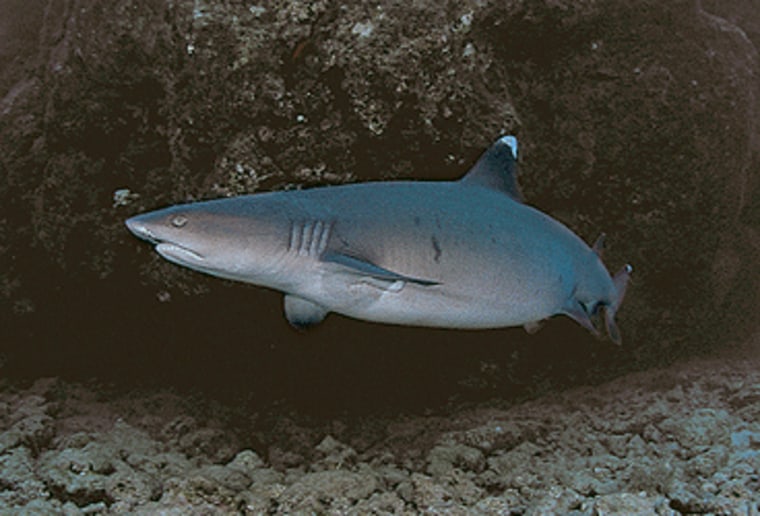 The holy grail of diving in Hawaii, about a 45-minute boat ride away, comes with the menacing moniker of the "Forbidden Island," Ni'ihau. At sites like Ni'ihau Arches and Lehua Rock, divers frequently encounter endangered monk seals, eagle rays and blacktip sharks, as well as a busy metropolis of marine life, from huge schools of pennant, pyramid and milletseed butterflyfish to hawkfish, octopus and even rare morwongs.
Off Kauai, most of the diving is centered around Poipu Beach. Here you're (almost) guaranteed to encounter green sea turtles, often by the dozen. Sheraton Caverns lays claim to being the unofficial local hangout for these fascinating marine mammals. But they're not the only attraction. You'll also find loads of bluestripe snapper, whitetips and, for the observant, stunning nudibranchs, cowries, leaf fish, turkeyfish, triton trumpet shells and 7-11 crabs.
TOP DIVE SITES: KAUAI
Sheraton Caverns

Ice House

General Store

Fast Lanes

Kaloa Landing

Anaholo Bay

Ni'ihau Arches (Ni'ihau)

Lehua Rock (Ni'ihau)

Pyramid Point (Ni'ihau)

Vertical Awareness (Ni'ihau)
OAHU
Oahu is Hawaii's famous melting pot. World-renowned Waikiki Beach needs no introduction; likewise Sunset Beach and the Banzai Pipeline on its famous North Shore, Pearl Harbor, the USS Arizona, Dole pineapples, pure cane sugar and Diamond Head. All are part of our national consciousness. It is also the place bubble-blowers come for a wide variety of interesting wreck dives, all rife with thick concentrations of marine life. The most famous of the wrecks, the Mahi, sets a standard rarely matched elsewhere, but it typifies the kind of experience you can expect off Oahu. Here, squadrons of eagle rays fly in formation around the mast and over the sand. A moray eel, sitting in what was the cable layer's pulpit, greets every diver who comes to visit, as does one of the world's largest pufferfish. Masses of bluestripe snapper often obscure the wreck. Like most wrecks sitting on the sand, it has become a magnet for marine life.
But Oahu doesn't stop with its wide variety of manmade objects. If you want to see nearly every creature, rare and common, endemic (about 40 percent of all fish in Hawaii) and nonendemic, you need visit only one place, Hanauma Bay. This lovely caldera provides a safe haven from the surf and swell, and the fish literally eat out of your hand. The main dive sites stretch from the southeast point west off Waikiki and along the Waianae coast. Besides wrecks, you'll find spectacular volcanic caverns and formations that harbor stonefish, bigeyes, sharks and turtles, as well as a fun sharky site called the Electric Plant. Another great bet for sharks is a new cage snorkel off the North Shore that brings the toothy fellas in by the dozen.
TOP DIVE SITES: OAHU
Wreck of the Mahi
Wreck of the YO-257
Wreck of the Corsair
Outside Reef, Hanauma Bay
Makaha Caverns
Witches' Brew
The Land of Oz
North Shore Shark Cage (snorkel)
HAWAII

The Hawaiian Islands are the perfect vacation destination for travelers of all types.
Hawaii emerges straight from the world's collective imagination of paradise. With whales, dolphins and sharks, vast clouds of colorful butterflyfish, green sea turtles and whole crowds of creatures found only in the waters of this Polynesian undersea Mecca, Hawaii offers a vast realm of discovery and exploration. These spectacular volcanic wonderlands have all the blue thrills you can handle.
The home of Pele, the Hawaiian goddess of volcanoes, the Big Island teems with life. It has 12 of the world's 16 climate zones within its boundaries, so every corner and turn of this island is unique. This diversity has seeped into the waters that surround its shores. A virtual dive town, Kailua-Kona, on the Big Island's western shore, is crowded with dive flags — and for good reason.
Just offshore, incredibly clear water harbors a wild variety of underwater experiences. From January through March, pods of humpback whales come to give birth off these shores, their whale song providing an enchanting soundtrack to every dive adventure. In the open water within sight of shore, pilot whales are frequently seen, often followed by oceanic whitetip sharks. Huge aggregations of dolphins fill the waters, making surface intervals spectacular with their aerial acrobatics. Close to shore, the dive sites that dot the area have become world-famous. At Garden Eel Cove, massive manta rays come in at night to feed on tiny krill and other organisms attracted to lights set on the sea floor.
It's a world-class site straight from Close Encounters of the Third Kind. City of Refuge and Turtle Pinnacle attract green sea turtles by the dozen to their cleaning stations. The lava substrate has riddled the shoreline with underwater caverns, in which you'll find nurse sharks, legions of squirrelfish and every kind of ray of light imaginable. Sequestered in the nooks and crannies of the dive sites, you'll find brightly colored frogfish, dragon, zebra, whitemouth and yellowmargin morays, and fluttering extravagances of endemic milletseed butterflyfish. There's even an extremely photogenic wreck, the Naked Lady, in the harbor.
Spectacular diving also can be had along the Kohala Coast, just northwest of Kona, famous for its pristine hard coral gardens and lava formations and its lack of crowds.
TOP DIVE SITES: HAWAII
Turtle Pinnacle
Garden Eel Cove (manta night dive)
Pinetrees
Suck 'Em Up
Mile Marker 4
Open Water Offshore
City of Refuge
Wreck of the Naked Lady
Puako (Kohala)
Ledges (Kohala)
As the official publication of the PADI Diving Society, Sport Diver is the magazine divers turn to each month to find out what's going on in their world. Sport Diver is the ultimate source for up to date information on dive culture, equipment, travel, training and PADI Diving Society activities.